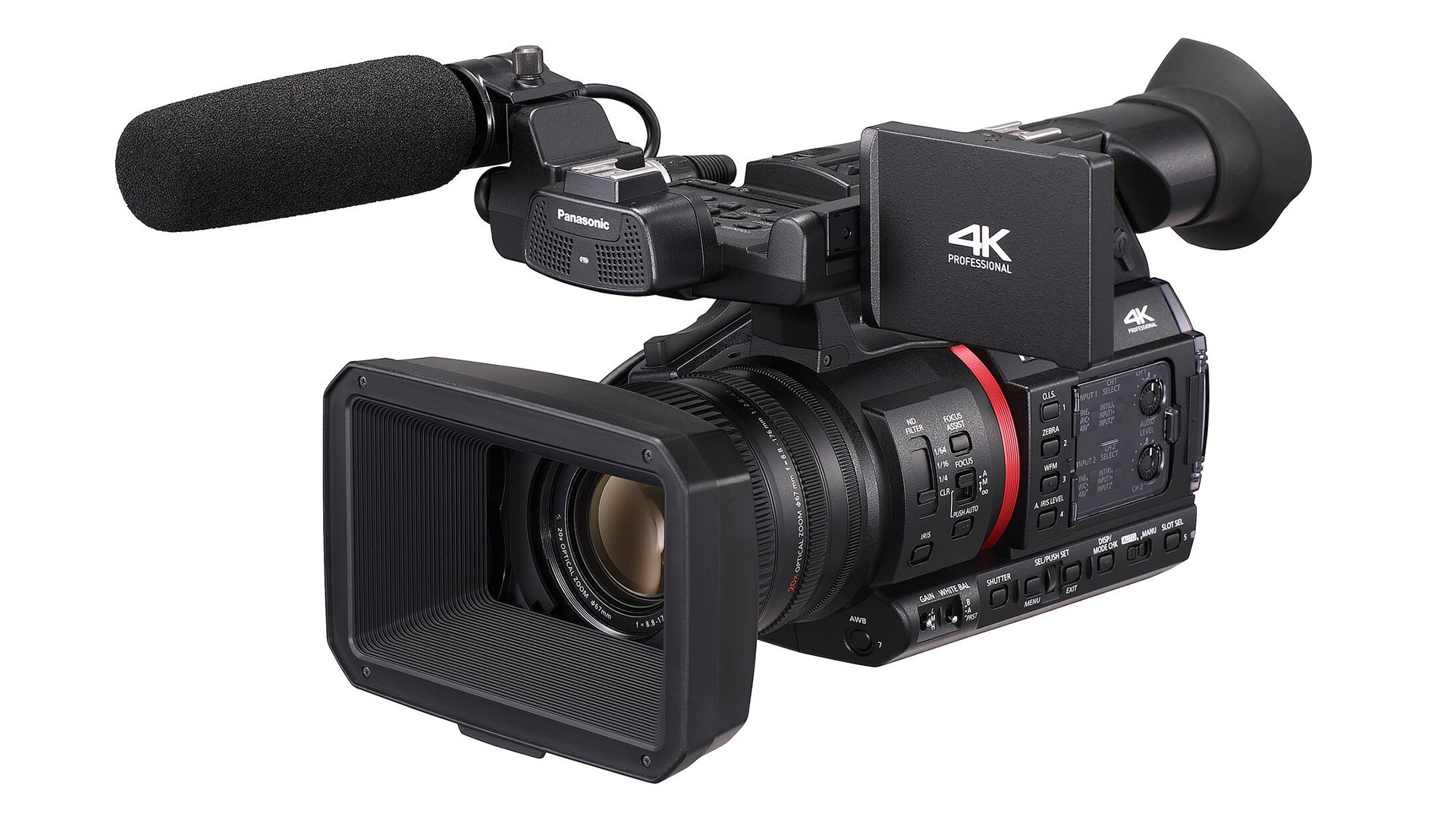 Panasonic's surprise new all-in-one 4K camcorder is packed with an impressive array of features, including 10-bit recording at all resolutions and framerates. Read on for the full details!
Panasonic has just announced the AG-CX350 hand-held all-in-one camcorder. It may look like any other camera in its class, but don't be fooled. It packs into its compact body features not yet seen in comparable cameras. I was privileged to have had it just prior to product announcement on January 22 and have been impressed with both feature set and performance.
Let's first start with its market position. Priced at under $4000 US (€3,800 ex-vat), the CX350 is clearly targeted at Vloggers, YouTubers, run and gun shooters, documentary and even conceivably ENG. At a "shooting weight" of about 5 pounds (2.27kg) including lens hood and battery, and dimensions of about 7x6x12 inches, it is highly portable, maneuverable and allows for comfortable non-tiring shooting. If you're shooting hand-held, built-in 5 axis stabilization in three possible modes provides the best possible shot. The normal, stable, and pan-tilt stabilization options work in all of the camera's modes—i.e. HD and UHD—and I found them to be remarkably effective.
In fact, it's hard to think of the CX350 as a $4000 camera.
It is based around a new 1 inch 4K MOS sensor supporting UHD, HD and SD. It's "high sensitivity" option seems to work in similar fashion to the dual sensitivity sensors seen in Panasonic cinema oriented EVA-1 and VariCam cameras. It seems to add 1 to 2 stops of sensor sensitivity when selected without any image degradation or artifacting.
Panasonic touts the zoom lens as widest in it's class with 24.5mm (35mm equivalent) 20x optical zoom plus its lossless "i-zoom" up to 32x HD or 24x UHD. While there are extended 2x/5x/10x digital zoom options, I basically don't use or recommend digital zoom. Lens aperture is variable f/2.8-4.5 ramping.
It boasts two SD card slots (V60 speed cards recommended for 400 mbps UHD i-frame) and with a future firmware update, it will support microP2 A series cards. In order to achieve that hightest recording rate, it supports UHS-II cards. It can record from SD to UHD resolutions. It's not a cinema camera so the absence of full DCI 4K is not an issue to me. While in HD mode it has slo-mo capabilities up to 120 fps in the 59.94 world or 100 fps in the 50p world. I found switching recording modes under the System menu quite fast and seemless. No camera reboots in between switching modes.
Recording formats are both .mov and avchd and with the future firmware update which supports the microP2 cards, MXF. And now for another advance in this camera—in addition to offering H.264 high profile compression, it also offers an option in 10-bit UHD 100 mbps 4:2:2 Long-GOP HEVC (H.265 recording). With a minimum of an Intel i7 CPU equivalent, decoding is fast and the HEVC is an excellent acquisition format with smaller file sizes than H.264.
Another distinguishing feature is 10-bit HD/UHD 4:2:2 recording in both long gop and iFrame compression with super high quality up to 400 mpbs (UHS-II V60 card required). With such a card, I could shoot at this high frame rate and bit depth without dropped frames.
From the point of view of versatility for the job, the format and codec options can satisfy a wide range of shooting requirements.
Now for shooting. I am not an automatic kind of guy, usually shooting either narrative, interviews or other shots where I can compose, light, focus and make other decisions. But I tested this camera in fully automatic mode. I suspect that much of the target market will be shooting Vlogger or run and gun style and would want to shoot full auto. Panasonic envisioned this as well with what they call "Intelligent AF". Focusing is fast, tracking is better than I would have expected yet manual functions are also available. The auto iris adjusts rapidly while I've yet to see any ATW that can handle color temp shifts. So we're not even considering that.
For manual operation, the camera does have three rings—focus, zoom and aperture. Focus is about what you would expect in a servo-focus camera but with peaking features it is relatively easy to get good focus. And this is not the kind of camera where one would be pulling focus and need to repeat that pull for several takes. Still, the zoom is variable speed and smooth, the manual focus is servo but doesn't "fight you" (the only description I can find for the resistance of many servo lenses focused manually). Bottom line here—follow a scene in automatic mode with consistent color temperature and automatic mode will work fine.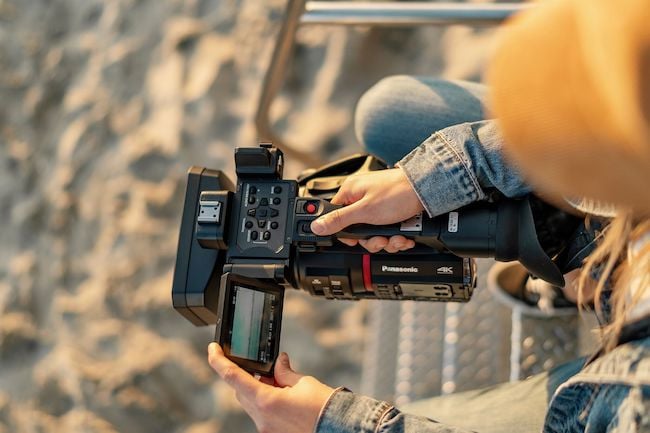 The biggest feature, though, is its connectivity. The CX350 is the first camcorder to offer NDI connectivity. Panasonic demonstrated using this camera on an NDI network with a couple of PTZ cameras and it just appeared as yet another device. This plus wired as well as wireless remote capability allows an even wider potential use of the camera (wired by standard LANC controller plus in iOS or Android app for wireless). Unfortunately, the app was not ready during my testing so I was unable to use it both for control as well as other wireless functions.
But connectivity innovations do not stop with NDI. The camera is capable of streaming RTMP/RTSP for live streaming coverage. It has WiFi capability with WiFi dongle and will also accept a cellular dongle for LTE connectivity. Streaming requires software not yet available when I had the demo camera, so I can only report on the capability rather than having tested directly. Sill, I am confident that at release time it will work seamlessly.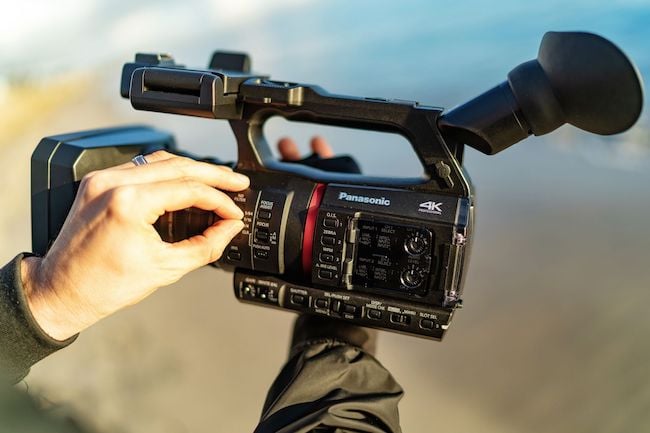 Note again this is not a cine camera. There is no Vlog mode as in the EVA-1 or VariCam. This target market doesn't want or need it. Through the scene file menu, in addition to the basic Rec709 gamma there are gamma and setting options familiar to Panasonic users. Three "film like" gammas effectively are cine-type gammas which can widen dynamic range. And of course there is an HLG gamma mode. I was able to test this in FCP X and indeed was able to display HDR out to an HDR-compatible display (in this case, SDI from a Decklink card to an Atomos diasplay). Those who do wish to tinker with the image, can find a full complement of professional adjustments from details to matrix tables, chroma phase, pedestal, knee and other settings that a Vlogger would never touch. But if used for ENG acquisition, station engineers would undoubtedly customize the settings to the broadcast outlet's specifications. Good to know it's there.
The camera, by the way, only consumes 17 watts, so the standard battery should last about 3 hours. The largest optional battery, the AG-VBR118G at 11.8k mAh should run over 6 hours.
Bottom line for this camera—the CX350 should be a strong contender in the marketplace. I highly recommend it for all of the shooting scenarios I described and with its feature set and versatility, no doubt more applications could be found for it. The strongest suits are sensor, focus, recording formats and connectivity. Automatic features are remarkably good while still permitting manual focus, aperture and white balance. The maximum UHD frame size presents no issue for the market segment.
For shooters in this market space, the CX350 very well could be the top of the heap.
Tags: Production