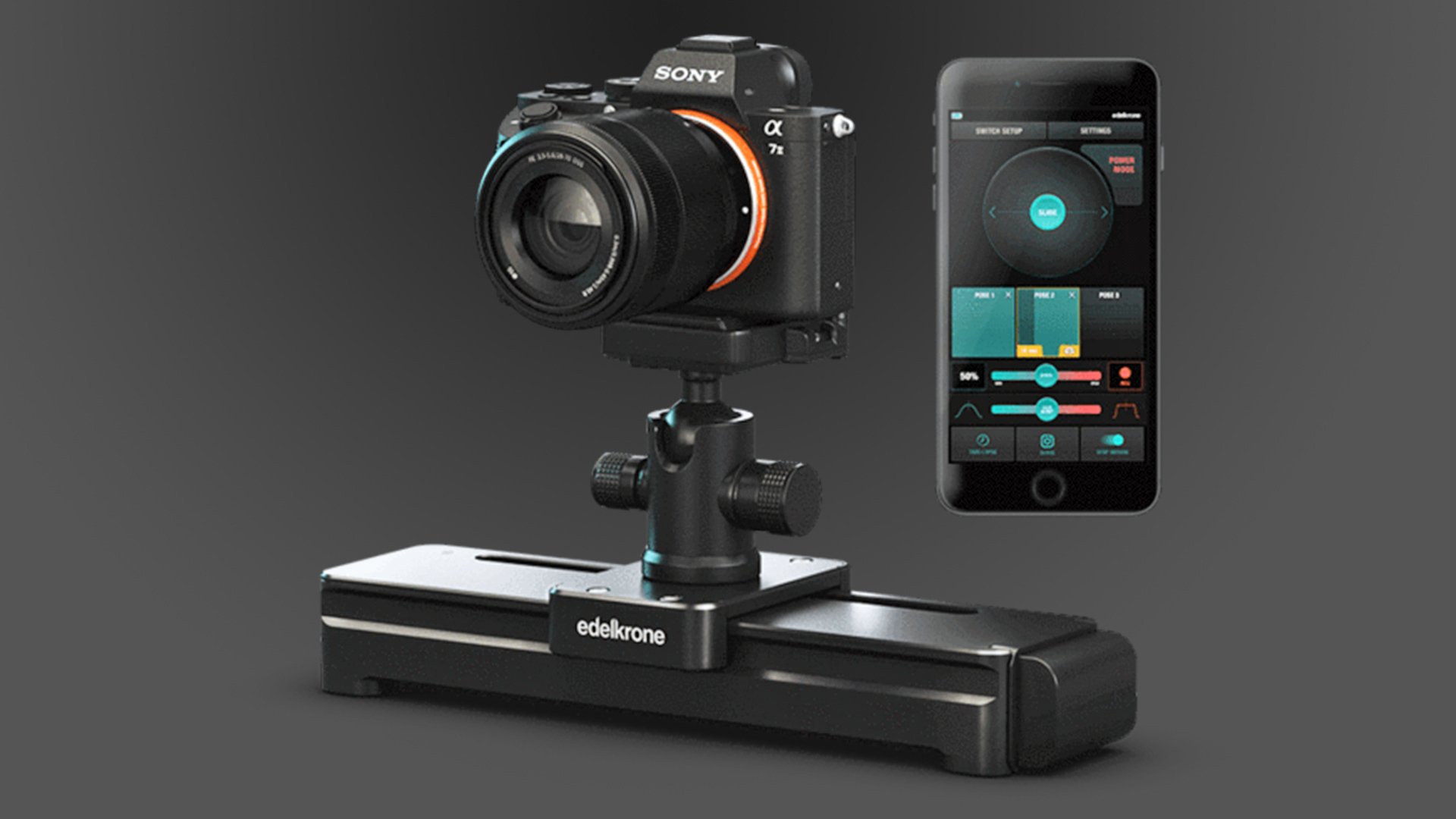 Review: Edelkrone are well known for its innovative take on camera movement devices. Chris Foreman takes a look at the latest iteration of its SliderONE, the SliderONE v2.
Edelkrone have certainly carved out a bit of a niche for themselves in camera accessories, most of their products try to achieve traditional results through non traditional methods. The first time I became aware of them was with their innovative SliderPlus range that gives extended slider range but with a minimal length.
Having previously purchased the SliderONE Pro I was made aware of their new upgrade programme and that I could trade in my SliderONE Pro for the brand new SliderONE v2. It has a lot in common with the older unit but there are also a couple of differences.
This is a single unit that offers motion control over a handy but limited travel of 20cm. Its thinking here is that a lot of slider travel that is actually used in shot is around this sort of distance, not sure I agree 100%, it's good but now and again when using it I found it just a bit too short, I'd like to see a longer version with around 30cm of travel. Of course if they launched that product I'd probably find a need for something even longer.
This little accessory is well built as are all the Edelkrone products I've tried. The setup is easy with the obligatory app and the powering is simple, a single Canon LP-E6 battery slides in underneath one of the ends and you are met about 2 seconds later with quite a loud audio beep as confirmation that it's on and ready to go. I did find that the fitment of this battery better than the previous version of the slider, I'm not quite sure what they've done here but my success rate in correctly mounting the battery on the first try has gone up from about 50% to around 80%. Like the previous version and all of the Edelkrone kit I have used there is no power switch.
This is quite a bare unit, it only houses 2 ports, one for remote shutter triggering and one for a LANC cable, gone is the small bubble spirit level on the top that was present in the previous version. An addition this time round is a small RF window on the bottom quite close to the 3/8th mounting thread and this can easily be covered by larger mounting plates but it hasn't affected operation in any way. Also in the box are a couple of allen keys and a rather nice branded aluminium holder. You can use these keys to adjust the tension if required.
Specs
As for specs, the stated payload when using it horizontally is 9Kg and using it vertically means that the maximum load is reduced to 2.3kg. Although this time a beefier Pro version is available which offers higher payloads of 13.6kg and 4.5kg respectively. This is down to the inclusion of an additional motor, however the travel distance remains the same.
The other key selling point of this unit, at least for me is that it can be combined with other Edelkrone products, namely up to two HeadOnes and the new version of the tilt kit to provide 3 axis motion control movement. This was limited to 2 axis movement on the previous generation, a really nice feature bump. Using it in this way with a HeadOne is very easy, on starting the app it detects which units you have and the orientation the HeadOne(s), although you must remember to have all batteries connected and the device is powered on before running the app, and in the orientation you wish to use them.
The app contains a lot of options allowing you to adjust the speed and transition curves as well as several 'pose' positions Three are available when using just the slider and more when using a combination of slider and HeadOne. A nice feature of the app is the ability to watch directly linked Youtube videos detailing the various set up procedures.
For stills work selecting time lapse and stop motion options allows you to adjust the motion and time between frames in a non-linear fashion, something that Edelkrone term Time Warping and Motion Warping. To enable any stills functionality you do of course need the correct shutter release cable for your particular camera. This plugs from your camera to the small 2.5mm port on the back of the slider. These cables can be obtained from Edelkrone.
Conclusions
I've been testing this on and off for a few days and overall it's been a positive experience. The moment is smooth, which is key and it's easy to use, and most importantly consistent and quiet. I do wish that there was a way to have non-linear movement when recording video. Yes I know I can hear people shouting 'do it in post' but I'd like to option to 'do it in camera'. I've not had a problem with battery life, a single one lasts most of a day for me and I'm glad to see that they are using a readily available and an easily replaceable one. This is a handy addition to my kit, not something I'd use every day but small enough and light enough to take on shoots where I would never take a larger slider.. .just in case.
The improvements over the previous version are good to see, and because of the very generous trade-in, or more accurately swap over, I can't see a reason not to take advantage of the offer if you own the previous generation. If you don't and think you might be looking for a small slider, then this should be on your short list if you can live with the limited travel distance. At the new lower price and with Edelkrone's 90 day money back offer, lifetime warranty and accident insurance it's an excellent product in a crowded market.
The SliderONE v2 is priced at $499 and is available from the Edelkrone website.