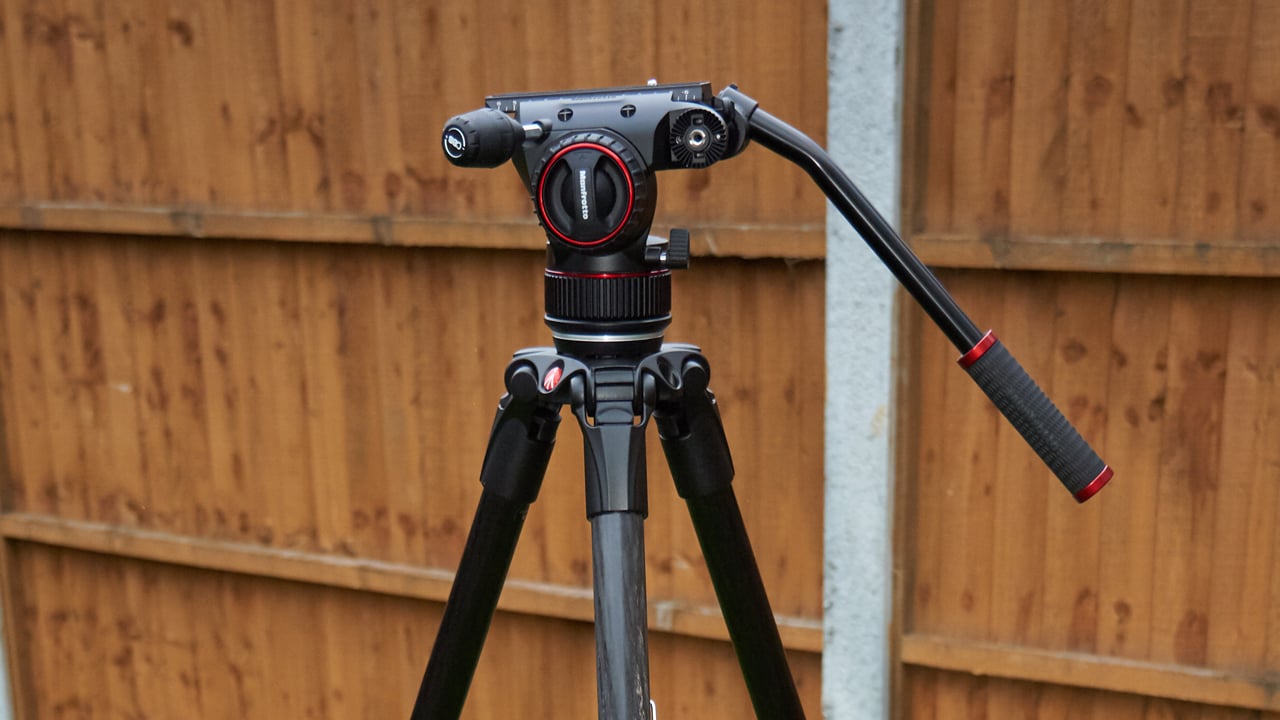 Review: Chris Foreman takes a look at the Manfrotto Nitrotech N8 tripod head and CF535 legs, a setup that could be ideal for cameras weighing up to 8kg.
Lots of users who do not come from a traditional broadcast or film background do not appreciate the role of a good tripod. A good one will support your camera kit in time of need. It will also enable smooth effortless movements if properly set up and balanced. Tripods vary widely in both payload and cost. There is a sweet spot to be had for both.
The introduction of lower cost camera gear has meant that the budget end of the market for tripods and heads has become especially competitive. Gone are the days when the cheapest tripod that would be suitable for the job would cost about the same as the camera. The old adage that you get what you pay for comes to mind and whilst that is true, budget-conscious users need no longer make do with equipment that really isn't up to the job.
I was in the market for a new head and legs setup. Previously, I was using an old but good stills set of legs and a lightweight tripod head which was only really suitable for the light cameras and lenses. After an awful lot of shopping around, I settled upon a Manfrotto N8 head with a set of CF 535 legs. What intrigued me about this, being somebody who is always into new technology, was the fact that this can be used with very lightweight setups – in fact from 0kg up to 8kg. This is the stated advantage of the nitrogen cartridge and the fact that it's constantly variable between those limits.
With my sceptical hat on I took the plunge. The camera combination I planned to use it with was a Sony A7III, battery grip and initially a Sony 24-105 f4 lens. As the N8 is rated for payloads up to 8kg, I was not going to be anywhere near the limit, but I was interested in whether it could balance such a low weight. In fact, I might even use it with the Sony a6300 – could it balance something this light, would it maintain smooth pan and tilts throughout the range?
Impressed
I've been using this head and legs setup for a couple of weeks and I have to say I'm suitably impressed with all aspects of it at the moment. It's easy to balance and incredibly easy to adjust, depending on the load requirements. I can easily find balance points without compromise for my A7III camera and my much lighter A6300. The N8 also employs a slide loading mechanism, rather than the traditional Manfrotto rear loading one. I'd previously only used this system on much more expensive cinema heads.
Although it still maintains a dual lock system, stage one locks in the plate and allows forward and backward movement to find the centre of gravity and the second stage locks it down. I can't quite describe the feeling to finally finding a head that I feel is an extension to my arm instead of fighting against it. The moment that I put my a6300 on it and dialled the counterbalance down to just above zero to find that it balanced perfectly...well...
I should also comment on the panning and tilting adjustments and controls. It's also very easy and even simple to adjust on the fly during a move if required. Although I do wish that the tilt friction had slightly more feel to it – whilst not anywhere near the old tilt frictions of budget heads of old – it could do with a bit more subtlety.
I love the fact that Manfrotto also includes a rosette adapter, so that is there as a sacrificial lamb and it's easily replaceable if damaged, unlike the rosettes on the body of the head itself. This should have been a standard feature years ago. Other good features include an illuminated bubble, the fact that you can use non-rotating Manfrotto accessories like the nano magic arm attached to the rosette that you're not currently using, and the supplied plate having witness marks for repeatable setting up and balancing.
Sealing
Where I think things may need to be improved is the environmental sealing. The piston mechanism looks very susceptible to dirt ingress and the counterbalance knob also sticks proudly out of the profile of the head. If the tripod was to fall forward, I can see it being damaged quite easily. Even inside a bag, if it's dropped head first, I think it might be an issue.
Now let's move onto the legs, a set of CF535s. I was at first a little hesitant in choosing these – no stranger to this sort of spreader-less arrangements (having used Miller Solo legs). I was initially put off due to the slightly fussy nature of the Millers; I always found the adjustment at the top of the leg to be quite stiff and the rotatable collars for the leg extensions would often need too much rotation to lock – or they were difficult to unlock, usually because someone before me had used them incorrectly. I was also under the impression that Carbon Fibre legs were way out of my budget. What a pleasant surprise to find that the difference in cost between these and an aluminium mid-level spreader version was less than I had thought. Having lived with these now for a while, I have zero issues adjusting the height and spread. The only small issue is that I wish they went a little lower, but I can work around that.
Included as part of the package in the box was a padded Manfrotto bag, which, whilst not a premium one, is at least functional and includes an internal zippered pocket with the manuals and accessories, and also a securing Velcro strap.
The icing on the cake here is the pricing. If you shop around, you can sometimes get the head and the 535CF legs for under £600, and at the moment you can also claim a free accessory: a slider or camera cage via the Manfrotto Christmas crackers promotion which runs until the December 31st 2018.