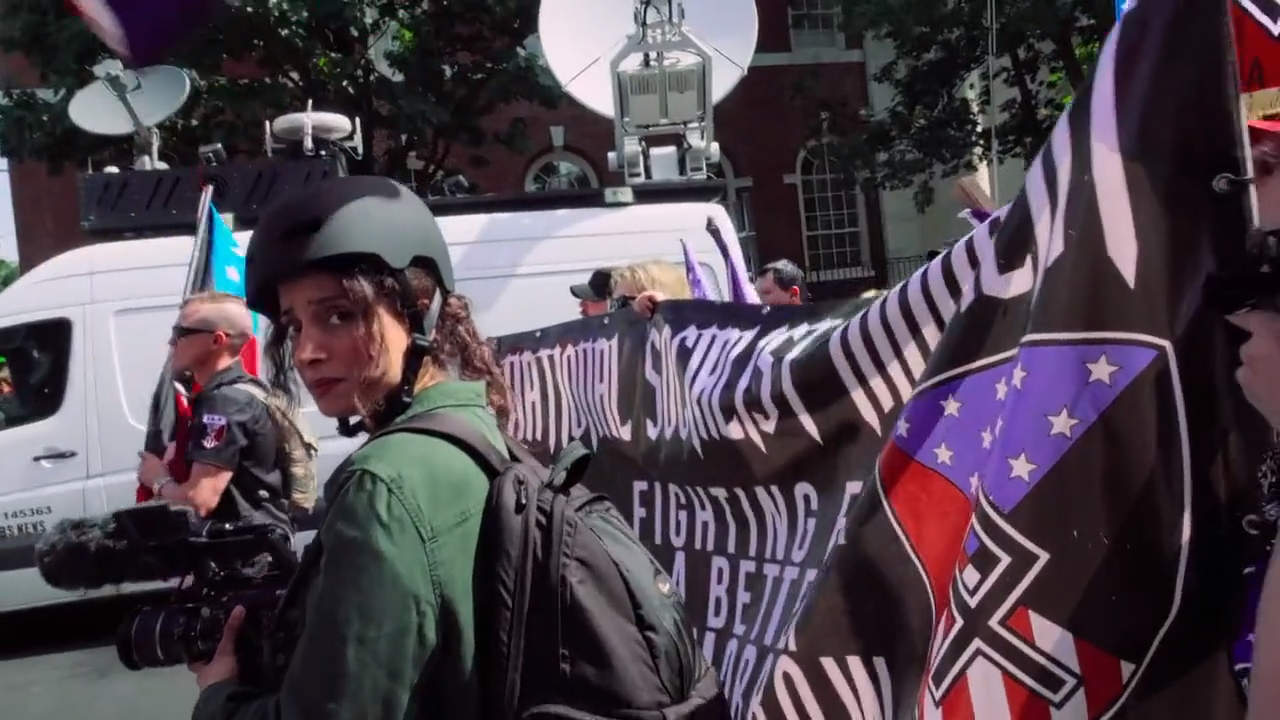 Deeyah Khan and Darin Prindle won the Sony Impact Award for Current Affairs at the 2018 Rory Peck Awards on November 1st for their astonishing film, White Right: Meeting The Enemy where Deeyah comes face-to-face with leaders of the White Power movement in the USA. Roland Denning had the pleasure of meeting Deeyah the day after the awards ceremony to talk about her film. Her own story is as extraordinary as the films she makes.
Deeyah is a London-based, Norwegian-born, Muslim of Pakistani and Afghan descent and an active campaigner for women's and minority rights. She represents everything the white supremacists hate.
She was propelled into making Meeting The Enemy after being interviewed on BBC TV in 2016 about living in a multicultural society. She received a deluge of vicious online abuse. Her response was to go the USA where most of the hate messages emanated from to try to understand just what was behind them. Deeyah said that she had been involved in anti-racist campaigns and marched all her life but they seemed to have little effect, so she decided instead to sit down with the perpetrators of hate, human to human, to see if she could 'find their humanity'.
Deeyah left Norway when she was 17, largely because of racial abuse, and moved to London and became a successful musician. She had received death threats from Muslim extremists because of her music, so she is used to being attacked from all sides.
With no previous experience or training in filmmaking or journalism, her first film was Banaz, A Love Story. A documentary about the honour killing of a young girl in South London, Banaz was made over the course of four years without any funding. Deeyah was convinced the story needed to be told and was concerned that, in news coverage so far, the victim herself had been overlooked. Along with her colleague, American Darin Prindle (who co-shoots and co-produces all of Deeyah's films and shares a career background in music), she bought a Sony camcorder and Final Cut Pro. They read as much as they could about how to make films, even using Deeyah's dog to practise lighting set-ups. Although initially, she had no intention of selling it commercially, Banaz was premiered in the Raindance Film Festival in 2012 where, to her great astonishment, it was seen and then bought by ITV. It went on to win a Peabody Award and an Emmy for Best International Documentary.
White Right: Meeting The Enemy was similarly driven by the urge to tell a story. The far-right groups, which range from unashamed Neonazis to more sophisticated alt-right proponents, crave publicity because, in their mind, whether they come out as winner or victim (revealing what they see as the liberal bias of the media), they win. Deeyah's approach was to sidestep their rehearsed arguments and avoid getting aggressive or offended at all times. The subjects were simply not used to this and, caught off-guard, reveal some deep truths and contradictions. This process put intense pressure on Deeyah – one of her subjects, who had fought in Iraq (the white supremacist movement often contains ex-military personnel), told her face-to-face 'One of the best things about being over there was getting paid to kill ragheads like you.'
Darin Prindle
Deeyah's on-the-road crew is just two – she and Darin – and she readily admits that she could not have been a filmmaker before the advent of current camera technology. Meeting The Enemy was shot on a Sony FS7 and a Canon C300, generally filming interviews with two cameras. For handheld filming on the streets, Deeyah herself likes to use a Sony FS5. In Meeting The Enemy, she appears herself in front of the camera at times, as at the core of the film is the way her extremist subjects react to someone like herself.
For filmmakers, Deeyah is an inspiring example. If you have a strong enough story, well told, people will want to hear it - but you do also need unwavering persistence, commitment and, for the sort of films Deeyah makes, a lot of courage. Deeyah sells and markets the films herself and praises the continuing support that has come, perhaps surprisingly, from ITV (the UK's mainstream free-to-air commercial broadcaster) rather than Channel 4, BBC or online/streaming channels.
I asked, in an era where all sides tend not to believe what they see on the news, how we can tell stories that can change the world. Deeyah's response was to focus on empathy.
"The way to re-engage with people is to re-engage with their hearts. My motivation for making films is to see whether it is possible to create work where, even for a second, people can see themselves in the other - whoever that other is. That way, we access humanity, we make it possible for people to feel what it is like to be someone else and therefore it becomes harder for us to hate each other as well".
Some might perceive a risk with this approach. Although most of the characters in her film reveal themselves to be damaged and rather pitiful people, by humanising them they become more sympathetic - in part Deeyah is acting as a therapist. When confronted by the unflinching and charismatic Deeyah, some actually moderate their racist views to accommodate her. They do not completely dispense with their far-right ideology (one extremist, who now regards her as a friend and will no longer attack the mosque, still wants to exterminate all Jews). Nevertheless, this is bold, provocative filmmaking, motivated by a very determined commitment to making the world a better place.
White Right: Meeting The Enemy is available now on Netflix.
Tags: Production