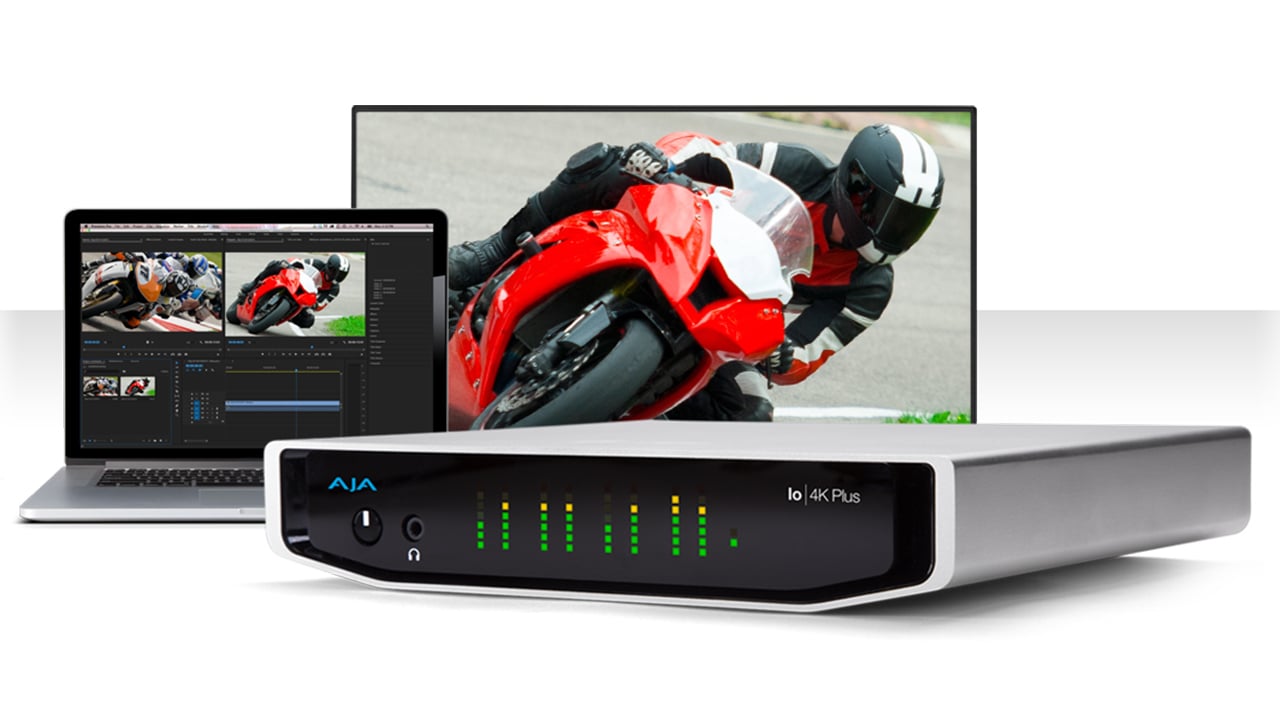 Review: We take a look at this highly compact, yet very promising Thunderbolt 3 based video input/output box unit AJA (Updated with new information from AJA)
It used to be difficult to get video in and out of laptops, regardless of how much storage space or processing power they had. Thunderbolt helps solve this by providing, among other things, an external connection of equivalent capacity to some of the PCIe slots that would normally be used to plug expansion cards into a workstation. Thunderbolt 3 doesn't quite match the performance of the highest-capacity slots on a workstation motherboard, providing four data lanes rather than the 16 used by peripherals such as graphics cards, but at around five gigabytes per second overall, it's probably the fastest external bus ever provided to a computer.
AJA Io 4K Plus is a Thunderbolt 3 video interface featuring 12G-SDI and HDMI 2.0 connectivity
Devices such as AJA's Io 4K Plus owe their existence to Thunderbolt. The Io boxes essentially offer the services usually provided to a workstation by a plug-in expansion card but are presented as an external unit. This isn't something that could be done with USB, at least given the high bandwidth video modes supported by the Plus revision. It's tempting to compare Thunderbolt to USB, though they work very differently. Thunderbolt 3 significantly exceeds the performance of any USB standard at 40Gbps compared to 10Gbps, allowing AJA to create an I/O device that's capable of handling both higher raster bandwidth and framerate video formats.
12G-SDI with 2160p images feeds the Io 4K Plus, which is connected to the laptop via Thunderbolt 3
The extra performance of the Io 4K Plus gets us several things, not least of which is HDMI 2.0 and therefore support for 4K or UHD images at 60fps in 4:2:2 colour subsampling. There's also 12/6/3/1.5 G-SDI support and therefore the ability to connect SDI picture sources in UHD and 4K without using four separate cables when utilising 12G or 6G. A huge range of image formats are supported, including the unusual 47.95 and 48fps rates used for high frame rate cinema, but in general, the higher-bandwidth connections will provide more support for higher frame rates with more colour precision. 4:4:4 subsampling and 12-bit per channel, 36-bit per pixel modes are supported for higher resolution images at higher frame rates than with previous devices.
The hardware configuration is similar to some of AJA's other products, with four BNC connectors which can become either inputs or outputs as the situation demands. For instance, using 12G-SDI, it's possible to have capture and output simultaneously, but all four connectors must be assigned to either input or output if there's a need to send 4K material over quad-link 3G-SDI. Multi-link 4K using square division (where each quarter of the image is sent down an otherwise conventional 3G link) and two-sample interleave (where each link carries a quarter-resolution image) are fully supported.
HLG and HDR10
As with the standard Io 4K, the Plus version supports both HLG and HDR10 output over HDMI with the ability to set HDR10 metadata in the AJA Control Panel for HDR monitoring. It's interesting to ponder the possibility that this sort of feature could be used to create a low-cost HDR finishing environment, using consumer HDR displays, although a fair amount of caution would be required as regards the abilities of low-cost OLED TVs to show HDR accurately.
A healthy scattering of connectors. The four video BNCs are configurable as input or output to suit the required signal formats
There are no digital audio input or output options other than as embedded within 16-channels over SDI or 8-Channels over HDMI. Eight-channel analogue I/O is on a conventional DB25 connector and might offer a reasonable basis for a surround mixing environment, though an external breakout box to XLRs might be required. Other facilities include timecode in and out or reference video for synchronisation, two Thunderbolt 3 ports for pass through when required, HDMI in and out, the four SDI links, and a dedicated monitoring output. The monitoring output is a particularly nice touch, providing an HD down-conversion of whatever's going on, helpful for monitoring 4K projects on regular HD SDI displays.
The AJA Control Panel application is presented as a series of diagrams showing signal flow, which keeps things simple
Physically, the Io 4K Plus is a flat silver unit with some styling along the base to make it more appealing than a simple metal box. It has a metal case that's around 40mm high and about 220mm wide. Two of them would fit comfortably side-by-side in a rack tray, and an optional IOX-RM 1RU rack mount is available from AJA.. Thoughtfully, the company has provided two M3-threaded bosses in the bottom of the case to make mounting easy, so a rack mount configuration would only require two screws and a 1U rack tray with two appropriately placed holes per Io device. Trivial as it may seem, this is the sort of thing that makes it easy to create solid, dependable configurations of gear, particularly where things need to be both portable and reliable.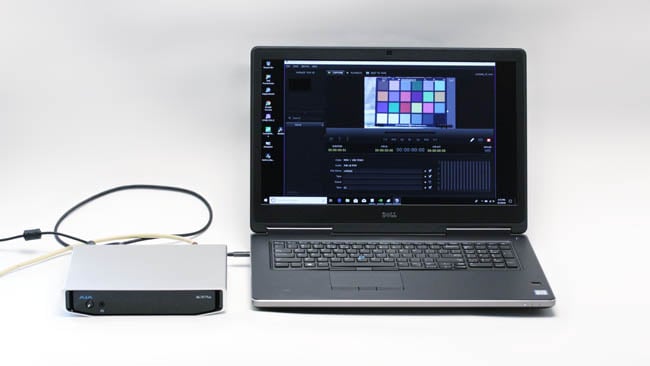 AJA Io 4K Plus connected to a Dell Precision 7720, displaying live 2160p25 pictures
AJA's promotional material describes the 12V XLR input as "for AC or battery power," a combination suggesting that the company expects the Io 4K Plus to be attractive for digital imaging technicians. The fan is perhaps a little noisier than would be ideal for this application, risking stern glares from the sound department, although recent firmware releases have addressed this with adjustments to the firmware keeping sound under control since we received our demo unit. Otherwise, it might fit the on-set role quite well. There are LED audio level meters on the front of the device, which are a useful indication that something is happening, but they are clearly not intended to be a precision audio level reference.
Conclusions
The Io 4K Plus is a nicely designed unit which does exactly what it claims to do, with solid support and included plugin software for leading NLE and streaming software like Avid, Adobe and Wirecast. It is likely to be used with popular nonlinear editors or grading programs (though not Resolve, which supports only Blackmagic I/O devices,) or something like Silverstack for on-set work. For an extensive and full 3rd party software compatibility list please see: https://www.aja.com/compatibility/io
The Io 4K Plus seems well made with that flexible assignment option for the main BNC video connectors. The down-converted monitoring output is nice, and the 12G-SDI I/O is hard to find in other external devices. The Control Room application provides for the sort of capture and play-out features we'd expect. But mostly, of course, the AJA Io 4K is a facilitator for third-party software, and as such, the killer feature for many will be that it packs so many high-quality pixels in such a small space.