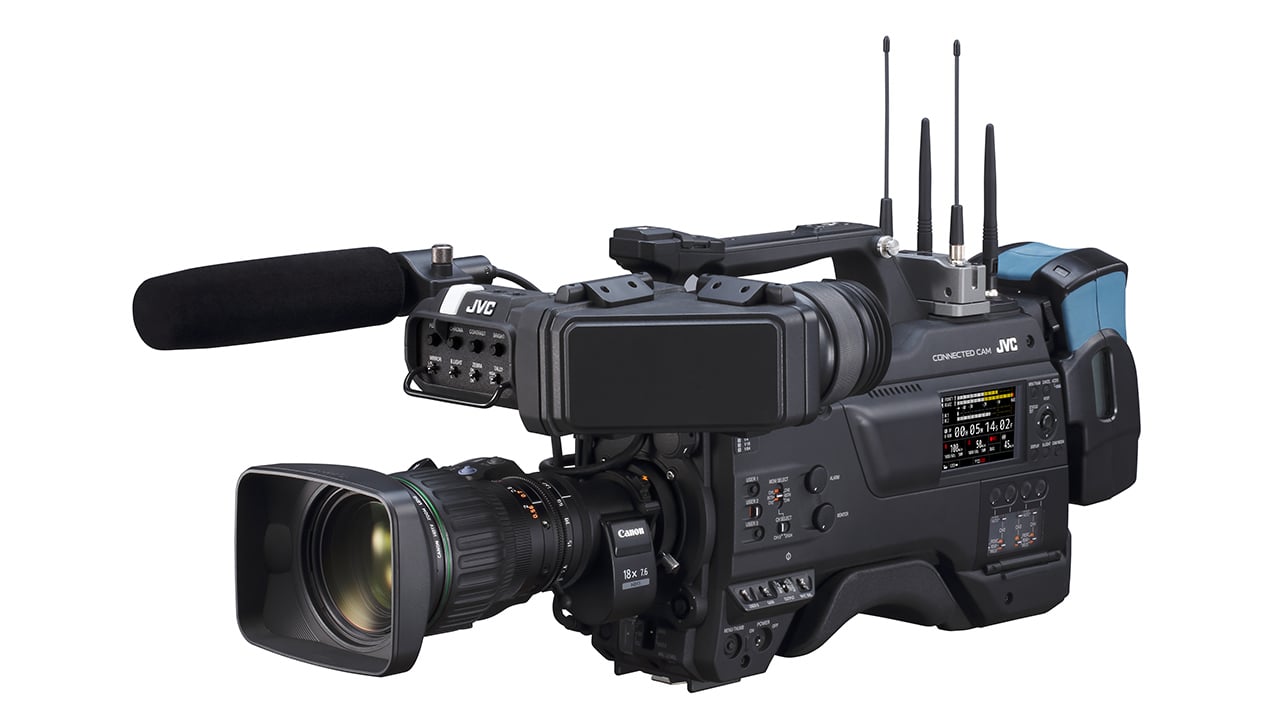 JVCs Connected Cam promises to be the most versatile and adaptable ENG camera yet. We take a good look at what it can do in this detailed preview.
I was once asked to set up an ENG camera for use as an on-screen prop, to look as if it was being used to shoot news in a remote war zone. Like anything else, there's a fashion to these things and a well-turned-out camera should naturally include velcro-tied coils of cable, at least two devices stacked between the battery and the back of the camera and the maximum possible number of antennae. Cram it all inside a slightly foxed port-a-brace, add scuff marks, dust and a few creative stains, and you have a camera that can be operated from the hatch of an armoured personnel carrier with pride.
JVC's upcoming GY-HC900
All of that's great until we pick our fully-accessorised camera up and realise it weighs as much as the armoured personnel carrier, tends to fall apart if jostled, and costs a fortune. JVC's GY-HC900, called the "Connected Cam," has clearly been designed by people who understand these problems and were keen to help camera operators avoid them. The camera was announced at NAB, when we had a quick look. The camera is due to be released around the time of the IBC exhibition in Amsterdam in September and this preview is based on a version with only the basic functions enabled in firmware – not even recording to SD card. Even so, it seemed worth taking the opportunity to sneak a closer look at JVC's new baby – if it's reasonable to refer to a full-size ENG camera as a baby.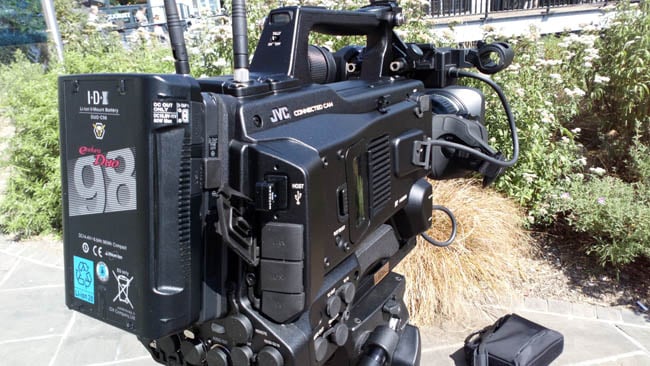 The HC900 has a refreshingly conventional and well-balanced layout
A complete camera
The HC900 immediately looks like a conventional ENG camera and a very complete one. It's a traditional three-chip design with three 2/3" CMOS sensors, for compatibility with B4-mount lenses that are both capable and available at a variety of capability levels ranging from affordable to incredibly capable. Exploring the menu, it quickly becomes clear that the software is a descendant of JVC's existing work on cameras such as the much smaller GY-LS300. Despite this, it's reportedly a very different hardware setup to the company's previous cameras, given the need to implement 10-bit picture handling.
Rolling shutter, which is particularly unwelcome in a camera which may be extensively handheld, is detectable but minor. Crucially, viewfinder lag, something that we've complained about before, is well under control. The menu system offers us Rec.709 and Rec.2020 colour encoding, as well as HLG encoding for HDR pictures, although it's difficult to be specific about the capability of the camera head itself without being in a more formal test environment.
I/O connectors include four channels of audio I/O (two up by the lens mount, two at the back), HD-SDI both in and two outs, HDMI out (which is fairly unusual on a full-size camera), DC power outputs for running accessories, USB and Ethernet, timecode, genlock and even a composite video output. Good ENG cameras tend to be positively perforated with connectors like this, in the hope that they'll never be caught out for a place to plug something in.
Correct
The clever bit
The HC900 also offers various data connections. That's not particularly unusual: many cameras have USB and Ethernet connectivity in 2018. The trick is in what they do with that data and it's fair to say that the HC900 is intended to do a lot. All of the network features are available (or will be in the final firmware) via hardwired Ethernet, wireless Ethernet or via the cell phone network. The fact that these tricks (will) work on any of the available network interfaces suggests that the camera implements a conventional TCP/IP network switch, and thus shouldn't care too much about the network environment it's in or how it's connected. Give it a connection, it'll find a way to make it work.
The return-over-IP option is particularly attractive. Live news in the field too often lacks reliable comms
Given this, it should also be possible to connect the camera via WiFi to a suitably-configured cell phone, which can then uplink the pictures back to base using its own data connection. Streaming is at a modest 20Mbps, but that's more than sufficient for the sort of very mobile news work for which the camera is intended.
Lots and lots of connectivity. There's more on top, in the bay, and yet more with the standard 68-pin interface for a fibre back
Any web browser on the network (typically a phone) can also load a page from the camera's built-in web server, which provides a coarse-but-viewable image preview and a lot of engineering options that might usually be found on a camera control unit. One particularly nice option takes advantage of the fact that the network is bidirectional and will provide return video and voice communications from the studio to the camera operator. Finally – as if this list of features wasn't long enough – there's the option to upload previously shot files from the camera to any FTP-server. This should interact nicely with the ability to shoot two different files at once, at different bitrates, then upload the small ones first.
The other hint that something unusual is going on is that there are two bays at the upper rear for slot-in modules, the sort of place you'd usually put a radio mic receiver. One of them is indeed a standard slot for radio mics; the other is a new protocol developed by JVC and intended to receive modules supporting other network devices. It's shown here with WiFi antennae, although for the sake of this test a plug-in USB WiFi device was used.
Remote control features on a smartphone. No app is required, the camera serves this as a web page
Combining all of this with a well-laid-out camera that's easy to use and has the controls in all the right places is a very good move. The shutter and white balance control, power switch, filter wheel and all of the other standard bits of a user interface are exactly where we'd expect them. Power consumption is projected to be about 30 watts, which is fairly midrange and reasonable given the amount of extra computing power on board.
SDXC media keeps the costs down. Bitrates up to 50Mbps are to be supported; more will doubtless be asked for
JVC does this sort of thing very well: building devices that interface nicely with existing systems and equipment. It takes conventional lenses. It takes conventional SDXC cards. It takes conventional USB wireless devices. It uses conventional FTP file servers. It records conventional codecs (including, now, 10-bit options.) It uses conventional cables, connectors, power accessories and quick-release plates. This sort of thinking makes advanced features available without making anyone re-purchase all the accessories that surround the camera.
I look forward to a full review soon after IBC.