Replay: Why are S35mm filmmaking lenses so much bigger than even their full-frame stills counterparts? Is it a physical requirement, or could the reason lie in usability?
Let's be clear: the Blackmagic Pocket camera (the original one, not the more recent 4K model) produces better pictures than the Sony HDW-F900, and the F900 has been used to shoot widely-released feature films with big-name cast. It's an unfair comparison, given the decade or more between them, but it's clear that cameras have collapsed in size amazingly over the last decade or two, and it's quite common to see a Pocket dangling from the back of a huge Alura zoom lens at a trade show.
Optical bulk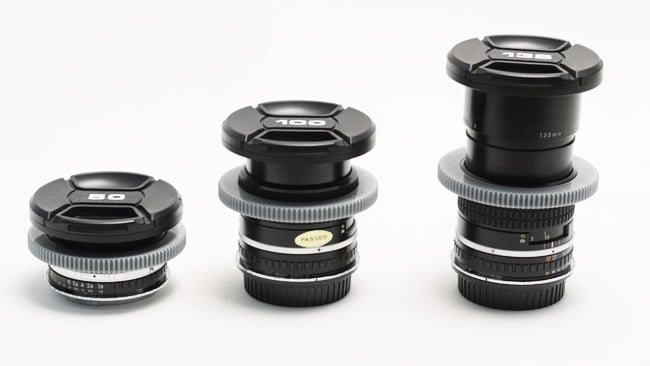 Lenses generally get longer with increasing focal length. Here a few stills lenses. L-R, the Nikon Series E 50mm, 100mm and 135mm
And that's sort of the point. Lenses haven't shrunk with cameras. In fact, they've often gone in the other direction, with a tendency to rehouse fairly compact stills lenses in big, impressive housings that match the expectations of camera assistants and producers alike. A lens has a certain minimum size due to the necessities of optical physics, but as we'll see, there's the question of how essential it is that cinema lenses should be so big and heavy, especially given the costs involved in things like ever larger and more capable drones.
The Nikon Series E 50mm f 1.8 lens projects an image big enough to cover a 35mm stills frame, though it is enlarged even more here by the extra projection throw
Let's consider the Nikon Series E 50mm stills lens of the early 80s. They were always designed to be cheap and they can be had on eBay these days for £60 or £70. They're plasticky but less so than many modern stills lenses and they enjoy the high performance of primes. The thing is that the Nikon E 50mm is extremely small and extremely lightweight, less than 65mm in diameter and only about 35mm long, weighing less than 140g. They lack the focus gearing of a real movie lens and the focus throw is tiny, but those are implementation details. Optically, it's respectable, probably exceeding the performance of many high-priced Nikkor lenses – it achieves f/1.8 and it has full-frame 35mm coverage.
The experimental setup. The projected image is further from the lens than normal, effectively putting the setup in macro, so the lens can focus on such a nearby image
Let's consider a comparable cinema lens. Options are available with full-frame coverage and in EF mount. One brand is nearly four times longer, almost double the diameter, and eight and a half times the weight. Are there any engineering reasons that make this unavoidable?
Weight
Well, sort of. We're not here to bash any particular manufacturer or their optical designers and the weight, in particular, is probably largely down to the requirement for precision. Cinema lenses typically have focus distance marks we can rely on and their end stop is at infinity. That requires precision and precision demands more use of metal in the construction. Given the fact that the focus rotation on most cinema lenses is over 270 degrees, the front end of the lens is, by definition, supported on less than a 90-degree section of the barrel wall. If things move even very slightly, the image will be distorted. These are not things that can be done with plastic parts. By comparison, the little Nikon has a barrel that's essentially a tube with a short slot in it.
Beyond that, naturally a larger lens will be heavier, all other things being equal. So, why are movie lenses often so big?
The Nikon Series E 50mm is tiny compared to most 50mm cinema primes (especially if you ignore the focus gear accessory)
Uniformity
Generally speaking, lenses of a longer focal length need to be physically longer. That isn't always true, given various tricky optical techniques, but under most circumstances, the engineering requirements will push in that direction. Over 100mm, even cinema lenses targeting consistent sizing tend to get a bit longer and the Nikon E series grows more or less linearly with increasing focal length.
It's slightly less intuitive that wider lenses need to be physically wider since the f-number of a lens is the ratio between the focal length and the diameter of a slightly esoteric optical measurement called the entrance pupil. Instinctively, it's obvious that a shorter lens could have a narrower entrance pupil since in an f/2 lens the entrance pupil needs to be half the lens's focal length. That's 50mm for a 100mm lens but only 7mm for a 14mm lens. It instinctively seems that a wider lens could be smaller.
Maximum entrance pupil. The 28mm lens (left) has a maximum aperture of f 2.8, while the 50mm achieves 1.8. Notice the larger hole in the 50mm
Practically speaking, though, various engineering considerations conspire to ensure that wide-angle lenses often end up being physically wider than the pure optical physics would suggest if only to get the metal parts out of the field of view. As a practical note, in a set of primes where the longer focal lengths strive to maintain the same f-number as their shorter counterparts, longer lenses may also become quite wide, since a 135mm lens needs a 67.5mm entrance pupil to achieve f/2.
So, if we're creating a set of primes where we strive to make each of them the same size, we have a constraint. The entire set of lenses must be wide enough to accommodate the focal length which demands the most width and, simultaneously, long enough to accommodate the focal length which demands the most length. This means that the many medium-focal-length cinema primes could probably be quite a bit smaller than they are, at the cost of not having the filter ring and controls line up with the others in the range. The usefulness of that depends on the application: on a single camera drama setup, that alignment is useful. On a drone, probably less so.
At short focal lengths, engineering concerns can start to increase sizes again. The 28mm Nikon Series E is larger than the 50mm
Optical engineering
There is another reason to make lenses bigger or at least a reason to make the glass parts bigger. It's fairly common knowledge that a lens performs better when slightly closed down from its maximum aperture because most of the light is going through the generally more accurate central part of the lens. In this region, the angles involved are less extreme and results more ideal. It's also fairly clear that a physically larger lens has a lower f-number for any given focal length. Because of that, a larger-diameter 50mm lens at f/2.0 is effectively stopped down somewhat, compared to a smaller lens of the same specification.
So, can we assume that physically larger lenses really are better? Sure, but look into the front of the lens and check how big the front element is. If it's a tiny piece of glass nestled far away at the base of a big black metal cone, it's probably not taking advantage of this situation. That's often the case with rehoused stills lenses, although in that situation the rehousing has usually been done specifically because usability is a priority, so it makes sense.
The look of the thing
Would anyone deliberately make a lens big and chunky in order to make it seem more valuable?
Discuss in the comments.
Tags: Production