RedShark Review: a colour mixing LED that also produces highly accurate white light as well? Surely not? Phil Rhodes might well have found the ideal small light with the Fiilex Matrix II.
Fiilex refers to the Matrix II as a "Punch Light" and within the limits of a 340W LED it's certainly reasonably bright. What's particularly interesting, though, is that the company advertises both precision white light and full-colour mixing. To date, that's been difficult to achieve in a single device and it'll be interesting to find how well Fiilex has done – especially given the high performance of the white-only Q8 Travel, which I discussed a while ago.
Fiilex Matrix II
The Matrix II is a straightforward device – a box in a yoke with a window on the front, with four emitter modules clearly visible behind a diffused front glass. That diffusion is sufficient to reduce, but not quite eliminate the multiple shadows that we'd normally expect to see from a multi-emitter device. It's a dense object, weighing in at about 4.5 kilos, although the Matrix II only seems heavy relative to its size – the power to weight ratio is vastly superior to something like the comparable Skypanel S60C, which achieves around 420W to the Matrix II's 340, but weighs almost three times as much. The Matrix II is fan-cooled, although the noise level – on a brand-new unit – is not objectionable.
Local or remote DMX controls are possible
"Punch," in Fiilex's language, equates to a maximum intensity of just under 6800 lux at one metre in the mode the user interface calls "CCT," designed to emit tuneable white light. The Matrix II achieves this peak of output at a colour temperature of 6500K and maintains at least 6500lx between 6500K and 3200K. At full power, the worst case TLCI is 91.8 at 3200K; in general, results are otherwise over 94. Colour precision suffers very slightly with a reduction in output at higher colour temperatures, falling from 97.3 to 92.5 between 100% and 1% at 6500K, for example. The Matrix II maintains TLCI readings generally in the mid-90s at all colour temperatures between 2800K and 1000K.
The Matrix II is, naturally, flicker-free. Because of complex considerations of switch-mode power converter design, almost all cinema-oriented LED lighting struggles to produce a completely smooth fade to black. The exception is the Photon Beard Highlight which is designed for live studio work and uses (very fast, acceptable) PWM at low output levels. In this context, about the only noticeable fault in the Matrix II's colour rendering occurs at output levels below 1%, where the light drifts very visibly (toward a greenish-yellow at higher colour temperatures). It's worth emphasising that this is only a factor at extremely low output levels.
The Matrix II requires 48V power on a 3-pin XLR. Battery power would be reasonably easy to organise
It's harder to measure coloured light, although the blue performance of the Matrix II is interesting. It lacks the typically pronounced blue spike of many extant LEDs, and Fiilex tells us that the light uses blue LEDs of several different colours to broaden the spectral output. This avoids surprises when illuminating saturated colours. Unusually, the Matrix II is capable of creating highly accurate white light while in colour-mixing mode – turn the saturation control to zero, and the behaviour is essentially identical to the white-emitting mode with 5600K selected. There is no gel emulation nor colour memory, though that could be done via DMX control.
The lamp head itself is a handy little device, with a combination spigot compatible with both 28mm (1-1/8") and 16mm (5/8") receivers. There's a switch to disable light output without affecting settings, so it's easy to demonstrate a scene with or without a particular light, without having to carefully readjust the intensity to the previous level. Controls are small enough that they're protected somewhat by the big rubber corners, so there's no need for the protective bars as used on the Q8, though the controls are, overall, the weak point. The package as demonstrated includes a speed ring for a softbox, which will probably be a fairly standard application for the Matrix II, with a neat system which allows users to vary the soft-box tension in about ten minutes with an Allen key.
Barn doors are also provided which snap on using a convenient latching system. Even the yoke clamp and electronic controls feel solid and well-made. About the only complaint is the size and weight of the whole package in its case – as with the Q8, Fiilex seems to like very, very sturdy cases, and all together it's a box that's really too heavy for just a 300W light – and only the least cautious owners would want to throw an expensive LED on a truck uncased.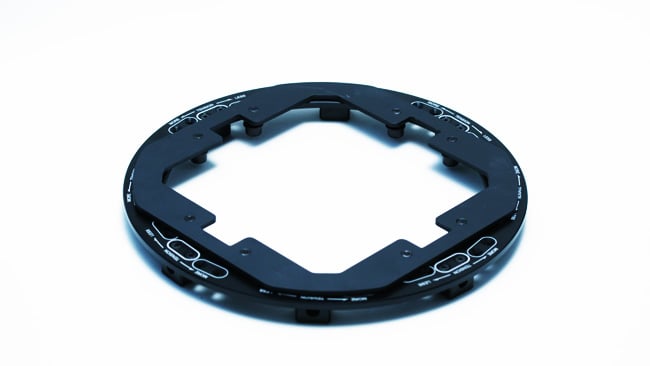 Adjustable-tension speed ring - the softbox itself is not supplied
The Fiilex Matrix II RGBW sells in London for £2600 including tax. As we've said frequently before about products from all manufacturers, LEDs often cost a lot of money for something that, considering sheer power, is only just struggling out of the very-small-light category. A quality 575W HMI can be had, with ballast, for under 20% more and will be considerably more powerful. The Matrix II has an answer to that, of course: no HMI can mix colours or be dimmed in this way, and the simple "punch light" design is probably much more optically efficient than a fresnel. It's unsubtle, but it's a prime mover, a driver of things like diffusion. So, if this is a sign that small HMIs are about to be overtaken in the price-to-power ratio by LED, that's welcome.
The RGBW model can create bright (or subtle) colours, as well as white
If we're going to get full colour mixing into the bargain, that's even better. But the Matrix II doesn't really compare to an HMI Fresnel. That comparison to a Skypanel is perhaps more apt. Fiilex's effort is smaller, lighter, half the price, 80% of the power and achieves better colour quality than an S60C. That's possibly just a factor of the very rapid progress that's currently being made in the field, but on those criteria alone, the value proposition is an attractive one.