Join RedShark and our partners Canon, CW Sonderoptic, and G-Technology on Weds May 30th at Canon Studios Burbank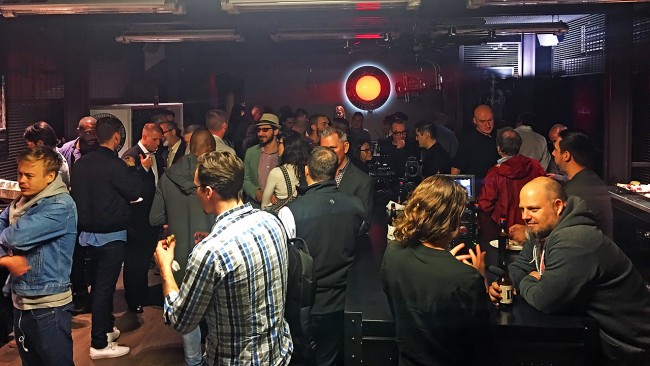 RedShark Connect event in New York, last year
Late last year we hosted our first RedShark Connect event in New York at RED's ultra-cool showroom, and it was a massive success. So we're doing it again - in fact many times over during the next 12 months.
Our next Connect event is on May 30th at Canon's amazing studio space in Burbank. You can spend quality time with our partners at the event: Canon, CW Sonderoptic (for Leica products) and G-Technology.
We've designed this event for filmmakers who want to learn more about their craft and to connect with their peers and technology experts.
This is our way of kicking off Cinegear in LA.
It's an evening of food, beer and cinema gear. It's hard to think of anything that could be better!
Canon's studio space will have expert cinematographers shooting full frame video on a live set. You can try out Canon's new flagship cinema camera, the C700FF (there's only a handful in the world right now), and Leica's best-in-class full-frame cine lenses. Professional storage virtuoso G-Technology will be on hand to demonstrate how easy it is to work with large files once you've got the winning shot.
You'll learn new techniques, discover new technology and meet some interesting new creatives you could even end up working with!
On-site food, soft drinks, wine and beer will your energy levels up, and parking is on site - full details will be sent to you once you RSVP.
RedShark Connect is a series of intimate, pop-up events in global creative hubs designed to connect filmmakers with moving image tech companies working together to create real-world examples of best-in-class production and post workflows. Please note that by RSVP-ing to this event you agree to having your email address shared with the other event hosts. However, you are free to unsubscribe by informing us at check-in or at a later date by email.
Where
3400 West Olive Avenue, Burbank, CA 91505
When
Wed, May 30, 2018 at 7:00 PM