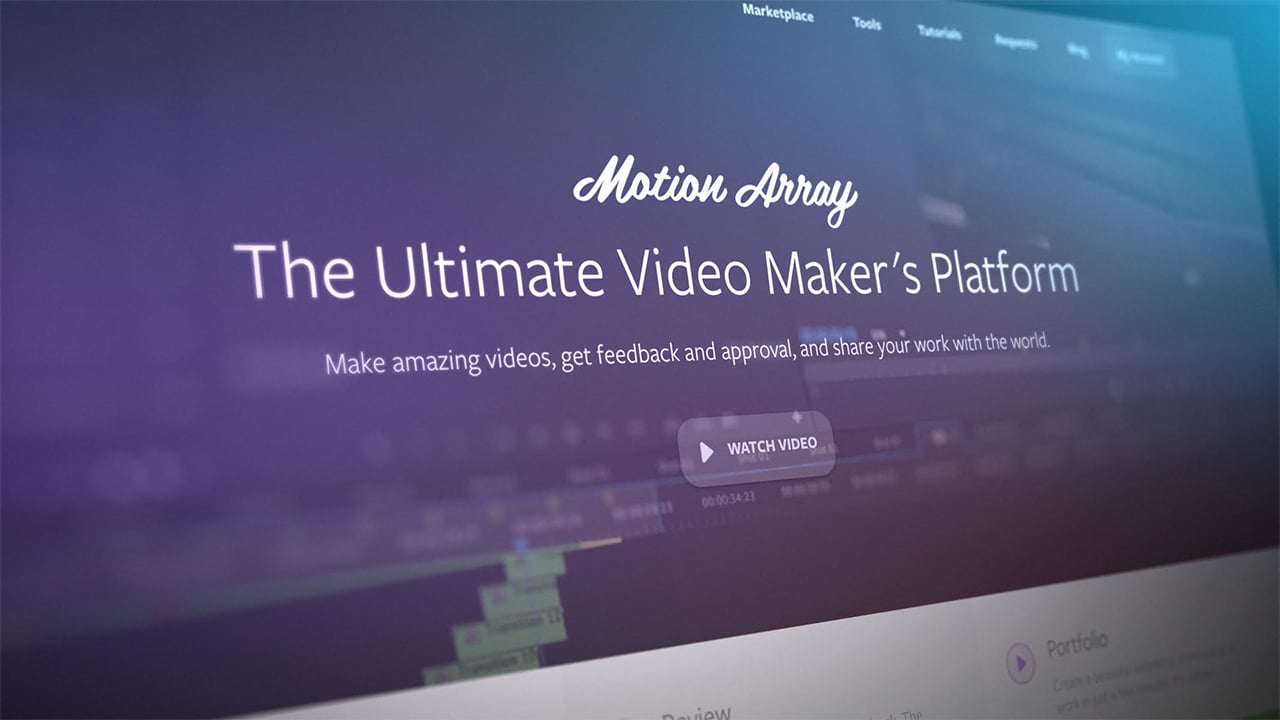 Motion Array Proves It's More Than Just A Marketplace With New Video Review And Portfolio Services
If you've already heard of Motion Array, we'd like to tell you about some amazing new features. If you haven't - it's a great time to jump onboard.
We - Motion Array - recently added two powerful new services that have effectively revolutionized its once fairly basic marketplace, offering Premiere Pro templates, After Effects templates, royalty free music, and stock video, into a powerful video maker's platform for anyone involved in production and post production.
Let's have a closer look.
Review
The first big change taking place over at Motion Array that we'd love you to know about is a new service called Review. Simply speaking, Review is a cloud-based platform where artists can present draft videos to clients and receive instantaneous feedback in the form of frame-accurate comments. (Think Google Docs but for video).
Unlike Google Docs however, the Review interface is fully customizable so freelancers and small businesses can incorporate elements of their company branding to achieve that super slick look. Review has password protection and allows users to upload and share multiple versions of the same video, making it much easier to experiment with different variations of a project and track progress.
Portfolio
Building on from Review is Motion Array's second big new feature, Portfolio. Much like all the other personal website-builders out there, Portfolio provides a place for artists to flaunt their work and (if all goes to plan) pick up a few clients along that way. But unlike its competitors, Portfolio packs some key differences.
For starters, it's fully integrated with Motion Array's Review system, meaning that the second a user has finalized a video, they can publish it directly to their portfolio without having to go through the rigmarole exporting, importing, or dare we say, coding.
On top of all that, Portfolio offers free personalized domain names, a fully customizable interface, and the option to include eye-catching video covers that'll help entice visitors to your site and keep them there.
But Portfolio's pièce de résistance is the extremely desirable ability to do parallax scrolling! It's pretty exciting, because right now there's only a handful of other website-builders that provide this visually-stunning feature and the few that do, typically charge for it as an add-on.
White-Label
One feature that makes these two new tools stand apart from the rest, is that you can use your own domain address or the provided post.pro domain address. They don't use the MotionArray.com URL, so your clients only see your branding, and not Motion Array's. In our view, this is the way it should be.
Marketplace
In addition to Review and Portfolio, Motion Array has also taken this opportunity to streamline its marketplace by adding hundreds of new products and reformatting their search system to ensure members can find what they need with greater ease and speed than ever before.
Making sense of Motion Array's new platform
At this point, you're probably starting to wonder how much all of these new services are going to cost and whether you'll get a return on your money.
All newLet's start with the financials. The good news here for all Motion Array members is that all these new service are already available to you and for no additional cost. That's because instead of charging extra fees to access Review and Portfolio, Motion Array rolled them into their existing subscription packages.
And for those of you that aren't yet a member, accessing Review and Portfolio is as simple as signing up for one Motion Array's subscription packages. They've got plans that start from the very reasonable price of $0/month and range all the way through the top tier plan $54/month.
With Motion Array's powerhouse of resources, you'll no longer need to rely on a zillion different subscription-based services to get one job done. Instead you'll be able to fulfill all of your post-production needs in the one place, from accessing stock video resources and sourcing feedback, all the way through to self-promotion.
But please, don't just take it from us. Get yourself over to Motion Array and see for yourself how awesome it is.