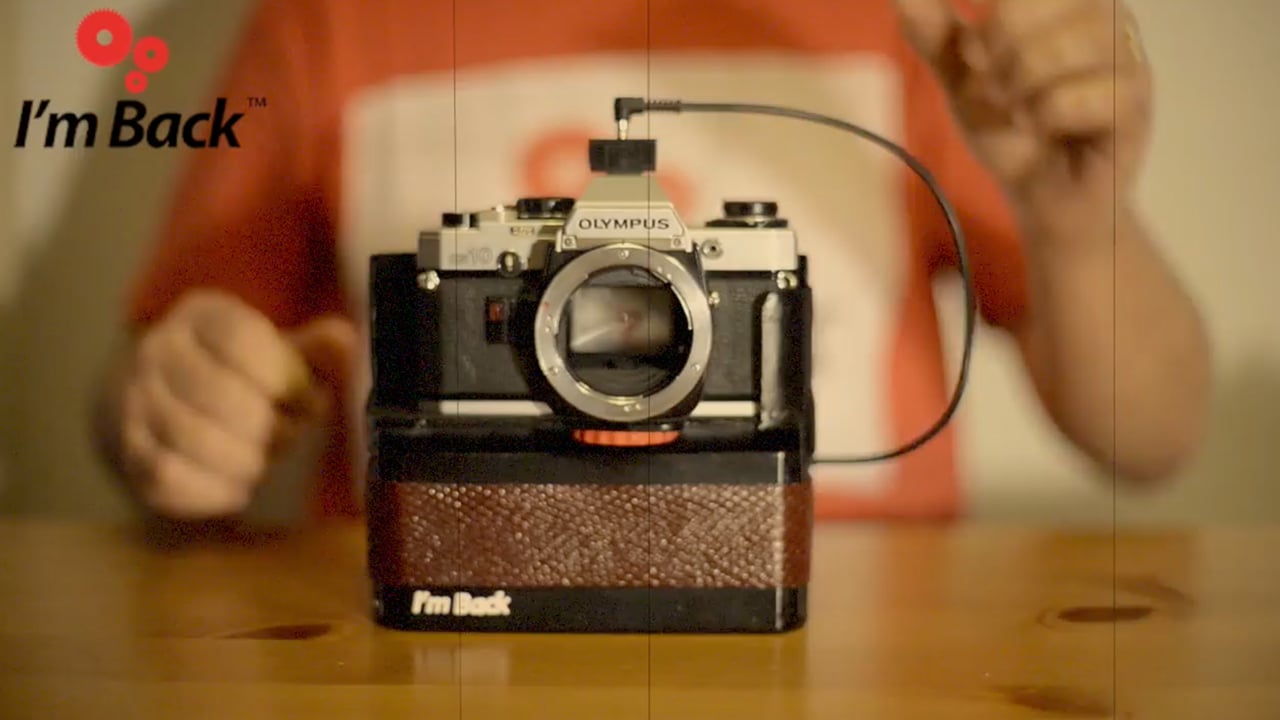 The headlong rush to digital has prolonged, even reinvigorated, the life of 35mm feature film, brought vinyl back into fashion and provoked a retro hankering for the tangible nature of analogue media. One of the latest to catch this wave is an attempt to wed the experience of composing with older reflex cameras with a digital output.
I'm Back, the name of the project, essentially replaces the roll of, say, Ilford ASA 400, with a 16 Megapixel chip within a camera from as far back as the 1950s. A focusing screen is placed where you would normally put a film roll, allowing the image to be created on the new sensor. The image is then saved to an SD card for viewing on an LCD display or your attached smartphone.
Kit form
The back comes in a kit form. All you have to do is: Detach the rear cap from the camera (this works on most cameras between the 1950s and the 1980s). Then adjust the exposure 'hole' to the digital sensor installed on the back. Connect the Sync Flash cable from the camera to the case, set the exposure in 'B' (Bulb) and hey presto.
Cameras the digital back is designed work with include Minolta Maxxum 7000 Nikon F and Nikon S2, Olympus OM10 Pentax K1000 and Leica M2. Compatibility with the system requires your camera to have a tripod socket, a bulb setting, and flash sync capability. The camera must also be able to function with the back door open (or better yet, removed).
This may not be the perfect solution to your analogue desires, or even the best re-use of your old camera kit. It may save the cost of new negative film purchases and processing – but isn't that half the fun and the reason for going back to basics anyway.
What RedShark can applaud though is the idea that with good old cameras, people were simply more careful with composition, focus and exposure since they had little or no margin of error while taking picture on a film.
Of course, this doesn't necessarily have the convenience of being able to share your photography immediately online (which I'm Back is designed to enable) but if you shoot with slide film for example you can still get cracking results when the neg is digitised at, say, Jessops.
The project was launched on Kickstarter last October with a working prototype with an 8-megapixel sensor and intentions of building a professional one with a 16MP chip once €85,000 was raised. Sixty days on and only €35,308 had been pledged from 213 backers.
In truth, the idea hasn't received the most favourable comments on social media. However None of this has deterred founder/designer Samuel Mello Medeiros, a Brazilian-born Portuguese, who posted a note on March 21 declaring the Pro version ready to ship this September – provided more contributions fuel the campaign.