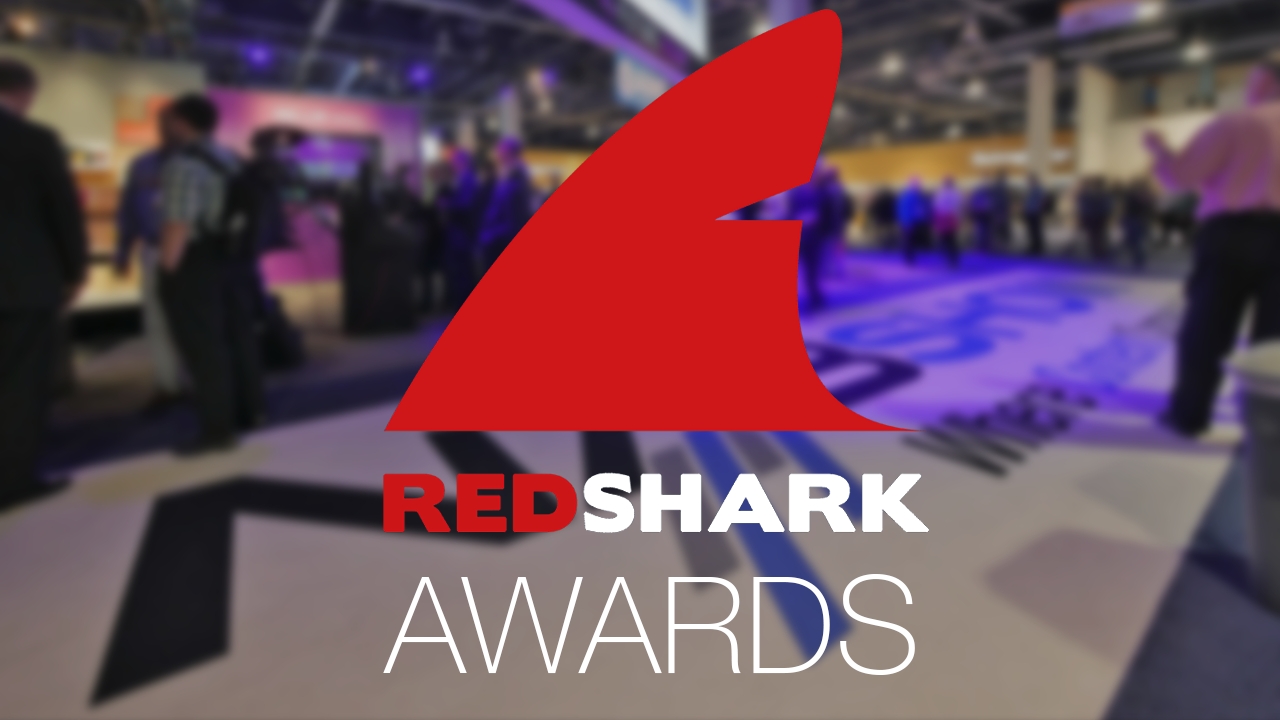 The NAB 2018 RedShark Awards are here! These are awarded to the products that we think were the most innovative and ground breaking at the show. Read on to find out who won!
We give out awards at IBC in The Netherlands in September, and NAB in Las Vegas in April. Our awards differ from others in that they're free. There's no sense in which awardees have to pay to take part. That just seems wrong.
We don't get to see everyone at the show, and we know we will have missed products that deserve to have won an award. We're sorry about that - but there's no way round it in the limited time we have at the shows.
These awards are in no order except for the "Supreme Best in Show" which comes at the end. The other awards are for the best products that we have seen in any category. We have scrapped categories this year because they were constricting: we have been able to be more creative and - to be honest - more accurate with this years awards. We haven't just awarded products, but also effort and achievement.
So here they are. Congratulations everyone!
Blackmagic Design - Da Vinci Resolve
This extraordinarily powerful software package just made another huge leap by incorporating Fusion, not just in the free version but in the paid-for version too. Fusion is a Hollywood-Grade 3D compositing and FX package. It's now an intrinsic part of Resolve. It would have been very easy to shoehorn Fusion into Resolve with little more integration than being able to select it from a menu in a common user interface, but what impressed us was that it goes much much deeper than this.
If, for example, you're in the process of making a title or, perhaps, a lower third, then whatever you set up in Resolve will be reflected in Fusion, which will show your titles as one or more nodes, ready to have a 3D transform applied, or something more complicated.
So we've given the award to Blackmagic because Resolve has taken on board massive additional and deep functionality, and it remains free. The full version stays at the same price which is so low in comparison to the overall capability of the package that it almost seems surreal.
Atomos - ProRes Raw
Atomos has worked with Apple for a long time in the field of portable hardware-based ProRes encoding. So it seems unsurprising that Apple and Atomos should have worked again on a variety of ProRes that allows RAW footage to be stored and played back with almost the same ease as "traditional" ProRes, but with much of the flexibility of RAW footage retained.
Nobody knows how this is going work out - it's too early to say yet - but we'd be surprised if this isn't widely adopted. Yes, it's only available for use on Macs at the moment, but at the very least, that will be OK with the huge number of content creators that prefer Macs anyway.
Canon - EOS C700 FF
Finally, Canon has a camera that is a tour de force. A huge full frame sensor, exquisite colour science, and the ability to use EF mount lenses. The new camera is apparently talented with Anamorphic lenses too.
It's a great camera from the company that invented the concept of Full Frame cinematography, almost by accident, with the Canon 5D MKII. We have seen some wonderful footage from the C700 FF and we now understand what a versatile camera it is.
Canon accepts its award for Best in Show
Sony - the "most impressive picture ever"
People kept coming up to us to say "Have you seen the Sony screen?". What they were talking about was the gigantic full 8K LED screen at the centre of Sony's exhibition stand. There is nothing else like it on the planet. It works by having tiny LEDs surrounded by a large area of black background. This creates an extraordinary amount of contrast. The combination of the deep blacks and the intense whites means that this is a definitively high definition display.
Of course it's optimised and intended for creating eye-catching wall-sized images. It's not perfect and you wouldn't use it for a grading monitor, but the sheer scale and intensity of it is impressive as was the number of people commenting on it to us. We have little doubt that this type of screen will be the future of cinema: direct-view LED rather than projection. On the other hand, some of the recent projectors we've seen have been incredible, but that's another story.
Peter Crithary accepts the Best in Show award on behalf of Sony
Codex - ColorSynth
Codex is the company that builds everything around the realisation that your video files are incredibly valuable. They've built a range of storage devices and recorders that put safety and integrity first. After some early forays into colour correction, Codex has now created ColorSynth, a plug-in that allows you to manipulate colour in a new and as far as we can tell, pretty unique way. It comes with a nice-looking control surface and appears to be able to make radical or subtle changes missing out several stages that other grading packages require you to go through. This one came out of the blue (did you see what I did there…) and impressed us enough to give it an award.
Adobe - For Sensei picture colour matching
Establishing a colour look is far from straightforward, and I've often wished I could take a picture and show it to an NLE which would match the rest of my footage to the same look. This is now possible in the most elegant of ways. Using Adobes Sensei Artificial Intelligence engine, you can now achieve a huge range of attractive colour looks simply by showing Premiere what you want. It's clever stuff. It was, apparently, very hard work for the developers. But the results speak for themselves. Richly deserved.
Adobe wins an award for its amazing new Sensei AI colour correction engine
Teradek - New Bolt
Teradek is known for its ability to create rock-solid wireless products that quickly become essential to any major shoot. And it's done it again with the new Bolt. A rock-solid connection and near zero latency are massive technical achievements, all of which make wire-free monitoring a practical and indispensable proposition.
Teradek
Pond5 - AI picture matching
This is the second award for AI technology. It's all very well having millions of video clips in a stock library, but if you can't find the clip you want it's not much use. So new AI-based search tools are set to make a huge difference. While they don't yet read your mind, it's almost as good as that because all you have to do is show the system a picture and - based on several criteria which you have complete control over, the software will offer up dozens of possible matches, leaving the final choice to you.
This system is wide and deep. For example, if you want to have a picture of a road bridge at sunset, but without the orange car that's in your original example, just select round the orange car and exclude it from the search.
This all works so well that it's like magic. We know it's not but it's no less incredible for that.
The Pond5 team
G-Technology - G-Drive Pro SSD
G-Technology drives are an almost default choice for many content makers, and I suspect that this is partly because the company, which is part of Western Digital, keeps up with and often ahead of the trends.
The biggest trend of all (apart from the need for bigger drives) is towards SSD, everywhere.
The G-Drive Pro SSD is the embodiment of this movement. It's a compact external drive in a tough enclosure that houses SSD drives selected for their longevity. Most SSDs are OK with occasional writing, but will flake out if they're used too often. In other words, they have a finite number of write cycles before they become unusable.
The G-Drive Pro has no such reservations. It's guaranteed to withstand its entire capacity written to and read every day for an entire year. It is, of course, blazingly fast. So you can put it at the centre of your editing workflow and it will withstand virtually everything you throw at it.
It's this ability to be confident over an extended period in an external SSD drive that persuaded us to give it a RedShark award.
The team from G-Technology
Sharp - For making 8K viable, practical, and obviously better
We've always thought that there was a case for 8K in the home. Plenty of people have told us that it's not necessary and that people can't see the difference. Well, as long as you're safe, have food and a roof over your head, very little else is strictly necessary. But is 8K visibly better than 4K? Don't listen to people who've never seen it (and seen it recently).
Sharp has shown that it absolutely is. We saw a demo with RED footage running on a Sharp 70" 8K screen. We're going to write about this separately, but, quite frankly, it was astonishing. It was like a still photograph, but moving.
8K cameras have been around for a while now. Sharp has one itself. But until now it's been virtually impossible to view 8K in the home.
Now it is possible, and the results are obvious: 8K is a visible improvement over 4K.
Sharp is making this clear to us all and we thought they deserved an award for doing this.
Sharp
Blackmagic Design - Pocket Cinema Camera 4K
Supreme Best In Show
By almost every measure, this camera is justifiably the best thing we saw at the show. Here are the reasons why we gave it the award.
1) A huge number of people have been asking for this - and Blackmagic responded.
2) It has a professional audio input. This will massively reduce the amount of rigging needed to shoot a movie.
3) It has dual ISO capability. This type of flexibility is rarely seen in a camera at this price. With our limited time with the camera, this facility seems to work incredibly well, with rich, creamy pictures and very little noise.
4) It's made out of carbon re-inforced polycarbonate. Don't think of this as plastic; think of it as a space-age material that is light and yet incredibly strong.
5) You can record material through the on-board USB C port directly onto an external drive.
6) There's a full-size HDMI socket
7) The pictures seem very good indeed.
8) There's so much interest in this camera that it drove our NAB traffic to record levels.
You can see in the comments to the articles that we've written about the BMDPCC4K that people "get" what Blackmagic is doing with this camera.
Well done to everyone at Blackmagic for winning the show. We gave the award personally to Grant Petty and he was genuinely delighted.
Rightly so, in our opinion.
Grant Petty accepts the award for Supreme Best in Show at NAB 2018
Tags: Production