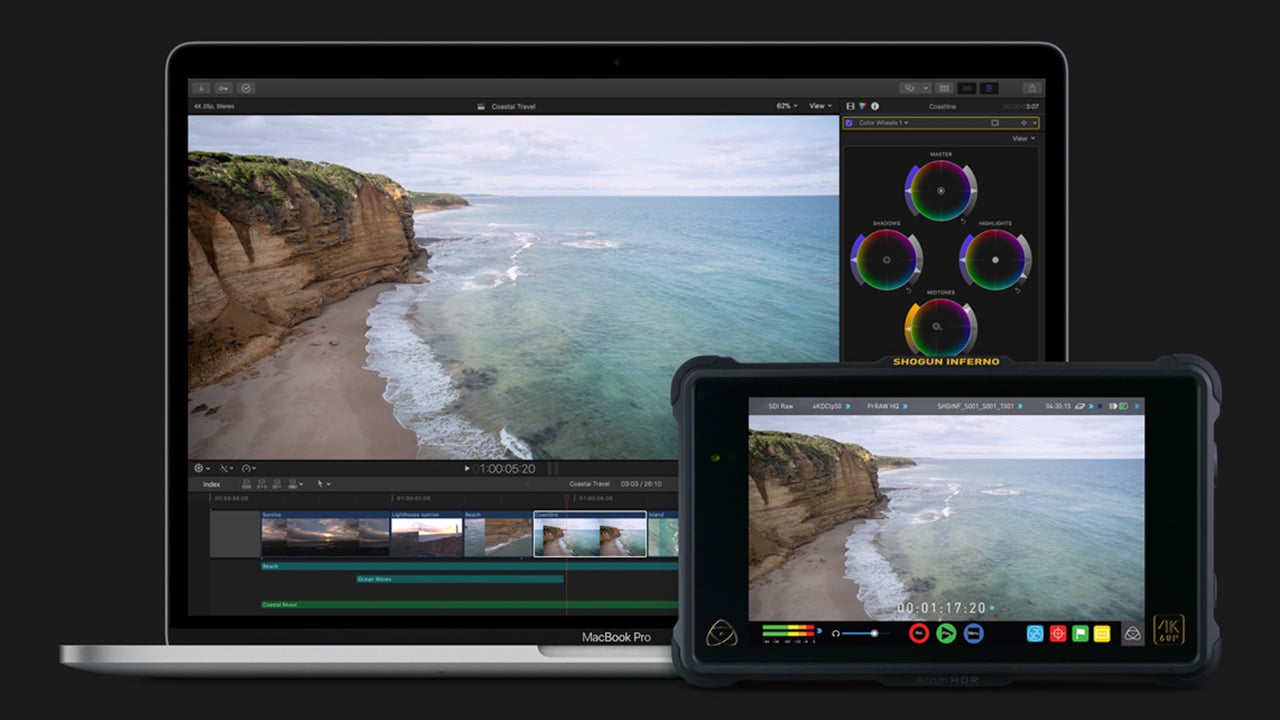 The new Apple ProRes RAW production format is set to revolutionise the industry. Everyone that shoots video or works in post production should watch its progress closely.
ProRes RAW has arrived. It's not every day that you witness the birth of a new and important standard for the post production industry. Today is that day.
Atomos has been working behind the scenes with Apple to make its recorders compatible with a version of ProRes that works with Raw footage. Whereas "conventional" ProRes "bakes in" colours, ProRes Raw will bring the vast majority of raw's advantages, with the additional benefit of providing standardisation across all platforms that support it.
Apple, of course, is noted for its fondness for proprietary formats, an attitude that is mitigated by the fact that Apple-designed software runs very well on Apple equipment, and that Apple computers are used widely enough in the content creation industry to virtually guaranteed "standard" status to any new format.
Atomos upgrades
Atomos is the launch partner with Apple for the inclusion of the new ProRes Raw format in its recorders.
Apple ProRes Raw will be available as an upgrade to the Sumo 19" recorder/monitor and on the Shogun Inferno. Both of these have sufficient processing power for Apple ProRes Raw. Earlier Atomos recorders will not be upgradeable because they do not have powerful enough processors.
Out of the gate, there are eight cameras supported from today: Panasonic EVA1, Panasonic Varicam LT, Canon C300 Mk II, Sony FS700, Sony FS5 and Sony FS7 with the optional XDCA add-on.
The recorders can be made to support up to 16-bit colour although no cameras currently output this, so for the time being recording is 12-bit up to 8K.
(This announcement explains how Atomos is going to capture 5.7K Raw from the Panasonic EVA1. Three days ago, Panasonic upgraded the EVA1 to output 5.7K raw through its SDI port)
Bitrate wise ProRes Raw and ProResHQ compare very favourably with ProRes 422HQ and ProRes4444 respectively.
Like "Standard" Apple ProRes, the new format is processor-friendly, which means that you will be able to do more with Apple ProRes Raw than with "raw Raw" (so to speak).
Fast and efficient
For example, in testing Atomos could run 4 streams of ProRes Raw on a 2015 MacBook Pro. On an iMac Pro, depending on how it's configured, you might be able to edit with between seven and twelve streams of 4K resolution in ProRes Raw, and up to 7 streams using ProRes Raw HQ. This pretty much makes editing raw as easy as any other flavour of ProRes, and that's a very big thing to be excited about indeed.
So as far as we can see the benefits will be: standardisation of Raw across software and platforms, lower bitrates and smaller file sizes compared to "raw Raw", and more streams in real time. As well, of course, of most of the benefits for which Raw is now such a popular medium.
And that means vastly more flexibility to colour grade, change exposure, adjust sharpness and colour balance.
Camera metadata is fully supported, including lens information, f/stop, shutter speed, ND settings etc.
We assume that there is between some and a lot of standardisation carried out in the encoding process. If there were none, then this would simply be a data compression scheme, where the compressor takes an block of binary data without having to know anything about it. It wouldn't need to know the difference between a Raw video file and a telephone directory. We think it's far more than this. But exact details remain to be seen.
We think this is an incredibly important development. Raw files are cumbersome to deal with, largely because every Raw-capable camera needs its own individual workflow. Anything that standardises Raw workflows to any degree will be welcome and we hope and expect that this will standardise them to a very large degree.
Alongside DJI Atomos are one of the launch partners for the new format, so there is a degree of exclusivity for the company, although no doubt we'll be seeing the codec being used elsewhere before long. Such a thing could make for great things when combined with an Alexa or a BMD camera for example.
We can't wait to see how this turns out. In the mean time read Apple's new white paper about the format, and watch the Atomos video below. Press release follows on the next page.
Atomos delivers first ProRes RAW monitor recorders to video industry
Melbourne, Australia – 05 April 2018 – Atomos is excited to announce support for ProRes RAW, a new format from Apple that combines the incredible performance of ProRes with the flexibility of RAW video. The ProRes RAW update will be available free for the Atomos Shogun Inferno and Sumo 19 devices.
Atomos devices are the only monitor recorders to offer ProRes RAW, with realtime recording from the pristine sensor output of Panasonic, Sony and Canon cameras. Atomos CEO Jeromy Young said: "We are incredibly proud to be the first ProRes RAW enabled product in the market and it's free for our customers. The performance and flexibility of ProRes RAW means a huge leap forward for video production."
Camera to Timeline - enabled by Atomos
The new upgrade brings ProRes RAW and ProRes RAW HQ recording, monitoring, playback and tag editing to all owners of an Atomos Shogun Inferno or Sumo19 devices. Once installed, it will allow the capture of RAW images in up to 12-bit RGB — direct from many of the world's most advanced cameras onto affordable SSD media. ProRes RAW files can be imported directly into Final Cut Pro 10.4.1 for high performance editing, color grading, and finishing on Mac laptop and desktop systems.
Supported Cameras
Eight of the most popular cine cameras with a RAW output, including the Panasonic AU-EVA1, Varicam LT, Sony FS5/FS7 and Canon C300mkII/C500, will be supported with more to follow.
Stunningly Beautiful, Simply Efficient
Top cinematographers have long known that the secret to creativity is RAW processing — traditionally complex and expensive, huge data rates and proprietary formats and media have made RAW slow, cumbersome and expensive. The efficient nature of ProRes RAW recorded to standard SSD drives in Atomos devices removes these limitations. Now filmmakers can work easily with RAW – whether they are shooting episodic TV, commercials, documentaries, indie films or social events.
Image Preservation for HDR
Shooting ProRes RAW preserves maximum dynamic range, with a 12-bit depth and wide colour gamut - essential for HDR finishing. The new format, which is available in two compression levels — ProRes RAW and ProRes RAW HQ — preserves image quality with low date rates and file sizes much smaller than uncompressed RAW.
Slow Motion and 5.7K
Atomos recorders through ProRes RAW allow for increased flexibility in captured frame rates and resolutions. Atomos can record ProRes RAW up to 2K at 240 frames a second, or 4K at up to 120 frames per second. Higher resolutions such as 5.7K from the Panasonic AU-EVA1 are also supported.
Portable ProRes RAW in AtomOS 9
Atomos' intuitive Operating System AtomOS 9 gives you all the filming tools to work efficiently and creatively with ProRes RAW in a portable device. Fast connections in and out and advanced HDR screen processing means every pixel is accurately and instantly available for on-set creative playback and review. Pull the SSD out and dock to your Mac over Thunderbolt 3 or USB-C 3.1 for immediate super fast post production.
Atomos and ProRes RAW together are the most affordable production-to-finishing solution available today.
Availability
Download the AtomOS 9 update for Shogun Inferno and Sumo 19 on April 9th at www.atomos.com/firmware
Come and see for yourself how Atomos is unlocking creativity at the NAB show, booth C9425 and at the 17th Annual Las Vegas SuperMeet on Tuesday 10th of April. There will be product demos, as well as the opportunity to get hands on with the gear and workflow with both companies.
Tags: Production