We take a good look at the Sigma Cine Lens range. Can they keep pace with pricier alternatives? Read on to find out.
Whether it's the type of camera, lenses or light, each one is as crucial as the next in cinematography regardless of whichever one you prioritize. For me, lenses are the ink and the camera is the brush; I don't mind using the same brush for different types of work but I have to change up the type of ink I use for its diversity in color & texture.
When I first started shooting I always had to choose between either a solid camera & non-cine lenses or great lenses and an average camera, mostly because of budget. Whenever I chose to go with a better camera but mediocre lenses I was always slightly disappointed because I knew what kind of image I could get with some better glass, but whenever I chose a better lens package with a decent camera instead it felt like I was really bringing the best image out of that camera for some reason. It was always a fight between one or the other, until these last few years where we've seen a huge rise in professional level lenses at a very affordable price. One lens manufacturer that is clearly at the forefront of that is Sigma's Cine Lenses.
The need for a consistent look
I recently shot a documentary web-series for Fatherly where they wanted to award fathers/parents for taking various approaches to parenting in an admirable or unique way. They specifically wanted each of them to have a very consistent look across the board, so picking a camera & lens package that was consistent was a must. Knowing this was going to be a bit of a run & gun type of doc shoot, I needed to be fairly flexible with my equipment choices since I wouldn't have much time or support to do anything too elaborate, as is usually the case in documentaries.
Right off the batt I knew I'd shoot this on a Sony FS7 since that's normally my go to documentary camera outside of the ARRI Amira. For lenses, I wanted to make sure I could capture some moments as shallow as possible because I knew some of the stories would be very personal. I also wanted the option of zooms since it makes my life way easier, especially on a documentary.
Around the time that I was looking at options, I had just gotten back from Cine Gear Expo in LA and had the opportunity to meet David Shapton & Matt Gregory from Redshark News. Shortly after, they linked me up with the fine folks at Sigma who then offered me an opportunity to test out the company's new lenses. Since I've heard great things about them from everyone I decided to give them a try. I received the 14mm T2, 20mm T1.5, 24mm T1.5, 35mm T1.5, 50mm T1.5, 85mm T1.5 & 135mm T2 as well as the 18-35mm & 50-100mm T2. Awesome.
Mobile shooting with the Sigma cine lenses - Photo Marco Penajoia
Well built
I can certainly say I'm a fan of these lenses and while I didn't do an extensive test with charts & focus marks for accuracy, color & breathing there's enough attention and good word on the street about them for me to give it a go. Out of the box, I think they look great. They have a nice weight to them and feel well built. I absolutely love all the precise info on the lenses including the filter thread size which I definitely appreciate. I remember thinking to myself as I looked at the lenses how crazy it is that the whole set of primes goes for just under 25K USD. I would most definitely consider owning a set of these especially when you compare them to competitors like Zeiss, Cooke & Arri (which is nuts but yes, I am comparing it to them) on price alone. You get a lot of bang for your buck with these lenses not to mention that they cover full frame, which I think is a very big deal considering where the industry seems to be going with new, bigger sensor cameras.
The look of these lenses is very sharp & crisp but still maintains some gentle texture in there that I like. I decided to have some Hollywood Black Magic filters with me for some of the Fatherly doc pieces because I was going to be shooting a variety of interactions with people and I wanted to add a bit more creaminess to the skin tones specifically. I also don't want to solely rely on a camera & lens combo all the time for the look, I try to incorporate filters whenever I can to add another ingredient to the texture of the piece.
For documentary work I always think about how I can lighten the load I'm carrying so that the chances of fatigue affecting my operating can be reduced. That's a big deal since sometimes you have no clue how long you might have to hold a certain position for or how flexible you might have to be for a certain shot.
When I used these lenses on the docs, the weight wasn't an issue but I wouldn't mind if they were a bit lighter. The other thing that kept me from moving faster was how tight the lens barrel is. I don't have an issue with the resistance but many times when I'm shooting docs I tend to zoom in very quickly treating it as an internal cut to a close-up so I snap it in. You can't really do that as well with these lenses so there were moments that were a little sloppy because I was still readjusting, but ideally those are moments that you'd have a 2nd camera covering, which sometimes I had, other times I didn't. I really don't like to waste time making technical readjustments, especially when I'm in the zone rolling on someone or something.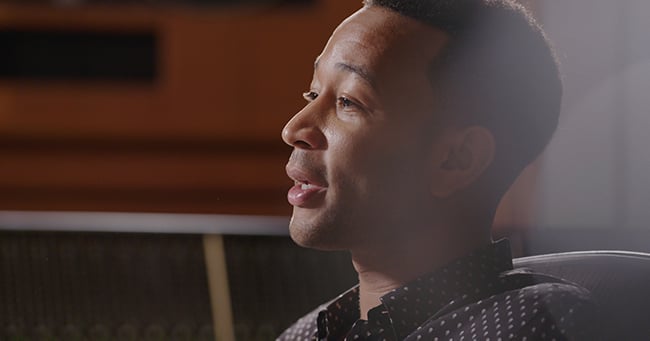 An example interview shot taken with the new Sigma cine lenses
Examples
Here are some of the projects I used the Sigma Cine Primes & Zooms on:
Place 4 Grace: John McDaniel
This story follows an incarcerated father as he tries to run his organization from behind prison walls along with his wife who is raising their kids.
Produced for Fatherly as part of their "Father of the Year Awards" series.
Directed by Greg Jeske.
B camera operator & AC: Marco Silva.
Travis Mills
One of only 5 surviving quadruple amputees in the world. He started the Travis Mills foundation to help wounded vets recover with their loved ones. Situated on Elizabeth Arden's estate in Augusta Maine, Travis and his team has helped over 89 families since their opening in July 2017. Produced for Fatherly as part of their "Father of the Year Awards" series.
Directed by Paul Burger.
John Legend
Fatherly also awarded John Legend with a "Father of the Year" video for his work on improving education and supporting teachers. Since his time was limited we couldn't shoot a more in-depth piece on him but we still got to spend a reasonable amount of time on the interview. He speaks about being a father and his organization LRNG Innovators where they're working on building a future of creative & connected learning in education. I had x3 cameras covering it, all on the Sony FS7 & 50-100 Sigma Cine Zooms. Two cameras were on sticks with Justin Hamilton & Marco Silva operating them and I was hand-held picking off high-speed detail and profile shots. Produced for Fatherly as part of their "Father of the Year Awards" series.
Brian "The Points Guy"
I do some international work for Brian "The Points Guy" who reviews airplanes, resorts, destinations, etc. It was a solo mission on this one which means it was all on me to carry whatever I needed for the shoot. I decided to take 2 Sigma Cine Zooms (18-35 & 50-100 T2) since they covered the focal range I needed and had the speed since I'd be shooting in airplanes during the day & night and knew I'd want to shoot high-speed and would need all the light I can get. On this trip I'd be hitting Tokyo, Singapore & Dubai all in one week so I needed to be as dialed in as possible with my gear. The more mobile I could be the better. The first one up was shooting a review video of the new Delta One Suites (A350) on their inaugural flight from Detroit to Tokyo.
The second video that needed to be shot was Singapore Airlines unveiling of its new suites, business-class, premium economy & coach products in Singapore at a convention hall. From Singapore we left for Dubai where we stayed at Al Maha Desert Resort and shot a review and the extra activities they offer at the resort like falconry, desert rides and camel treks.
Last but certainly not least is Brians review of the Etihad Airlines First-Class Lounge and Airplane Apartment which was I must say was epic.
Final Thoughts
I think these lenses are awesome and what excites me the most is how other lens manufacturers will react and respond to this set. With this kind of build quality and price point, Sigma is certainly making a strong statement and I see them being a major player in optics moving forward. I'd love to give them a go at some narrative work and see how it holds up on that end. From what I've seen so far, I'm a big fan.
For more information visit the Sigma website.
BTS photos by Marco Penajoia (@marcopenajoia)