Now that most DSLR's and mirrorless cameras have the capability to shoot in 4K resolution, it's time to take a look back at where it all started.
The Canon EOS-1D "C," which stands for Canon's respected Cinema line of production cameras, was first publicly announced on April 12, 2012, and was released to market in March of 2013 with a suggested street price of US$15,000 for a body only.
EOS stands for "Electrical Operating System" and was first introduced by Canon in 1967. The Canon EOS-1 D C is considered to be the world's first 4K DCI resolution production Hybrid-DSLR. At the time of its introduction, there were no other DSLR form factor cameras equipped with a feature set designed to directly facilitate commercial feature filmmaking. Even now, this camera makes sense for any independent freelance or news shooter to own.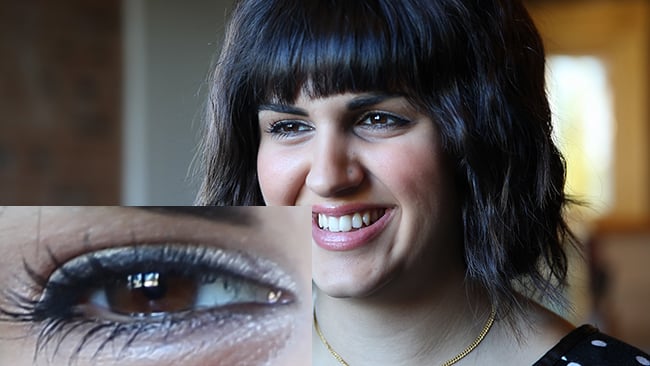 A screen grab from 1D-C video with a 100% crop insert
Model differences
There are many Canon 1D C bodies listed on eBay and other camera equipment classified websites for circa $4,000.00 USD. Although similar on the outside to the Canon EOS-1D X and 1D X MK II, there is different software programmed into the 1D C with a slightly different DIGIC 5+ image processing engine. The 1D C is tweaked for movie imaging and can access slightly more of the camera's sensor area for this purpose than other DSLRs.
Unlike the 1D X or 1D X MK II, there's no 00:29:59:00 recording limitation. There's no other full-frame DSLR extent which can record 4K DCI resolution video (4096 x 2160 pixels) to affordable CF cards. Considering the current general pricing of CFAST 2.0 cards, it is a big plus to record 4K video without the need of an external recorder to compact flash card memory which retails for one-third the price of the CFAST media.
The 1D C was the first hybrid DSLR to be able to produce 1080p60 from scanning the (full) sensor area, and not just a Super 35 mm cropped-down size! However, the 1D C will also allow you to shoot in Super 35mm crop in both HD and 4K. An independent production company will be greatly interested in being able to mix and match both cinema and full-frame lenses and in the possible reduction of costs during principal photography. Now you have a camera which can scale up or down depending on your technical requirements and budgetary limitations.
Widely supported for post production
On the post production side of this equation, this Canon EOS camera sports a 500Mbps data rate M-JPEG intra-frame codec, which is supported by Final Cut Pro 10.x, Avid Media Composer, Adobe Premiere, Vegas, Edius, and others. Most DSLRs and mirrorless cameras will only give you a maximum of a 100Mbps data rate for their internal recording codec.
Such methods of encoding – each frame of a moving image – can achieve close to lossless results at a relatively low overall data rate, but at 500Mbps you have something which can be pushed further in green screen and colour correction, even though you don't have 10 bits. Although some have dismissed this instrument because its video output is only 8 bit 4:2:2, it should be emphasised, this is the best possible 8-bit engineering. At 500Mbps 4:2:2, while many other digital cinema cameras sport only an 8-bit 4:2:0 AVCHD internal recording codec, the 1D C is no slouch by comparison.
The Canon 1D C is now being realised as a remarkably high-quality 8-bit 4:2:2 cinema camera – a true "sleeper" of an instrument. As with all sleepers, it emerges out of the ordinary and into the superlative thanks to the incredible details that gradually make their appearance.
At the time of its introduction, it wasn't immediately understood this camera can shoot for hours and hours, yet has no fan to suddenly come on and start whirring away, making audible noise. The camera does not have overheating issues with long hours of use.
The Canon 1D C has been taken everywhere, from the great Alaskan wilderness to the African jungle, with consistently excellent results. How many cameras can you point out which meet the needs of commercial advertisers and fashion photographers – who require a high pixel count still camera and an instrument which can shoot broadcast commercial TV-spots using the same setup at the same time? Essentially, with the 1D C, Canon has successfully created a whole new kind of production cinema camera – The hybrid DSLR. I sincerely hope there will soon be an EOS-1D C MK II.