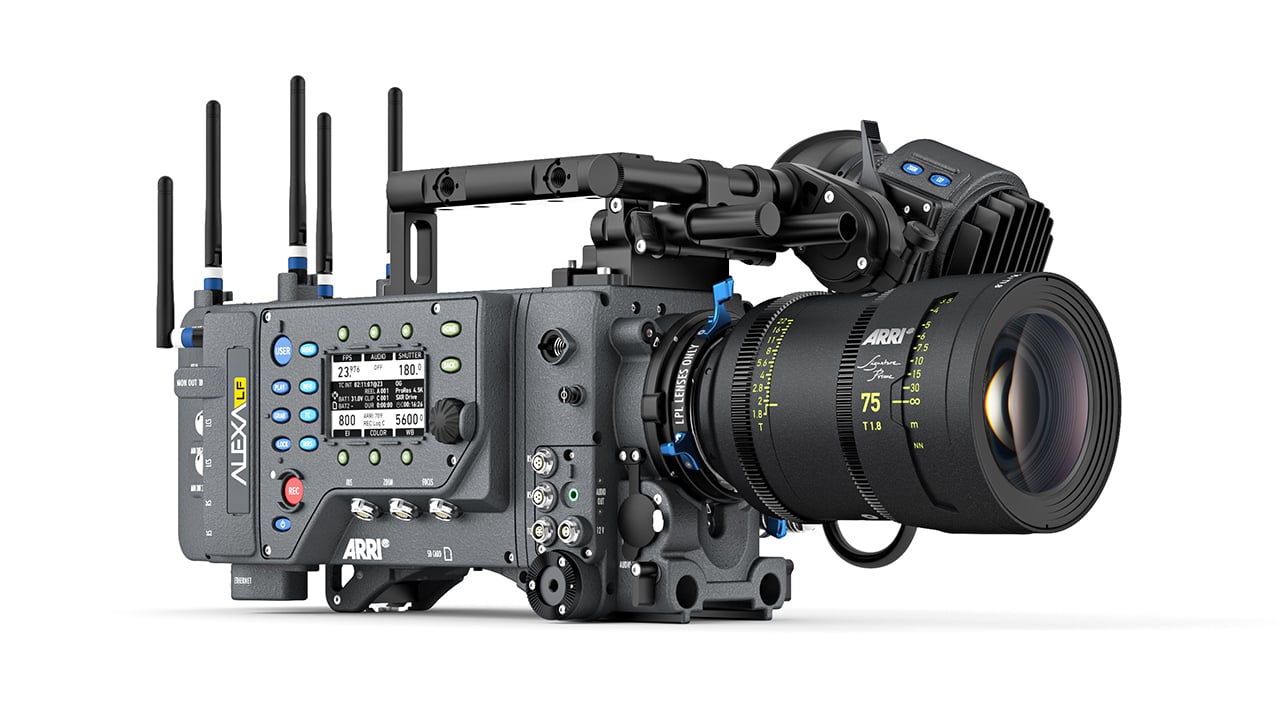 What can you do to improve perfection? ARRI has just announced what many have been waiting for, a large-format 4K version of the ALEXA, and it looks very impressive indeed.
The ARRI ALEXA is regarded as one of, if not the best film production camera in the world today. Its sublime picture qualities has won over DP's all over the world. But there is one aspect to the ALEXA that has caused some dubious decisions to be made in some circles. Not because the camera is bad by any stretch, but because some productions that wish to distribute on platforms such as Netflix have been refused acceptance because it has been shot on a camera, such as the pre-existing ALEXA, that doesn't meet its stringent 4K standard.
It's this sort of limited thinking and officiousness that could make ones blood boil. However, ARRI, a company that is renowned for only releasing something when it is fully mature and ready, has now stepped up to the plate and has announced what the film making world has been anticipating and wanting for some time. A large-format 4K version of the ALEXA, called the ALEXA LF.
Larger than full frame
The sensor on the LF is apparently slightly larger than full-frame, producing an image of 4448x3096 resolution in the LF Open Gate mode up to 90fps. ARRI has stated that the pixel size on the new LF remains similar to current cameras, and it is capable of up to 150fps in the LF 2.39:1 mode in the ARRIRAW format. As per existing ALEXA cameras, alongside the afforementioned ARRIRAW, the LF can record to ProRes format too, but at lower framerates, topping out at 100fps in the 2.39:1 mode.
ARRI's press release is refreshingly to the point, but what is certain is that we are now going to be seeing a lot more of the 'large-format look' in cinemas from now on. No doubt this aesthetic will start to influence filmmakers on lower budgets, and we could see more full frame style cameras trickling down the camera ranges as people demand larger sensors.
New lenses
To complement the new camera, the company has also announced a new range of 16 Signature prime lenses, ranging in focal length from 12mm through to 280mm. All of them capable of T1.8 wide open, which could provide focus pullers with some skill busting testing depending on how cruel the DP or director feels!
New LPL lenses from ARRI promise smaller and lighter construction
The new lenses have been designed with character in mind, with a focus on 'organic' qualities, which ARRI claims to help the picture become more emotionally engaging.
In addition the new lenses feature the LPL format, which it is claimed allows lenses to be lighter, smaller, and faster, than the traditional PL system, but is also backwards compatible with existing PL lenses using an adaptor.
For more information the official ARRI press release follows on the next page. More information can also be found on the official website.
ARRI launches large-format camera system
A complete new system: ALEXA LF camera, ARRI Signature Prime lenses, and LPL lens mount.
Intimate and emotionally engaging images with an immersive, three-dimensional feel, pulling the viewer in.
Compatible with existing lenses, accessories, and workflows.
February 2, 2018, Munich/London – At the BSC Expo in London, ARRI today unveils a complete large-format system that meets and exceeds modern production requirements, delivering unprecedented creative freedom. Based on a large-format 4K version of the ALEXA sensor, the system comprises the ALEXA LF camera, ARRI Signature Prime lenses, LPL lens mount, and PL-to-LPL adapter. It is also compatible with existing lenses, accessories, and workflows.
ALEXA LF camera
Featuring a sensor slightly bigger than full frame, ALEXA LF records native 4K with ARRI's best overall image quality. Filmmakers can explore a large-format aesthetic while retaining the sensor's natural colorimetry, pleasing skin tones and proven suitability for HDR and WCG workflows. Versatile recording formats, including efficient ProRes and uncompressed, unencrypted ARRIRAW up to 150 fps, provide total flexibility.
"The larger ALEXA LF sensor has the same optimal pixel size as other ALEXAs, resulting in a 4448 x 3096 image," says Marc Shipman-Mueller, ARRI Product Manager for Camera Systems. "This doesn't just add definition, it creates a whole new look—one that is truly immersive, with a three-dimensional feel. The various recording formats and sensor modes make this look available to all productions and satisfy any possible deliverable requirement."
ARRI Signature Prime lenses
Accompanying the ALEXA LF camera are 16 large-format ARRI Signature Prime lenses, ranging from 12 mm to 280 mm and fitted with the ARRI LPL mount. While the Signature Primes exemplify state-of-the-art optical precision, they render organic, emotionally engaging images, gently softening and texturizing the large format. A fast T-stop of T1.8 facilitates shallow depth of field and the smooth focus fall-off gives subjects heightened presence in the frame.
Thorsten Meywald, ARRI Product Manager for Optical Systems, comments: "The ARRI Signature Prime lenses are incredibly lightweight and robust, due to the magnesium lens barrels. They also feature LDS-2, ARRI's next-generation Lens Data System. What has impressed cinematographers most, however, is the look. Skin tones are rendered beautifully and kindly, while all the detail of landscapes can be captured. Our focus was on the emotional impact of images, creating unique and pleasing bokeh both in the foreground and background."
New LPL lens mount
Optimized for large-format sensors, the new LPL lens mount has a wider diameter and shorter flange focal depth, allowing the ARRI Signature Primes and all future large-format lenses to be small and lightweight, with a fast T-stop and pleasing bokeh—a combination of features that would not be possible with the PL lens mount. The LPL mount will also be available for other ARRI cameras and is being licensed to third-party lens and camera manufacturers.
Backwards compatible with lenses, accessories, and workflows
Although the camera, lens mount, and lenses are new, full compatibility with existing PL mount lenses and ALEXA accessories is a cornerstone of the system's design. A PL-to-LPL adapter offers backwards compatibility with all PL mount lenses, whether Super 35 or full frame. The adapter attaches securely to the LPL lens mount without tools, allowing crews to rapidly switch between PL and LPL lenses on set, and offering cinematographers an unlimited lens choice.
"As always, we want to make sure that our customers get the best possible return on their investments in ARRI equipment," says Stephan Schenk, Managing Director of ARRI Cine Technik and responsible for the business unit Camera Systems. "Providing compatibility with existing lenses, camera accessories, workflows, ARRI Look Files, lens metadata, and software tools makes it easier for crews to work with ALEXA LF on set and for rental houses to incorporate it into their inventories. We think the system sets a new standard for the future, but it also minimizes redundancies and leaves no one behind."
The first ALEXA LF cameras will be shipped at the end of March 2018. The initial set of four Signature Prime lenses (35 mm, 47 mm, 75 mm, and 125 mm) will be shipped in early June 2018. The remaining lenses will be available over the course of the year.
For more information, please visit: www.arri.com/largeformat