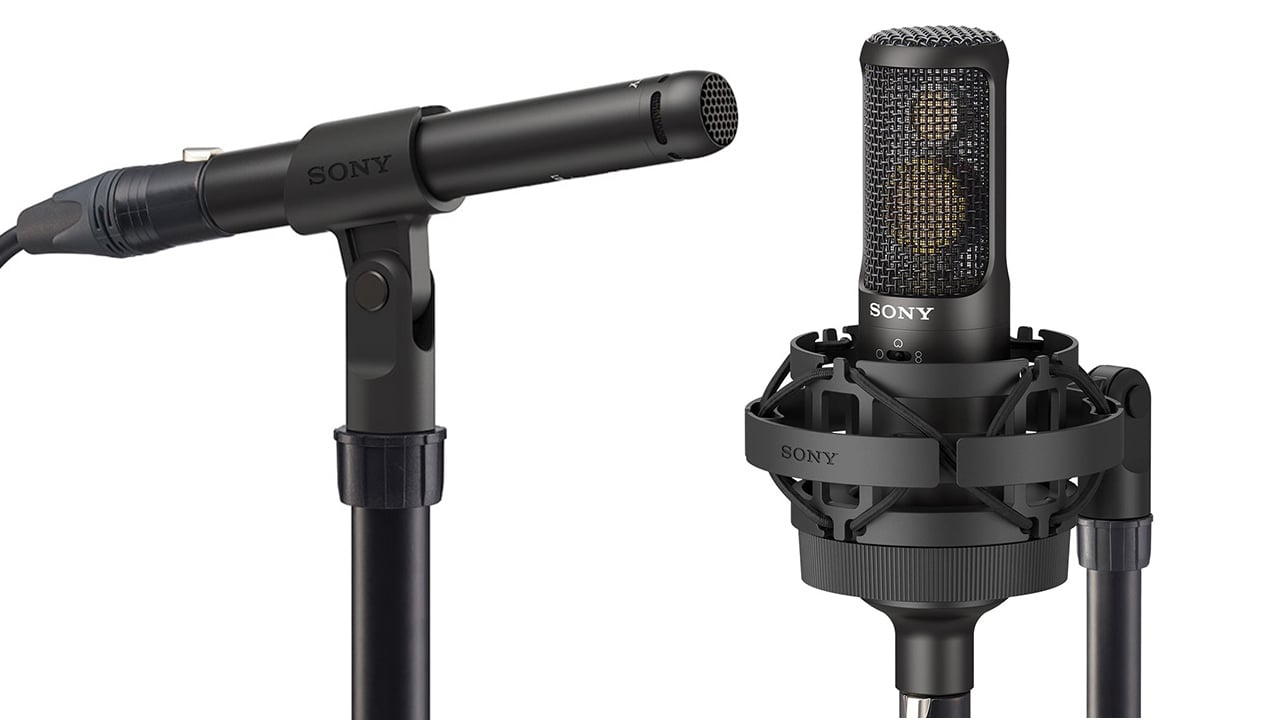 At Winter NAMM 2018, Sony's pro audio group is showcasing its latest microphones designed for professional studio and home recording applications. These three new High-Resolution microphones build on Sony's studio microphone heritage and continue its recent development of Hi-Res audio products.
High-Resolution Audio refers to a collection of digital processes and formats that allow the encoding and playback of music using higher sampling rates than the standards used in CDs. The most commonly used specifications are 24bit/96 kHz and 24 bit/192 kHz.
The new Hi-Res mics include the C-100 and two "pencil" models. All three have a body structure that prevents acoustic vibration, a high-frequency response up to 50kHz and high sensitivity.
C-100 Hi-Res mic (side address) for vocal applications supports Hi-Res recording, has a selectable pick-up pattern (Omni/Uni/Bi), a two-part metallic body structure preventing acoustic vibration, a low-cut filter to eliminate low-frequency noise and the proximity effect, and a -10dB pad switch.
ECM-100U and ECM-100N Hi-Res mic for instrument applications comes in a unidirectional (ECM-100U) or omnidirectional (ECM-100N) model, has a flat and wide frequency response, a low-cut filter and a -10dB pad switch.
Third Gen DWX wireless mic series
Sony's 3rd generation DWX series is meant to be used for theatre, broadcast or other live applications. The system supports Dante, a digital audio over IP networking technology. The new DWX components include the smaller and lightweight DWT-B03R digital wireless bodypack transmitter, the DWR-R03D digital wireless rack-mount receiver, the BC-DWX1 battery charger and the ECM-77LM miniature, omnidirectional electret condenser microphone.
Since its first introduction in 2008, Sony's DWX series has been widely adopted for live events, news gathering, theatres, field production, broadcast studios, as well as sound recording.
The small, lightweight and sweat-proof DWT-B03R offers ultra-low audio latency of 1.2ms, with 148MHz wide-band operation, and uses a rechargeable Li-ion battery for extended operation.
The 1U ultra-wideband 2-channel rack-mount receiver DWR-R03D (244MHz) is equipped with two Dante Ports, which provide network redundancy and headphone monitoring with loop-through capability, analogue and AES/EBU outputs, as well as AES 256bit encryption. Performance and reception should be good with a high dynamic range RF circuit and four diversity antenna operation.
The included Wireless Studio software is compatible with the DWR-R03D and BC-DWX1 and provides system control and monitoring of all vital functions while the front panel equipped with two OLED displays provides direct access to menus.
With the battery charger for DWT-B03R and NP-BX1, you can charge and monitor the status with a PC app up to two bodypacks or batteries simultaneously, even with Power over Ethernet (PoE). The BC-DWX1 includes an interlocking mechanism which allows easy integration for storage and transportation.
The new ECM-77LM miniature, omnidirectional electret condenser microphone now uses the small 3-pin connector. It provides a wide frequency response, high sensitivity and low noise.
The following is the planned availability and suggested list pricing for the new microphone technologies:
C-100 List is $1,699, March 2018
ECM-100U List is $1,099, March 2018
ECM-100N List is $1,199, March 2018
DWX 3rd Generation – Spring 2018
For more information visit the Sony website (Europe and US).