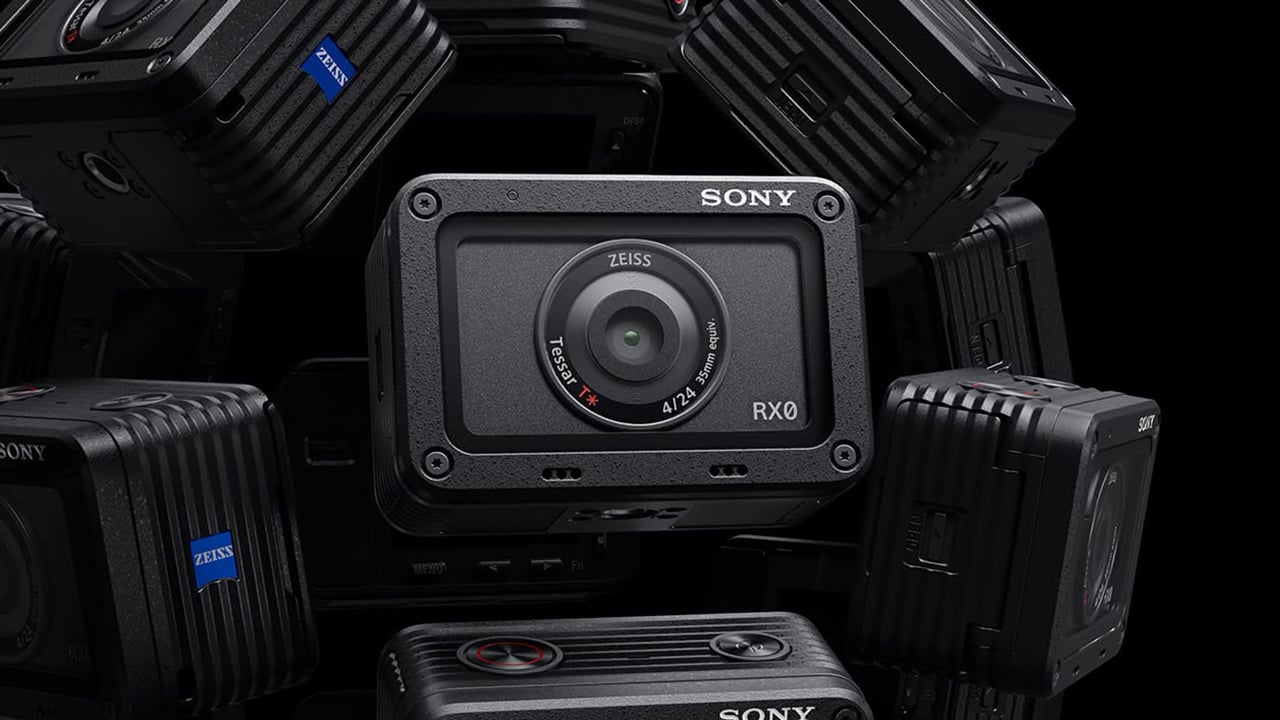 Erik Vlietinck takes a look at Sony's mini powerhouse, the RX0. Is it more than just an action camera? Read on to find out.
As it fits the palm of your hand and weighs 110g, you might be excused to think of the Sony RX0 as just another action camera, but that would be terribly wrong. The RX0 may be small, crushproof, shockproof and waterproof, but in reality, this tiny camera is far more powerful than any existing action cam is.
The DSC-RX0 is a £800 camera equipped with a 1-inch, 21 (15.3 effective) megapixel Exmor RS CMOS sensor and a fixed Zeiss 24mm F4 wide-angle lens. It has a shutter that goes all the way up to 1/32000 sec, ISO levels that max out at 12800 in video mode and 25600 in stills mode and slow-motion capabilities that extend to 1000fps in 1080p/25. It supports recording to XAVC S (in 8bit/4:2:0 subsampling at 50Mbit/sec), AVCHD V2.0 and MP4. Images can be shot in RAW and JPEG.
The maximum shutter speed effectively kills rolling shutter, its already legendary crush resistance of 2000N (weights of up to 200kg won't harm it) allows it to be used in unimaginable spaces, its impact resistance allows you to drop it from 2m high, and its waterproof certification for depths of up 10m without underwater housing make it a killer action cam.
More so, however, the RX0 is a tiny system camera with a fixed f/4 aperture and non-zoomable ZEISS Tessar T* lens. It can handle specialised setups as well, due to the ability to control up to five RX0 cameras if you install PlayMemories Mobile on your smartphone or tablet. For even more Hollywood-grade filmmaking, there's the ability to control up to 15 RX0s with the addition of an FA-WRC1M wireless radio commander.
All this power allows you to set up n-camera array panels, 360 rigs and bullet camera setups. In such setups, the RX0 the operator can synchronise all of the cameras together remotely.
Other usage scenarios for this Lilliput giant include shooting time lapse (up to 16fps) images in environments where a "proper" camera would intrude – be it the opera or a violent street protest – and Vimeo-quality videos that teach people how to create Bruges lace.
Handling the RX0
The RX0 has toughened glass on the front and the back, and a 1/4in tripod socket. Switching it on is instantaneous. Once it has been switched on, the tiny but tack sharp LCD display shows you an abundance of information. However, the icons are really, really tiny. It's the first camera that made me reach for my reading glasses to make sense of it all. Next to the LCD display is a door that gives access to the micro-HDMI and USB port and to a mini-jack audio interface. Here you'll also find the Micro-SD card slot.
Around the LCD display, you'll have the Menu, horizontal and vertical scroll and Enter buttons – all rather fiddly to operate. However, everything feels like it's built for warfare, only on a tiny scale, and once you're in the 23-page menu system, it will look like you're handling the settings of a full-blown DSLR camera made for the Little People. There's one minor criticism with regards to handling the RX0: you need a trip to the menu for almost every change in your setup.
Beneath the surface lies access to S-Log2 gamma settings and 4:2:2 4K image-out via the micro-HDMI port. Less impressive is that, when you connect the camera to its app, it gets very hot. The second thing is battery life. It's only 35 minutes or 240 images of actual shooting time. Of course, you can output 4K in 24fps or 30fps and the battery will live a lot longer, or simply power it from the mains via the USB port.
Thoughts
The high specs of the RX0, its robustness and capabilities put it in a league of its own. It's not an action camera – although you can use it as such – but its array functionality and remote control features put it firmly in the big movie and documentary production category. With what I saw of it, I think it's a snug fit for that segment.
Having said that, it is could also be a great camera for anyone with deep pockets interested in street video and photography, Youtube production, etc.
For more information on thr RX0, visit the official Sony RX0 site.