Stills lenses are often now used for video. But for critical work there's no substitute for dedicated motion picture lenses. And one of the reasons for that is accurate back focus.
Cinema cameras tend to have enormous blocks of metal on the front end that are designed to clamp lenses in place with absolute precision. Stills cameras, on the other hand, often have bigger sensors and higher resolution, so focus is even more critical – but stills lenses still manage to turn out perfectly respectable shots while using plastic lens mounts. To understand the differences in the relevant engineering, we need to understand why lens mounts are often so carefully made, to begin with, and what the concept of back focus is all about.
The primary purpose of this PL mount is to hold the attached Fujinon XK6x20 lens precisely 52mm from the imaging sensor
How it works
The best way to show how it works is by experimentation. Grab a lens – any lens, a photographic lens or a magnifying glass – and a piece of white paper. Aim the lens at a window and hold the piece of paper behind it. Depending on how far behind the lens you hold the piece of paper, you'll see an (upside-down) image of the window projected on the paper. If the lens you have in your hand is a Canon EF type, you'll find that it works when the piece of paper is 44mm behind the big flange on the back of the lens, where it sits in the mount. This is because the flange focal distance of an EF mount is standardised at 44mm; on a PL-mount cinema lens, for instance, it's 52mm.
Canon's L-series lenses are engineered to give excellent results on stills cameras. They don't, however, have a fixed mechanical and electronic relationship controlling focus distance
The reason it's a good idea to physically try doing this is that one thing becomes very clear: that distance between the lens and the piece of paper is very, very critical. Make tiny movements with the paper and the image goes out of focus, quickly becoming so far out of focus that it's effectively a splotch of light, or even completely invisible. With modern, high-resolution cameras, the tolerance in that distance is tiny, often in the order of hundredths of millimetres. The term for the tolerance in back focus, the range of distances between lens and sensor where things are sharp, is "depth of focus." It is tiny and not to be confused with "depth of field", which is the range of distances between lens and subject where things are sharp. It's so tiny, in fact, that film cameras often tried to control flange focal distances to the point where the point of maximum sharpness was placed within the layers of film emulsion.
Microscopically-thin plastic shims can be used to adjust the mount of a lens to suit a particular camera, as shown here on a Celere
Inaccurate back focus causes two potential problems. The first problem is that, if the back focus is far too long, placing the lens too far from the sensor, it will become impossible to focus beyond a certain distance. This is the reason that stills lenses will often focus some way beyond infinity, so that we can take pictures of a nearby object, focus out to take a picture of the moon (which is very definitely at effective photographic infinity) and still keep winding the focus control in the same direction, beyond infinity. This ensures that even if the lens mount is very cheap and the back focus is really horribly wrong, it'll still be possible to focus on distant objects.
Focus pulling - here with Schneider Xenon FF lenses - relies on mounting accuracy. Without it, those numbers can lie
Back focus isn't as important for stills
The second problem is a bit more complicated and tells us a lot about how stills lenses work. With small back focus errors, it will still be possible to achieve a sharp image by adjusting focus by eye until the image is sharp. In simple cases, focussing just moves the lens closer to or further from the sensor. The problem is that the distance markings then won't match up with reality: set the lens to 10 feet, say, and an object at 10 feet won't necessarily be in focus. This starts to reveal why stills cameras don't need to care quite so much about back focus. It's rare for people to measure out focus distances as we often do with motion picture cameras. The phase-detect autofocus in most stills cameras will simply move the lens elements around until the subject is in focus; it doesn't know or need to know, what the distance is. It just knows when things are sharp.
This effect, incidentally, is how extension tubes work to give us macro focus. Push the lens further from the sensor or film plane and it becomes possible to focus much closer to the lens, with the caveat that it becomes impossible to focus on objects at infinity (or, often, further than a few inches away from the lens.) The way it works in typical B4-mount broadcast lenses is related. These lenses tend to have a back focus that's adjustable. By moving around some extra glass elements at the back of the lens and by moving some of those elements from their preset position, in effect really messing up the back focus setting, we become able to focus on extremely nearby objects.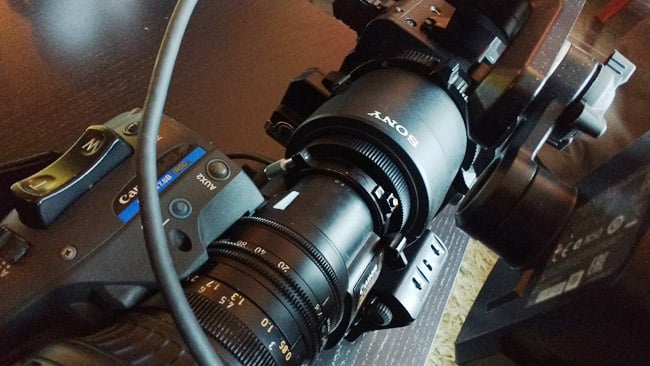 B4-mount broadcast lenses, shown here adapted onto a Sony F55, have relay lenses which facilitate adjustable back focus
The situation differs wildly with cinema lenses, especially modern lenses with very low minimum f-numbers. The extremely short depth of field of these low numbers means things must be very precise if the distance markings engraved on the lens barrel are to be accurate. Many cinema lenses, such as those made by Cooke, have their focus distances characterised as a final stage of manufacturing, in order to account for normal, microscopically small tolerances in their engineering. In this situation, it's clear that even a piece of grit or layer of grime on a lens mount can be enough to cause problems.
In the end, this is one of the reasons that stills lenses, though widely used, are not ideal for motion picture work. They generally have only fairly vague indications of focus distance which are absolutely not intended to facilitate movie-style focus pulling. They wouldn't have sufficient mechanical accuracy to make any such markings reliable because in their intended application they just don't need to.
Header image courtesy of Shutterstock.