Replay: Backlighting provides for some of the most beautiful looking scenes on camera. Phil Rhodes thinks we should use it a lot more.
Not to generalise, but everything looks better in backlight, to such an extent that we're going to dedicate an entire chapter to it. In all seriousness, it's often instinctive to reach for a straightforward soft key light which also makes most things look reasonable in a way that nobody complains about. We might then fall back essentially to the key, fill and backlight of three-point lighting that's been standard for decades.
Backlight might even stand as a placeholder for any particularly unusual or extreme placement of a key light, from a key at a very rakish angle, to a very low-angled key or fill light which might approximate the footlights of an early-twentieth-century theatre. All of these things are interesting and different and may – under appropriate circumstances – do a lot to raise a production from mundanity. If this seems like a desperate plea for more productions, particularly low-budget productions to do something unusual – anything unusual – then perhaps it is.
Using such a cinematic great as Citizen Kane as an example is a bit of a cheat, as it looks fantastic, but this could as easily be an example of backlight hiding sins
Backlight, like many simple lighting techniques, is an extremely available one, to the point where anyone in the line of sight of the sun can achieve it. Conversely, the desire for backlight can also be the gateway drug to a desire for more powerful lights, given that creating artificial backlight can require enough power to overwhelm available light. Doing that during the day starts to require upscale gear – generally bigger than the world of LED can currently provide – and that can quickly become expensive. It's this sort of consideration that leads people towards locations where the light can be controlled. Location scouts and producers should be aware that the assurance that "oh, there's lots of light!" is not always that reassuring. Stopping down far enough to ensure that lots-of-light doesn't ruin our contrasty setup requires a lot of large, powerful lights.
Backlight doesn't have to be very harsh to work; here it's softened both by the drapes and by atmos or filtration (From Lincoln)
Backlight also interacts very nicely with things like smoke, rain, steam, snow, dust motes, and other atmospherics. Movie rain needs to be absolutely torrential or it's invisible, but it's a lot more invisible without backlight. Backlight – as the illustrations accompanying this article demonstrate – is very often paired with a very light amount of atmos (smoke). In fact, this has arguably become something of a crutch, even in situations where there's no real motivation for the smoke. Backlit smoke looks good for several reasons:
It reduces contrast which makes the bright highlights of the backlight easier to handle, especially on less-adequate digital cameras
It creates a three-dimensional aerial effect which reveals parallax when either the camera or subject moves
It makes the depth of the scene more visible by reducing contrast and saturation in more distant objects
It creates subtle halation (glow) which goes some way to taking the edge off a sometimes excessively sharp digital image.
But we're getting a little ahead of ourselves. If backlight is worth a whole chapter, atmos certainly is.
Softness
It doesn't have to be harsh, either. The word "backlight" easily conjures up images of 18K HMIs blasting ten stops of key-fill separation into a scene at point blank range. It doesn't have to be like that. Backlight can be soft and wrapping as well. The enormous light-boxes used in car commercials often lean in this direction, albeit mainly as a top backlight rather than something that's principally coming from behind. Yes, backlight reveals texture in an object and if that object is the face of someone who wants to appear to be in his or her twenties but isn't, well, that's going to require a bit of caution. In other circumstances, revealing texture in production design may be absolutely ideal.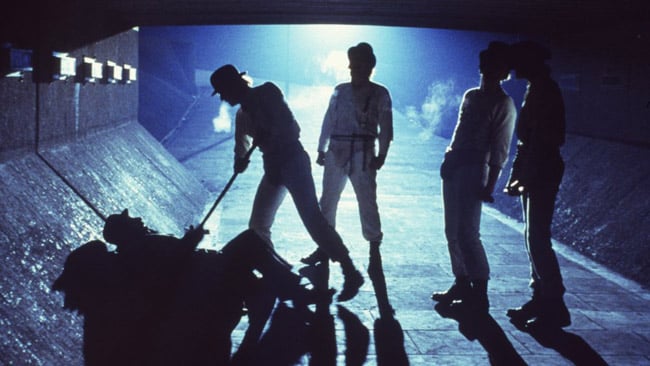 Possibly this underpass looked even more futuristic in 1971, but the backlight helps (from A Clockwork Orange)
Few scenes will be solely backlit, other than in the most extreme, obscure-the-murderer's-face situations, and the fundamentals of key and fill remain. But there's no rule against the key and fill being bounce cards. If this sounds like a desperate plea for adventurousness, especially at the film-school or independent short level, it is.
Tags: Production