Replay: Going off the beaten track. When we talk about portability of equipment for remote shooting, there is one aspect that is most often neglected. Lighting. Phil Rhodes takes us through the option when it comes to shedding light on things in a remote setting.
Everyone likes to shoot with battery-powered lighting. Even on a set with lots of mains power available, it's hard to beat the sheer speed with which battery lights can be walked into shot and set up. It can easily mean the difference between finessing a shot and living with whatever's there.
There's a difference between that and lighting an entire scene without recourse to a wall socket, though. If we're in a place that has mains power and we're using batteries for convenience, it's OK if the lights only last for 45 minutes on battery power, as is quite normal. We have a cart full of chargers and batteries and willing hands to run them back and forth. What's more difficult is the increasing need to run shoots entirely off-grid, where the only power we have with us is that which we can pack into the back of a car. High-efficiency lighting — HMI, LED and fluorescent — is not cheap. Batteries can also be incredibly expensive considering they're something that lower-end projects (exactly the sort of projects that need to run off-grid) tend not to comprehend in terms of a rental cost.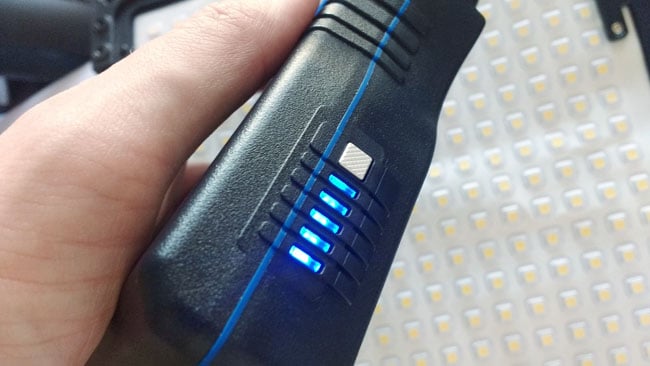 It's increasingly possible to run shoots on nothing but battery power. Battery here by Blueshape
And one more thing: we're going to overlook generators here. Generators quiet enough for movie work are extremely expensive to hire, extremely expensive to transport and may require a specific person to knock in the earth stake and press the "start" button. Kidding aside, there are naturally electrical safety hazards with much of what we're going to discuss here. Noisy, construction-site generators may be an option for non-dialogue scenes, though the most primitive types can disagree with certain types of lighting ballast. For the most part, though, we're going to concentrate on what can be done with batteries, inverters, and ingenuity.
Pocket-sized lights
The Core SWX Bolt 250 runs from small 7.2V camera batteries
To start with the lowest-power options, let's consider LED lights designed to be used on-camera, such as the Core SWX Bolt 250 we recently reviewed. They're usually capable of a few tens of watts and are often powered by small, 7.2V camera batteries of the type used on the smallest handy cams. These batteries are available at reasonably low cost — tens of units of currency apiece — and it's not impossible to imagine even quite modest productions charging them from a vehicle and keeping a light going all day.
Naturally, there are serious limits on what can be achieved at these power levels, but small LEDs do have application beyond just interviews. In the dark, they can provide a pool of light on a background object to give depth to a scene which would otherwise be a black void, or even be fired straight at the camera to suggest more powerful lighting in the far distance.
Mini-lights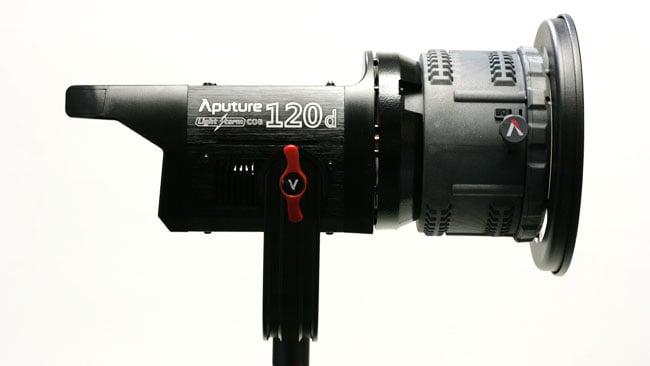 Aputure's COB-120 can be comfortably powered by most conventional camera batteries
Moving up a notch, we start to encounter lights in the 100-watt range, things like the Aputure COB-120 or the LED Dedolights, which really need to be run from full-scale camera batteries. The COB-120 is a shade over 100 watts, but for the sake of reference, 100 watts at 12 volts implies a current of eight amps. Most batteries are specified at fairly low currents. A four ampere-hour battery might be specified at the one-amp rate, which means it will supply one amp for four hours, but almost certainly not four amps for one hour due to increased internal losses at higher currents. An amperage of eight amps is therefore close to a sensible maximum for many camera batteries and running things like a Zylight F8 is really better done from a larger block battery left on the floor by the stand.
Fluorescents
Fluorescents are also good candidates for battery power. Here, Photon Beard's Square One
Many fluorescents also come in at about 100 watts. A single four-foot Kino-Flo tube is 75 watts (more or less double a conventional four-foot fluorescent), putting a two-tube, four-foot device somewhere in-between this category and the next. A mains inverter will run a Kino-Flo ballast quite happily, although the 150-watt load will be a reasonably stern challenge for all but the largest camera batteries.
Midi-lights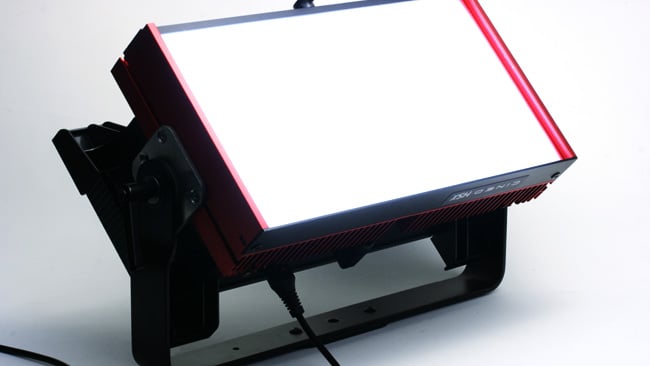 Cineo's excellent 400-watt HSX can be powered from batteries, as can any other 400-watt mains load - but it's at the edge of what's reasonable
With products such as the Zylight F8-200, Aputure's 300-watt COB-300D and products in the 400-watt range including Arri's Skypanels, bigger and bigger LEDs are becoming more normal. There are also HMIs in the 200-400 watt range that have broadly the same sort of output as their similarly-specified LED equivalents but may be better at creating sharp shadows and defined beams. At this point, camera batteries start to become genuinely inadequate, and either a large lead-acid battery in a box or — much better — one of Cine Power International's big nickel metal hydride packs is a good solution. They even have something that'll run a 400-watt Skypanel S60 at full power, something that the manufacturer's own battery power solutions don't do. At this point, though, we're talking about a Skypanel with a Cine Power battery system and while hugely capable, that isn't a solution that'll financially recommend itself to the low end.
But I don't have any money
Batteries are expensive, and we can end up needing large numbers of them to keep a lot of lights going for a long time. Assuming we have at least some access to chargers, the limit on battery runtime isn't so much the capacity of the batteries as the rate at which they can be charged and by having more batteries, we can charge more of them at once and achieve a higher overall rate of stuffing electrons in boxes. Big film sets can have entire magliners filled with batteries and chargers to keep the monitors and cameras going all day, let alone lighting.
The mathematics can be a bit alarming. Let's say we want to run a 100-watt light continuously for a ten-hour shooting day. That light will empty something like a PAG PL150e or an Anton Bauer Digital 150 in perhaps an hour, give or take a reasonable safety margin. It will take perhaps two hours to charge, again, with a degree of cautious pessimism. The cycle time is thus three hours and we need three or four batteries and one 4-position charger per light. That's £2000-£2500 worth of gear to support one nothing-special 100-watt light. If we want to be entirely off-grid, we need ten batteries and making it part of a rental package is probably the only sane approach.
With that in mind, it's quite possible to use lower-cost options — even the high-end industry isn't above using sealed lead-acid gel batteries in boxes where there's a need for cheap bulk juice. Those can be bought quite cheaply, although they need proper chargers for long life and good performance. For even more power, leisure batteries (not car batteries, which aren't designed to be regularly deeply discharged) can be brought into play, although the risk of acid spills is an issue, as is the fact that most lead-acid types take 16 hours to charge and therefore might not be ready for the following day. Better are things like lithium-polymer battery packs for radio-controlled cars and planes, though the quality can be a bit uneven depending on the supplier. All of these things require someone who's handy with a Makita and a soldering iron to create something usable and they can't be taken on aircraft, but it's done all the time.
Overall, between the growing sensitivity of modern cameras and the growing availability of cheap, effective, battery power-able lighting, going entirely off-grid has become more feasible — but it'll be a while before we can stop looking for mains sockets entirely.
Tags: Production