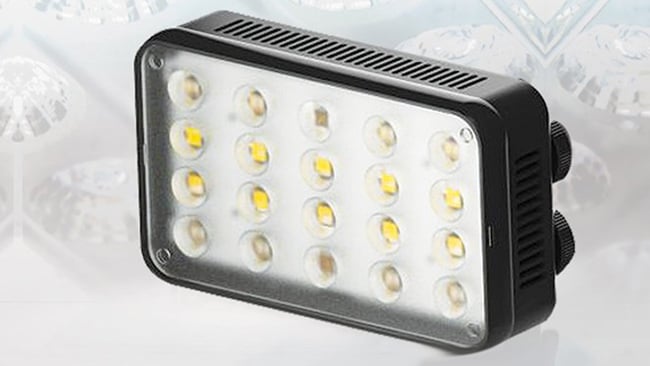 RedShark Review: It's long been a popular idea to strap a light on top of a camera, which is probably why there are so many options at so many price points. Core SWX's Bolt 250 is a recent addition to the world of on-camera lights. It has been shown at NAB and is priced toward the upper end of the market. Because of this and because there are so many options, the difference is really in the details.
Core SWX Bolt 250
The Bolt 250 is a 13-watt light with colour temperature mixing and dimming. The case is made of plastic, which is easy to frown at until we figure out what a metal case that size would weigh. It seems well-made, showing no sign of the imprecise injection moulding that can bedevil the really cheap options. The whole light is shallower than its predecessor, the Bolt 220, and while it's still about as thick as a Sony camcorder battery is wide, it's diminutive enough not to raise any eyebrows. There's a quarter-inch mounting thread on the bottom (a ball-jointed cold shoe adapter is supplied) and it's light enough to reasonably be mounted in that manner, at least without a large battery.
Not every application for small LEDs is on-camera, which leads to rather front-lit shots, but many will be used this way. Shown on JVC GY-LS300
Speaking of which, the battery mount is actually worth mentioning. The latch has a nice positive engagement and batteries will not fall off. This is an alarming possibility on cheaper alternatives which rely solely on spring pressure to keep the battery in place. There's also a conventional coaxial DC connector, which accepts 7 to 18-volt power. As so commonly, it's a non-locking connector, which is a shame at this higher-end price point but fairly standard practice, nonetheless. A D-tap adaptor is supplied, as is a 6.6Ah, 7.2V battery in the Sony NP-F style, with Core SWX's own branding. These batteries are ubiquitous for camera accessories and the supplied type, assuming the nameplate ratings are accurate, should be reliable for at least three hours of operation at full power.
The secondary diffuser at least doubles beam width and attaches magnetically
Full power, as the specifications state, is 13 watts. This does raise a question over the claim of 250 watts equivalent brightness. This would be an efficiency claim for LED of nearly 20:1 over whatever technology the company is using as a comparison, which is impossibly ambitious in comparison to otherwise-equivalent tungsten halogen lighting. The figure presumably refers not to total output, but to peak beam intensity, which is quite high by default, given the narrow beam.
The battery plate is well-engineered and should not spontaneously release batteries at the wrong moment
The light source itself is a collection of 20 high-power LEDs, spaced on roughly 1-inch centres, which suffer a noticeable amount of shadow segmentation with or without the diffuser — a softbox would solve the problem, although Core SWX seem to be going more for a projecting beam with this light. Each LED sits within its own small, multifaceted, presumably parabolic reflector which yields a pleasant, almost fresnel-like soft-edged beam that's slightly elliptical in shape. There's a fixed diffuser, with which the beam is perhaps only 30 or 40 degrees wide. With the magnetically-latching additional diffuser, coverage is much wider, with a corresponding drop in peak intensity. The narrow beam is probably too narrow for some on-camera applications, which is fine — this kind of LED gets used as a little fill or accent light all the time, and Core SWX seems very aware of that application too.
There is a radio remote control system, which will mainly be of interest in that sort of application. This is not a Lumen Radio implementation or something of that sort, that's compatible with anything else. It's a device-specific thing, although one controller can control several lights at once and there are 10 individual circuits which are all controllable for intensity and colour temperature. Otherwise, control is via two thumbwheels at the camera left edge of the device, which will be handy enough when it's mounted on a cold shoe.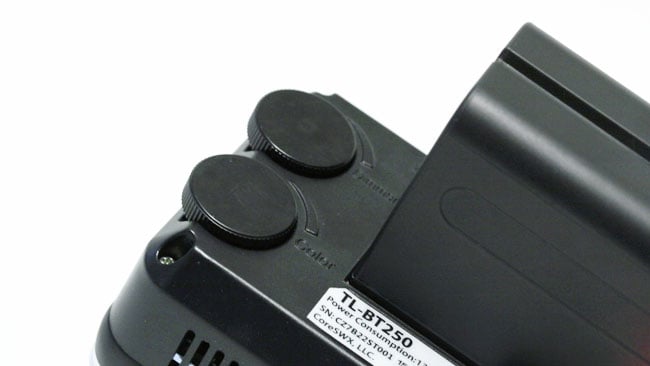 Brightness and colour temperature controls
As with most such things, the colour temperature mixing is implemented by splitting the LEDs into two groups of 10, implying that the highest output is achievable at around 4100K. At that colour temperature, both the warmer and cooler-emitting lights will be on at full power and the company's own paperwork bears this out. The specification claims 2450lx at 3200K and 3080lx at 5600K, but a noticeably brighter 4880lx at 4100K, and real-world measurements suggest these are reasonable numbers at beam centre. The light suffers the almost-ubiquitous LED issue of not really being capable of a completely smooth fade to black, falling off rather abruptly at the bottom end of the range, but otherwise, the mixing and intensity control are well implemented.
Because it's such a crowded field, it's almost meaningless to discuss a product such as the Bolt 250 without placing it in the context of other options. To some extent, such a comparison can make it look a little expensive, with the Dracast Camlux Pro offering slightly less power at 10W, but otherwise a very comparable specification for under a third the price (and more than double the weight.) We might hypothesise — and this is guesswork — that the difference can be explained by an offset in colour quality. Both manufacturers advertise a CRI of 95 and it's difficult to find a reference to the more exacting TLCI measurement which might have separated them. By way of comparison, the Aladdin A-Lite Bi-Color is 50% more expensive and perhaps better, or at least more showily made, with a machined aluminium chassis — and they do publish excellent TLCI figures.
The power connector should really be a locking type, although the mechanical power switch is nice, ensuring that the light comes on immediately power is applied
In the end, the Bolt 250 gives the impression of being well put together. By both eye and DSLR, the light output, particularly at the warm end, has an agreeable warmth without excessive redness. It recalls, subjectively, the creamy output of Kino-Flo's tungsten-balanced tubes. It's bright too, or at least intense, with that narrow beam, though the 250-watt equivalence claim probably relies on some creative accountancy. Perhaps the biggest draw is that it's smaller and lighter than its predecessor, something that'll draw news and documentary people. Various multi-light deals have been offered, which probably turn the Bolt 250, overall, into a perfectly respectable piece of kit. Without a deal, B&H's sticker price is $280; CVP offer it in the UK for £300 including VAT.