Replay: Phil Rhodes looks at the most commonly used lens mounts in the industry, what they're used for, and what adaptation options there are for users to prevent lock-in to a technology that may not always suit their purposes.
The connection between a lens and a camera is something that ought to have been standardised decades ago, so that we could enjoy the flexibility of using any combination appropriate to the situation at hand. Of course, that didn't happen, which is what keeps companies like MTF Services in business, and because there's such a huge variety of both, it seemed like a good idea to collect together some data on the most common options, what they're used for and what adaptation options exist. Many manufacturers now offer lens ranges in various mounts, including the Veydra primes, recent Fuji zooms and even things like the Zeiss CP.2 series, making the choice of mount an opportunity for very expensive mistakes.
Mounts are interchangeable from EF to PL. The blue plastic piece is a shim for precision back focus adjustment
One note, though. Mechanical compatibility is subject to a lot of practicalities, so don't trust this data without having verified it with the particular equipment in question. Particularly, don't assume that lenses with a flange focus distance that's shorter than that of the mount can be adapted to it; some lenses, as we'll see in the entry for the PL mount, have parts which project back past the flange and can collide with camera internals. There are also many more lens mounts in existence than listed here, making it almost inevitable that some people will be interested in things not listed.
PL
Developer: Arri
Role: Motion picture
Sensor size: Super-35
Flange focus distance: 52mm
Diameter: 54mm
Cameras: Alexa, Ursa Mini PL, Moviecam series, Arriflex series, many others
Mechanism: Breech lock
Fujinon XK6x20 - PL mount
To start with something well known, PL is the most common example of a breech lock mount where the lens is seated against a metal flange and a clamping ring rotated into place to wedge it there. This is a more precise and heavy-duty approach than the alternative bayonet mount, where the lens is inserted then rotated to push metal lugs into slots. If the lugs wear, the position of the lens can become sloppy with respect to the position of the sensor, whereas if the moving parts of a breech lock wear, they'll simply rotate a little further before clamping down hard, and the critical distances are maintained. Bayonet mounts are common in stills cameras, whereas breech locks are found on film and TV equipment.
PL is the archetypal movie camera mount. A long flange focus distance makes PL-lenses difficult to adapt to many common mounts, although the very shallow micro four-thirds and E-mounts can accept them with a simple adapter. EF-mount cameras can sometimes be reworked to take PL-lenses, although it tends to be a fairly invasive modification, involving removing the mirror and other internal components of cameras such as a Canon 7D. A minority of PL-lenses, such as the SLR Magic anamorphic, are designed without protrusions behind the flange and can be used on EF mounts with a simple adapter.
PV
Developer: Panavision
Role: Motion picture
Sensor size: Super-35
Flange focus distance: 57.15mm
Diameter: 49.5mm
Introduced:
Cameras: All Panavision 35mm models, 16mm Panavision Elaine, others with modification.
Mechanism: Breech lock
Panavision's company-specific mount is similar in its design intent to PL, with four lugs and a breech lock. It's mainly of interest to people renting from the company, although there can sometimes be a requirement to put Panavision lenses on specialist cameras and Panavision themselves convert many cameras to use their mount. Very occasionally, Panavision equipment has become available — at various degrees of legitimacy — on the open market, but sets of their widely-admired lenses are essentially a rental-only item. The E-series anamorphic lenses, famously responsible for the bold horizontal blue flare of classic action movies, are otherwise an attractive option in the modern world of digital sterility.
Adaptation, given the deep flange depth, presents much the same issues as PL. Popular interchangeable-mount cameras commonly offer a Panavision option, although again, the overwhelmingly common scenario is that of a complete, all-in-one Panavision package.
EF
Developer: Canon
Role: Stills, increasingly motion picture
Sensor size: Full-frame 35mm stills
Flange focus distance: 44mm
Diameter: 54mm
Introduced: 1987
Cameras: Full-frame Canon stills cameras; particularly, EOS-C series.
Mechanism: Bayonet
EF lens mount adaptor on JVC GY-LS300
The EF mount was an early move toward electronic integration, completely removing any mechanical link between camera and lens. Whether that's the reason for its gigantic success is necessarily a matter for conjecture, although Canon recently celebrated shipping their 100-millionth EF-lens and so that success is hard to question. Designed for stills photography, it's a bayonet mount really intended for fairly lightweight lenses and some of Canon's higher-end motion picture glass is much too heavy to be used on an EF-mount unsupported.
EF stills lenses are frequently encountered in lower-end filmmaking because they're widely owned for stills work, because they're available at a variety of prices and because they often have a very desirable price-performance ratio, though EF stills lenses are often not great tools for moviemaking, with very short focus throw and significant breathing and ramping in zooms, though they're often very sharp. Canon's movie lenses, on the other hand, combine their excellent optics with manual controls.
It is generally difficult to adapt EF stills lenses to other cameras because there is no way of controlling even the aperture without implementing the electronic interface, for which Canon does not publish documentation. Even so, several companies have reverse-engineered the protocol and tools such as MTF's Effect lens controller can make EF-lenses usable on shallow mounts such as E and micro four-thirds. EF-mount cameras, with their deep mounts, are limited to using Pentax and Nikon lenses with simple adapters.
EF-S
Developer: Canon
Role: Small-sensor stills
Sensor size: APS-C
Flange focus distance: 44mm
Diameter: 54mm
Introduced: 2003
Cameras: APS-C Canon stills cameras
Mechanism: Bayonet
EF-S is essentially identical to EF, though with the stipulation of a smaller sensor. As such, a great deal of the DSLR video that's been shot since the introduction of video has actually been behind an EF-S mount, although the compatibility of full-sized EF-lenses means that either can be used on Canon's small chip cameras or any of the many others which have adopted the mount.
The selection of lenses in EF-S mount is much more limited than in the full-size mount, although there's at least one star — the 60mm f/2.8 USM macro prime, which is sufficiently good that we felt able to apply a Gear We Like award back in 2013. Adaptation concerns are essentially the same as for EF, with some concern that lenses intended to cover full-frame 35mm stills sensors may over-project the sensor and send light bouncing around inside the lens cavity, creating flares. Most EF-equipped cameras are set up to deal with this, with baffling and non-reflective finishes inside the mount.
EF-M
Developer: Canon
Role: Small-sensor stills
Sensor size: APS-C
Flange focus distance: 18mm
Diameter: 47mm
Introduced: 2012
Cameras: Canon mirrorless cameras
Mechanism: Bayonet
The latest addition to Canon's mount lineup is essentially EF modified for mirrorless cameras. With a sensor — in effect — permanently in live view, an electronic viewfinder can be used, much as with micro four-thirds. The attraction for camera manufacturers is that the electronic viewfinder is much cheaper to mass-produce than the complex mechanical and optical parts of a conventional mirror viewfinder, and the resulting camera can be smaller. The mount is mechanically similar to EF, albeit slightly smaller.
EF-M is included here for completeness. No popular video camera has yet adopted it. It does more or less the same job as Sony's E or micro four-thirds, and EF-M lenses are generally those intended for the very smallest interchangeable-lens cameras.
FD
Developer: Canon
Role: 35mm stills
Sensor size: Full-frame 35mm
Flange focus distance: 48mm
Diameter: 42mm
Introduced: 1971
Cameras: Canon F-1 etc.
Mechanism: Bayonet
Canon's FD is the mount that EF essentially replaced and in the process effectively obsoleted, at least temporarily, a lot of very well-regarded glass. Because FD is deeper than EF, a simple adaptation has never been possible and for a time FD-lenses became very affordable. Now that there are a lot of cameras around with very shallow mounts and adapters with optical elements to adjust for the physical spacing issue, the value of famous old FD lenses has grown to the point where they're no longer such a steal. The FD 50mm f/1.2L tends to go for over $600 and is just one of a whole galaxy of FD-lenses on eBay, although the FD 24mm f/2.8 SSC tends to be under $200 and represents an interesting wide-angle option. Any of them can be adapted to E or micro four-thirds.
It's likely that there has never been and never will be a digital camera with an FD-mount. Such a thing would be an entertaining historical curiosity, though, so if anybody's ever seen one, let us know.
E
Developer: Sony
Role: Mirrorless stills cameras
Sensor size: Varies; up to full-frame 35mm
Flange focus distance: 18mm
Diameter: 46mm
Introduced: 2010
Cameras: NEX and ILCE series
Mechanism: Bayonet; breech lock on FS7 Mk. II
E-mount showing filters
It's possible to see the E-mount as essentially Sony's response to the Olympus-Panasonic collaboration that led to micro four-thirds. It is the shallowest of any mount we're discussing, placing the reference plane of the lens a mere 18mm from the sensor and as such adaptable to essentially anything, including MFT. This is clearly at least part of the intention and as such it's tempting to assume that lenses available in E-mount might not be that interesting. In fact, some important zooms have been released in the format, including the 28-135mm f/4 and 18-105mm f/4 which, among others, have been paired particularly with NEX-series cameras. They're not high-end lenses, being electronically controlled, but the combination of range and price makes them hard to beat on highly-mobile, cost-constrained productions.
The E-mount is important to cinematography principally because of its presence on the FS series video cameras, including FS5, FS7 and FS700, which represent some of Sony's most important products in that field. Of particular interest is the FS7 Mk. II, which essentially reimplements the E-mount as a much tougher breech-locking design. E-mount lenses can only ever fit E-mount cameras, but E-mount cameras can be adapted to take essentially anything.
Micro four-thirds (MFT)
Developer: Olympus and Panasonic
Role: Mirrorless stills cameras
Sensor size: Four thirds
Flange focus distance:19.25mm
Diameter: 38mm
Introduced: 2008
Cameras: Lumix DMC-G1, GH series
Mechanism: Bayonet
The "micro" prefix indicates the purpose of this popular mount: the full-size four-thirds mount is designed to accommodate a mirror box much like a conventional Nikon or Canon DSLR. Perhaps because of the state of technology at the time of its launch, the mirrorless micro-version has become better known and has even been chosen to serve some cameras using a super-35mm sensor, including some Blackmagic products and the JVC GY-LS300. As the name suggests, the mount was designed for sensors four-thirds of an inch diagonally and has a relatively limited diameter which demands careful engineering for proper coverage of super-35 sensors.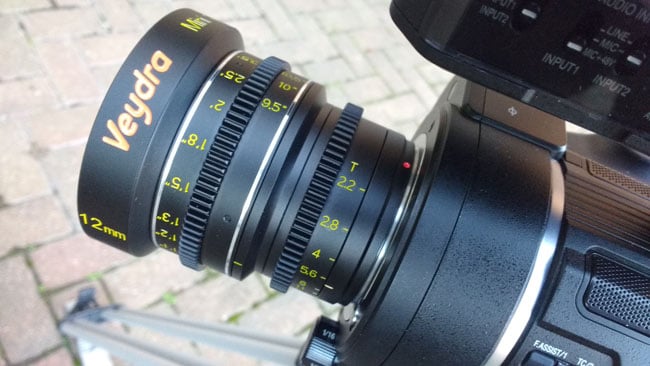 Veydra have made lenses to suit micro-four-thirds mounts, but because the mount is so shallow, it's generally impossible to use them on other types
Lenses native to the mount are mainly intended for stills work, though many purveyors of the more affordable end of cinema lenses offer micro four-thirds mount. If there's a deeper alternative available, buying lenses in MFT can be rather limiting because they can only ever go on MFT or E. Conversely, an MFT camera can accept anything other than E-mount lenses.
FZ
Developer: Sony
Role: Film and video
Sensor size: 35mm full frame
Flange focus distance: 19mm
Diameter:
Introduced: 2011
Cameras: Sony Cine-Alta series
Mechanism: Breech lock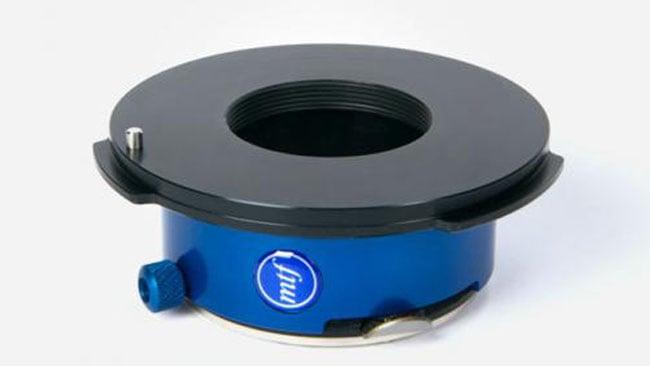 This is a Nikon mount adaptor to suit Sony's FZ mount. The enormous size of the FZ mount is clear in comparison
The enormous FZ-mount seems designed almost as a solution to the problem of lens mounts, providing sufficient size and solidity to reasonably support almost any combination of camera and lens, while also allowing enough clearance that it's possible to adapt the mount to almost anything else. The FZ-mount first appeared on the widely-respected F3 camera and many are mated more or less permanently to a PL adapter. More recently, on the F5 and F55, they've been seen with Sony's chunky LA-FZB series adapters, which provide compatibility with 2/3" B4-mount lenses, and where the toughness of the mount is crucial.
There are few lenses natively designed for FZ-mount, probably because they'd be compatible with nothing other than FZ-mount cameras, although manufacturers such as Veydra offer it as an option. Conversely, an FZ camera can, with appropriate accessories, take anything other than E-mount lenses.
B4
Developer: Broadcasting Technology Association
Role: 3-chip video
Sensor size: 2/3"
Flange focus distance: 48mm (for red channel)
Diameter: FIXME
Introduced: 1994 (standardisation)
Cameras: 2/3" broadcast cameras.
Mechanism: Breech lock
Video lens mount
Attaching lenses to news cameras is a structural task as much as it is an optical one, given that a handheld camera relies entirely on this union for grip and support. As such it's no surprise to find a breech locking mount in use, although it's smaller in diameter than the PL, OCT-19 or Panavision mounts as befits the comparatively small sensors used. The principal technical oddity is that the specification calls for the three primary colours to focus at very slightly different distances from the mount, in order to accommodate the splitting of the image into those three colours for a three-sensor design.
This means that adapters to put common B4 zoom lenses on non-B4 cameras invariably need optical correction, though it can work without at apertures above f/4. Because of the huge performance of many B4 lenses, with enormous zoom ranges, low minimum apertures and handy ergonomics, there's a lot of interest in putting them on non-B4 cameras. Cheaper, older lenses intended for standard definition work can struggle with sharpness on modern cameras, though more modern, HD-rated glass is somewhat better and offers a combination of capability that's otherwise hard to match.
OCT-19
Developer: NIKFI and MKBK (Cinema and Research Institute and Moscow Cinema Equipment Construction Bureau)
Role: Motion picture
Sensor size: Super-35
Flange focus distance: 61mm
Diameter: 68mm
Introduced: 1984 — Same source as above
Cameras: Soviet-era Russian 35mm film cameras
Mechanism: Breech lock
OCT-19 is essentially the Soviet answer to PL, with the same four lugs and breech lock ring, though they are not directly compatible. The mount is of most interest for the lenses that were made, most famously by LOMO, the Leningrad Optical Mechanical Association, especially in the 1980s. While old Russian lenses were at one time a low-cost option, the popularity of lenses with what we'll politely call character has made them expensive, particularly the anamorphic options. LOMO, now principally a medical imaging company, is only tangentially connected with the Lomography movement which celebrates a certain analogue "glitchiness" in photography, but the comparison between that and the (rather gentler) artefacts sometimes sought by users of OCT-19 lenses are hard to ignore.
OCT-19 lenses (and to a lesser extent slightly lighter-built OCT-18 types) can be used on shallow-mount cameras with adaptation, although many such lenses have been rebuilt to PL or other mounts. There are 35mm film cameras from Konvas and others with OCT-19 mounts.
F
Developer: Nikon
Role: 35mm SLR stills
Sensor size: Full frame 35mm
Flange focus distance: 46.5mm
Diameter: 44mm
Introduced: 1959
Cameras: Nikon F and all Nikons to date, with updates
Mechanism: Bayonet
Nikon Series E 100mm lens with 3D printed gear
Nikon's long-lived mount gets a mention here mainly because of the popularity of lenses from the company's more mechanical era of still photography. Nikkors from what's often called the pre-AI period enjoy fully mechanical controls, often a sturdy all-metal build, with even the low-cost Series E (for economy) lenses from the 80s featuring more metal than the most expensive modern types. The focus scale is often not ideal for photography, but they're far from the worst option out there and the mount is so deep that the lenses can even be adapted to EF cameras. The mount itself is a bayonet twist-lock broadly similar to EF, Pentax K and others, and has been significantly updated with a complex web of compatibility and capability on various cameras, which should be double-checked before relying on older Nikon F lenses with modern stills cameras.