Nikon has been through a lot of financial uncertainty recently and, as a result, quite a few future products were cancelled and the company was restructured. In that context it's really great to see the company is back with some new products and even better that they are lenses to boot.
Nikon has long been famous for the high-quality stills lenses it has produced and, in the past, Nikon lenses have always been the first port of call for those unable to afford high-end cinema lenses like Zeiss or Cooke. Not only were many film cameras modified to have a Nikon F mount, but it was probably the most popular mount option for DOF adaptors (remember those?) and even the original RED camera was released with PL mount and an alternative Nikon F mount option.
These days Canon EF mount seems to have stolen some of the thunder from Nikon on the still lenses for cinema front, but the name Nikon is still respected for great optics.
AF-S Fisheye NIKKOR 8-15mm f/3.5-4.5E ED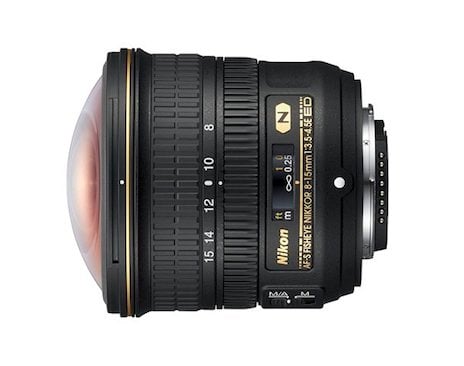 Nikon has three new lenses with perhaps the most exciting being a fisheye zoom with a focal length range of 8-15mm. So, very wide angle for most sensors and it also has a special gold ring on it to denote that it is a part of Nikon's premier range of lenses. The lens has full frame coverage where 8mm should be especially wide yet it manages to be a fairly compact unit. Sadly it has an electronic aperture, so if you are using it with a dumb Nikon F mount or older Nikon camera or something, you will be stuck at wide open on your aperture. Still, you might even find it useful in that context given that it is such an interesting lens.
The lens features all kinds of high tech lens improvements. It has the silent wave autofocus motor which is supposed to be able to focus smoothly and silently. It features ED glass to reduce secondary chromatic aberration even further than usual and nano crystal anti-reflection coating.
Focusing is all internal so you don't have to worry about the lens getting shorter or longer, or rotating while you are using it, which could be a pain when working with matte boxes or other lens add-ons.
I'm not sure what such an extreme zoom fisheye lens is going to get used for but I am confident that people will find new and creative uses for it. Probably someone is going to do strange things with it in a music video at some point in the future. I guess the most obvious use for it will be in places where you need to shoot really wide and want the ability to make fast fine adjustments to the framing. When something is a bit new and unusual it sometimes takes time for people to work out what it is for although there are probably already people out there looking at this lens and thinking "This is exactly what I need!" The fisheye effect is traditionally a bit of a special effect that gets occasional use, so a super advanced fish-eye zoom seems like something of a wild indulgence but come on... who doesn't love a bit of wild indulgence! The lens costs $1249 and will be available from June 15th 2017.
AF-P DX NIKKOR 10-20mm f/4.5-5.6G VR
On a somewhat more practical note is the Nikkor 10-20mm DX which is a more standard wide-angle zoom without the fisheye effect.
It's light and compact, can focus fairly close without diopters, and sells for only $309! It even features Nikon's "Vibration Reduction" technology to try and eliminate camera shake. So really incredible value for a really handy range of very wide angle focal lengths! This thing will sell like hotcakes, so surely there must be a catch? Well yes, you are right, there is one. The lens uses the AF-P advanced autofocus motor system which is only compatible with Nikon cameras made after 2013 or so, so if you don't have one of those it is probably a cute paperweight. It is a DX lens too so coverage is only up to Super35/APS-C sized sensors.
I suppose it is possible that someone may come up with a way of rehousing the glass from this lens, but don't expect it to be cheap anymore. On the upside, the lens is compatible with the Nikon D810 which was one of the more popular cameras for DSLR filmmaking, so perhaps it may find a home there for sure. The price is right for some very nice optics if you can make it work for you. Availability is listed as from June 29th.
AF-S NIKKOR 28mm f/1.4E ED
Finally, there is the 28mm f1.4 FX ultra-wide-angle prime lens, which is again one of those special premier Nikon lenses with the gold ring on it. The 28mm is the latest focal length in a set of high-end f1.4 prime lenses from Nikon. The other focal lengths in the set so far are 24mm, 35mm, 58mm, 85mm and 105mm. Again the aperture on these lenses is motor-controlled so the lenses will be stuck wide open if you are using a Nikon F style dumb mount. Nikon expects this lens to be used for high-end professional uses and have priced it accordingly. All of the lenses in the set have full frame coverage and should make a good set of focal lengths for full frame filmmaking if you have a compatible camera system.
The body is built of lightweight magnesium alloy which will hopefully make it a bit more durable while keeping the weight down. The lenses feature Nikon's Nano Crystal anti-reflection coating to reduce ghosting and flare and Nikon's ED lens elements to reduce secondary chromatic aberration even further than usual. The lens will be available from June 29th for $1999.