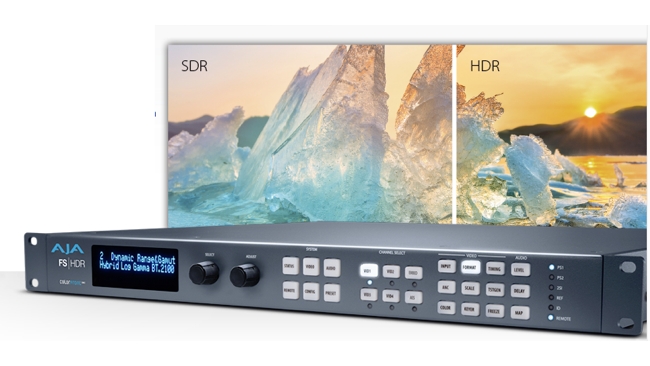 The technology preview of the new AJA FS-HDR frame synchroniser promises to solve a lot of problems in the ever-widening colour space and provide HDR and Wide Color Gamut (WCG) processing and conversion for realtime 4K/UltraHD and 2K/HD workflows.
There's been a lot of excitement over the idea of HDR video for some time now. On the face of it, it would appear to be a technology that makes a big and noticeable difference to the quality of video and the perfect next step in video technology. It's often partnered with 4K because, even if you claim you can't see the improvement in resolution from 4K, you will surely be able to see the improvement in the colour space from HDR video.
Sadly, while the improvements are obvious, it's a little less obvious how to make use of the technology in a world that has been dominated by the Rec.709 colour space for decades. In the case of movies, it's a straightforward — if expensive —matter to do a new grade, but what about content that doesn't have the budget for this kind of workflow or content that is being broadcast live, so there is no post production phase in which to change things?
Technology is just starting to come to the rescue and part of the cavalry comes in the form of the AJA FS-HDR frame synchroniser. This is a 1U high 19" rack mount unit that can provide standards conversion between various formats and output them in standard SDR or HDR colour spaces. For example, output can be in the form of SDR BT.709 100 Nits, PQ BT.2020 1000 Nits, or Hybrid Log Gamma BT.2100.
The unit can take input, not only in those standard colour spaces but in many companies' proprietary log formats too! So it can take Sony S-Log, Arri Log C, Panasonic V-Log, Canon Log 2 and Red Log3G10 and convert the log into standard Rec.2020 for example.
It has been developed in partnership with Colorfront and the FS-HDR's HDR/WCG functionality is powered by the colour space processing algorithms within the Colorfront Engine. Colorfront is an expert in colour management technology and Colorfront's CTO, Bill Feighter, and Lead Engineer, Tamas Perlaki, are both Academy Award winners for their technology, so you can be fairly sure you are getting sophisticated high-quality colour space conversions.
The FS-HDR can also do high-quality up/down cross conversion of 4K/UltraHD/2K/HD/SD video signals, so it can handle the conversion of resolution as well as colour space. It can even do a 4K/UltraHD HDR down-conversion to HD while keeping the HDR colour space at the new resolution.
It even has support for two very different modes. First, a single channel mode that allows you to do frame sync and conversion of UHD and 4K/Ultra HD signals, but also a second mode that can take up to 4 different channels of 2K/HD or SD video and do more basic standards conversions and frame sync. It's a bit like having four different units in one, but of course you are losing a lot of the capability that makes the unit special in this mode — namely, the 4K/UHD and HDR support. It might be one of those features you are glad you had when you find you need it for something, though.
Physical output can be by 12G/6G SDI via HD-BNC connectors or by direct connection of glass fibre cable, so you can connect to other equipment via standard interfaces.