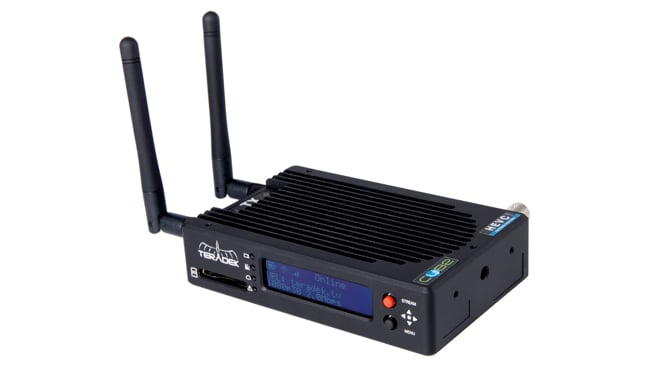 Teradek has added several new 1080 and 4K HEVC codecs to its line of Cube, Slice, and T-Rax devices. The new HEVC systems start at just $2990.
It was just a matter of time before the new H.265 codec started to shake things up in the world of video transmission products. Initially, things were held back as companies charged a premium for versions of their products that had support for the codec. Potential customers instead chose the H.264 based products to make a cost saving on the equipment itself. But now it looks like all this is set to change as Teradek starts to add support for the codec to its products and a new Teradek Cube with support for H.265 can be bought for less than $3000.
H.265 — or HEVC (High-Efficiency Video Codec) as it is also known — offers similar video quality to H.264 (MPEG 4) video, but requires half the bandwidth to achieve this. This can lead to significant cost savings when using cellular bonded video transmission where you have to pay the cellular/mobile phone bills after you have transmitted all that video. The codec is deeply associated with 4K as the intention was that it would make 4K more practical by compressing the data into the same kind of bandwidth needed for 1080p. However, you can use the codec to compress 1080p signals in a more efficient manner too and thus maintain picture quality while saving on bandwidth costs.
Teradek offers products with both options. 4k with the same kind of bandwidth costs as you would expect for 1080p or 1080p in even less bandwidth (and perhaps even needing to bond less cellular connections) for similar results.
The Teradek Cube can also work over IP connections where H.265 might lead to less overhead in terms of bandwidth and therefore more reliable connections where the IP-based connection shares bandwidth with other applications. Of course, the Teradek products also allow you to transmit video over a short range for free using a WiFi connection. Hopefully, H.265 will make such connections more reliable as you are transmitting fewer data from point to point. As an alternative, you might be able to transmit higher quality video in the same amount of bandwidth.
H.265 is a more processor-intensive codec than H.264, but the new HEVC Teradek Cubes require only six watts to run, saving on battery power when out in the field and thus allowing you to run the link for longer before swapping batteries. Teradek claims that the new Cubes are the smallest and most power efficient units on the market to support HEVC.
Teradek is also providing a cloud service to take the .h265 video and transcode it to whatever format might be needed and publish to online platforms without having to worry about whether the platforms have support for .h265 themselves. This means you can save on the upload bandwidth costs while maintaining compatibility with existing platforms.
Cellular bonding is provided by the Teradek Bond which is an additional optional unit that slides seamlessly onto the Cube and allows you to bond five 3G/4G or LTE connections together at the same time to transmit the video. There will also be a backpack version of bond for people who don't want a camera mounted option. This will be more protected from the elements than the camera mounted version.
If you need compatibility with AVC for some application, the units can also transmit in AVC. It's just a matter of choosing the other codec option from the configuration menu.
The 1080 HEVC Cube 700 series supports 1080p at up to 60fps. It is available early May 2017 for $2990.
The 4K HEVC Cube 800 series supports 2160p at up to 60fps and is available late Q3 2017 for $3990.