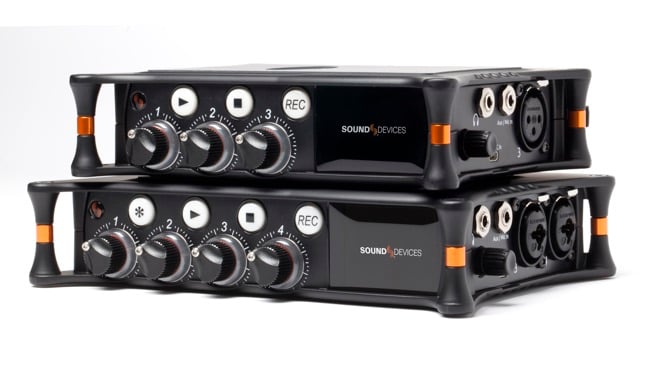 Sound Devices' portable MixPre-3 and MixPre-6 feature USB audio streaming. They're the first to have a touchscreen and they are perfect for musicians, videographers, podcasters and YouTubers.
Forget about recorders with noisy microphone pre-amps for field recording. Sound Devices, the audio manufacturer whose products are used in productions such as La La Land, Mad Max: Fury Road and Game of Thrones, is launching its new product line, the MixPre Series of audio recorders with integrated USB audio interface. The MixPre-3 and MixPre-6 weigh 480gr and 560gr respectively and are made from die-cast aluminium. Sound Devices is marketing them as the perfect audio companions for musicians, sound designers, podcasters and videographers. They are available now for $649 and $899 respectively.
Sound Devices' MixPre Series marks the first time the industry pioneer is bringing its high-end, professional audio innovations to the wider consumer market. The 3-input/5-track MixPre-3 and the 6-input/8-track MixPre-6 feature Sound Devices' Kashmir microphone preamps.
Kashmere is a new, handcrafted high-performance, low-noise, discrete, Class-A microphone preamp and analogue limiter circuit. Kashmere preamps are said to preserve the finest textures of the audio regardless of what is recorded, from drums and birds to dialogue, using condenser, dynamic, or ribbon mics.
The MixPre-3 offers an up to 5-in/2-out USB audio interface with three discrete mic preamps and the ability to stream up to three analogue inputs (including three high quality mic inputs) + 2-channel mix over USB, while the MixPre-6 has an up to 8-in/4-out USB audio interface with four mic preamps and streams up to six analogue inputs (including four high-quality mic inputs) + 2-channel mix over USB to a Mac or a PC. In addition, the MixPre-6 features XLR / ¼" combo inputs allowing ¼" line-input sources to be connected directly. Both models record to a removable SD, SDHC or SDXC media card.
Some of the other features that set the MixPre Series apart include new 32-bit A-to-D converters, the ability to record while simultaneously streaming USB audio, which is ideal for mixing or recording podcasts, Skype interviews and video blogs (also useful for backup to an SD card) and a colour LCD-screen using IPS touchscreen technology for convenient navigation.
The pocket-sized MixPre-3 is one of the smallest products in its class. The MixPre-3 and MixPre-6 are equipped with ergonomic gain controls for fast and accurate mixing and a custom-designed, wide bandwidth, high power headphone amp for monitoring. Both include pan and soloing plus LED ring metering.
The two models also enable remote control over Bluetooth from the free Wingman app. Users can start/stop recording, enter/edit metadata, as well as arm, disarm and rename tracks on the MixPre from a mobile device. The Wingman app is available for iOS from the App Store.
The MixPre recorders come with Basic and Advanced modes. The Basic mode takes the guesswork out of audio recording and is intended for stereo recording applications, such as interviews, video blogs, music or podcasts. The Advanced mode offers more experienced audio enthusiasts access to multi-channel recording and advanced settings, such as metering, routeing, timecode, preamp gain, stereo channel linking, headphone presets and more. The devices are powered by AA batteries, Li-Ion batteries or via USB.