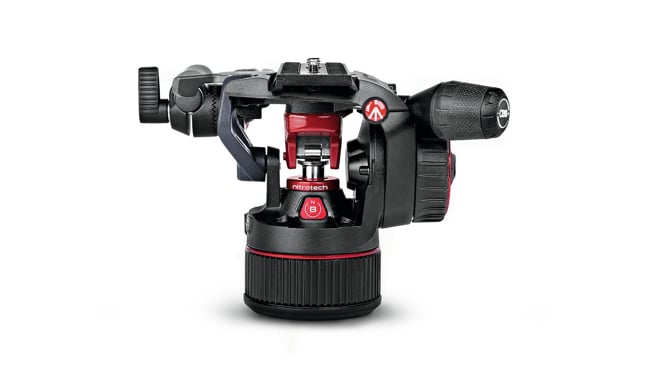 RedShark Review: Manfrotto's new camera support system proves that innovation can still touch every area of our working lives. Truly this is a head for the 21st-century shooter.
In parallel with increased resolution, the form factor of the video camera has witnessed a radical overhaul during the last five years, giving rise to modular rigs, including action cameras, DSLRs and digital cinema cameras. However, you'd be forgiven for thinking that supports and grips have stayed much the same since the days of the Lumière brothers.
The requirement to support the camera with tripod legs plus a head that offers horizontal and vertical movement was nailed early on, so continued development has tended to be one of refinement along these basic principles, notwithstanding improvements in the materials used. So when camera support manufacturers speak of innovation it's fair to assume there's a whiff of snake oil in the air.
My current Manfrotto tripod system has outlasted four camera upgrades and still does a damn fine job of this thankless supporting role; but tatty and battle scarred, it's now time for Old Faithful to go to the big film set in the sky. Consequently, when Manfrotto offered me a sneak peek of its new Nitrotech N8, there was a touch of self-interest in my keenness to road test their video head upgrade at the pre-launch event. Perhaps in part because of the secrecy surrounding the product, complete with a black cloth draped tantalisingly over the kit, the product reveal was an exciting affair. Immediately following the ta-dah! moment and before I had even touched the kit, I desired it. The N8 makes a strong first impression. Its distinctive design telegraphs that we're dealing with something quite new.
Hyphenated superlatives such as ground-breaking aside, Manfrotto's mission has always been to support and simplify the work of reporters, photographers and producers. So does the new Nitro N8 meet the brief? Yes — in buckets.
Once I had used it in a real-world setting there was no doubt I wanted, no needed it. Sworn to secrecy at the time, I can now share with you why N8 will be my next weapon of choice.
Why the N8 is desirable
For someone like me with a wide range of camera kit and accessories, shifting from studio to location and back again, it's an easy sell. The N8 combines the features I have come to depend on from Manfrotto's video head range (e.g. 3/8" Easy Link adaptor and illuminated levelling bubble — love it) with a game-changing piston mechanism that guarantees precise, continuous counterbalance.
This is the truly innovative feature of the N8. During my tests, it behaved exactly the same with either my DSLR or URSA Mini — rigged with Schneider FF prime, matte box, follow focus and Atomos monitor. The 75mm flat-base mount (standard 3/8" thread) and side-lock sliding plate mechanism make the move from tripod to slider to jib safe, quick and blessedly easy. It's also worth mentioning the variable fluidity function on both pan and tilt. I was mightily impressed by the N8's smooth action. Even a rookie Camera Op could deliver jump-free moves from this head.
I count myself among the target users of the N8, as it's aimed squarely at pros with a range of modular camera kit and accessories looking to use a single system across different supports, but who demand the same precise control regardless of camera setup (assuming it's within load spec 0 – 8kg), which segues neatly into the following point.
For those of you looking for something that will take a larger payload than 8kg, fear not, but you'll have to be a little more patient. The N12 will launch in October rated with a counterbalance payload of between, yes you guessed it folks, 6 – 12kg.
The Nitrotech N8 head is available as a system in two different configurations: carbon fibre single leg; and aluminium twin leg with middle or ground spreader.
In addition to investing in quality glass, a workhorse head and sticks are an absolute must for any producer. Buying a cheap tripod that isn't fit for purpose is one of the false-economy mistakes you hope only to make once in your career.
Final word: For build quality, design and superb function the Nitro N8 ticks all my boxes.
Tags: Production