Vocas announces a line of accessories for the soon-to-be-available Sony FS7 II, which are also backwards compatible with the original FS7.

As we await shipments of the Sony FS7 II to reach dealers, Vocas is first out of the gate with products targeting the FS7 II.
Th Vocas baseplate now sees an upgrade to a MK II version and comes in two different configurations. The Base Plate MKII features an adjustable rubber shoulder pad with more movement than the prior model, a fixed rosette attachment, 15mm rails both front and rear and VCT-14 foot adjustment.
The USB-15 MK II baseplate adds a second rosette, height adjustable front rail, adjustable camera adapter plate (great to balance camera on tripod) and an integrated VCT-14 style plate.
The original baseplate still remains in the product line.
Other new additions include the H-cheese plate for camera top and a PL support which can be attached to the H-cheese plate. That support in turn attaches to Vocas' existing PL-to-E mount adapter.
The H-cheese plate does not require removal of the Sony top grip handle. This is most significant because removal of the top handle loses the use of the Sony MI shoe. The plate adds several more mounting points to the camera top and also allows use of 15mm top rails.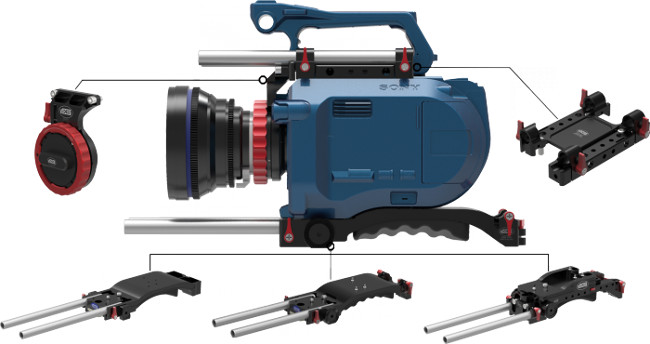 A breakout of Vocas' new accessories for the Sony FS7 II and FS7
While Vocas has announced these products specifically to coincide with the FS7 II product launch, they will also work with the original FS7.
Vocas has not indicated product availability, but all of these products, as well as the entire Vocas line, will be on display at BVE Europe, February 28-March 2 in London.