Phil Rhodes puts Cinemartin's new onboard field monitor through its paces with positive results.
Barcelona-based Cinemartin offers an unusually eclectic selection of cinematography-related products. We mentioned the company's Cinec software a while ago. It's an interesting product not only because it handles ProRes encoding on Windows, but also because it has a high-speed H.265 (yes, 265, not 264) encoder which uses the GPU to boost performance. Cinec also sells the FLEC baseplate, which offers adjustable camera support options, and has recently begun promoting a series of monitors and recorders. Its 'Next' recorder (as opposed to its 'next' recorder) is more-or-less a portable computer, meaning it's one of the most flexible devices of its type on the market, and we'll keep a keen eye out for updates.
'Loyal' kit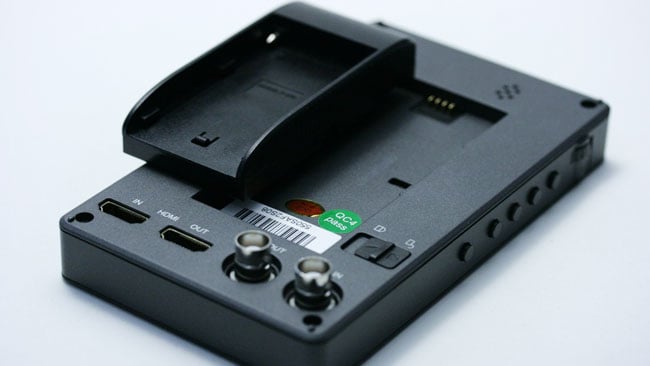 The removable (but securely latching) adaptor makes for flexible battery options.
Our subject today, however, is Cinemartin's 5.67" onboard monitor, the smaller of the two devices in its Loyal series. The vital statistics are relatively straightforward: it's a Full HD, 1920 by 1080 panel with SDI and HDMI inputs and outputs in a package that's perhaps half an inch bigger than the display all round and a bit more than half an inch thick, not including the connectors. Power provisions are convenient, with a conventional coaxial DC jack in the bottom or a mount on the back which accepts Canon or, with the supplied adaptor, Sony camera batteries. It would have been nice to see a locking power connector (perhaps Hirose or Lemo type), but that's a fair decision, based on cost, and a Sony NP-F series adaptor plate could presumably also be used, which would be less likely to come adrift.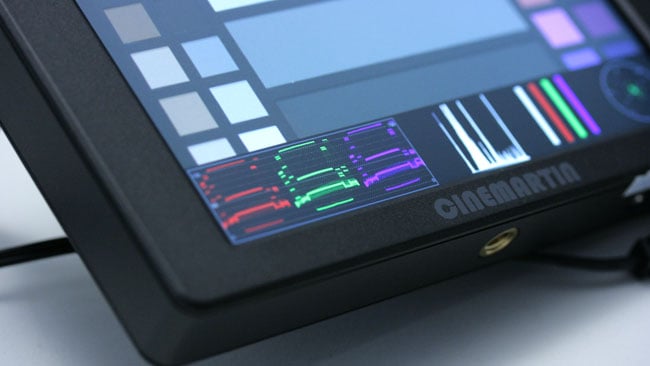 Waveform displays are optionally in RGB, YUV or brightness only.
Speaking of cost, Cinemartin advertises the 5.6" display at $495 or €495, with a promotional rebate for people willing to help promote it in certain ways. This is a very decent rate for something of this capability; it lacks the LUT capabilities of certain competitors, but it's significantly cheaper, well under half the price of some, and seems well-built. The case is largely metal and there's a mechanical locking mechanism for the battery adaptor plate, so it doesn't become a reliability problem. One of the nicest physical features, though, is that it isn't a touchscreen. It's easy to understand why many manufacturers do that, given the easy software upgradability of a software-defined interface, but for something that's designed solely to be a display, it's nice to keep the screen clear of fingerprints. There's a rolling wheel for menu selection and adjustments and everything offers positive tactile feedback. Of the five buttons, the leftmost controls power, the next selects HDMI or SDI input, the next sets the type and position of scopes, and the last works as a cancel button for the menu system.
Much of the monitor's considerable functionality is available from the menu, controlled by a rolling wheel.
So far, so good. The key issue with this sort of thing, however, is in the software. So much of the functionality of a device like this is now written in code, rather than etched on circuit boards, that the time and trouble spent on developing that software is key to the value of the finished device. Happily, Cinemartin's monitor is more capable than its modest price would suggest, providing a comprehensive selection of scopes, including waveform, vectorscope, histogram and peak-value meters. The usual peaking, zebra stripes, framing guides and zoom modes are provided. The zoom and scaling options are particularly complete, with options including those suitable for people using 1.33:1 anamorphic lenses on 16:9 cameras.
There's also, slightly unusually, good provision for audio monitoring. There are conventional bargraph meters and any pair of the 16 embedded audio channels can be routed to the headphone socket. There's even an internal speaker. It won't win any awards for providing rich, full-bodied sound, but it demonstrates that there's a signal present and that's its purpose. The monitor will display either vertical-interval or linear timecode.
The verdict
Either vertical-interval or longitudinal timecode is supported.
The quality of these tools is generally good. The waveform updates, going by a rough eyeball assessment, every other video frame, which is pretty reasonable for a device that only draws about 14 watts. Digitally-rendered waveform displays are fundamentally an emulation of a device developed decades ago, which relied on a cathode ray tube, and rendering them is hard computational work. The same goes for the vectorscope. To its credit, Cinemartin has not tried to interpolate the histogram and waveform displays. It just updates every other frame, which is less misleading than trying to dissolve between updates for a smoother subjective appearance. It would be nice if the test and measurement displays could be made fullscreen, as the small monitor would then be particularly useful on a camera such as Ursa Mini, which already has a similarly-sized display, but lacks a waveform monitor.
The vectorscope.
X-Rite's ColorChecker Video makes for a more sensible display than the more traditional Macbeth chart
Really, though, Cinemartin seems to intend this to be a monitor for DSLR users and drone pilots. It's very suitable to those tasks, being small and light, but I suspect it may also find use in other circumstances. The ability to de-embed audio and view timecode may make it a suitable ready-reference display for other departments – script people, for instance. There's the perennial issue of whether it's really worth having all 1920 by 1080 pixels on a display this small, of course, and you have to lean in and squint to see them all, but at least with modern displays, full resolution is actually possible (and there's the zoom function).
In all, it's a nice little device with, other than LUTs, a completionist's feature set – we haven't discussed everything even now. It is, in short, ideal for someone new to multifunction, on-camera monitors, or for a focus puller tired of being stuck with spendier, but less-capable, rental options. There's soon to be a seven-inch version, which will presumably be similar, but we'll have a look when it becomes available.