A recent fashion shoot that used the Phase One 100 megapixel camera reveals the tantalizing possibilities when capturing images in resolutions that approach 12K and beyond.
At the turn of 2016, we profiled the Phase One XF 100MP, a medium format digital camera that (you guessed it) captures 100 megapixel still images. The Phase One camera is not the only 100+ MP camera to make news, as Canon unveiled its own 120 MP DSLR prototype that has been in the works for the past few years. But, the differences between Canon and Phase One's respective cameras, medium format and APS-C or 100MP and 120MP shouldn't detract from what these high resolution imagers will mean, eventually, for video capture.
Photographers Bella Kotak and Pratik Naik recently held a fashion workshop utilizing the Phase One XF IQ3 100MP variant (there are also 50MP, 60MP and 80MP IQ3 models, as well as CMOS and CCD sensor options).
Here are two stills from the shoot and accompanying detail crops.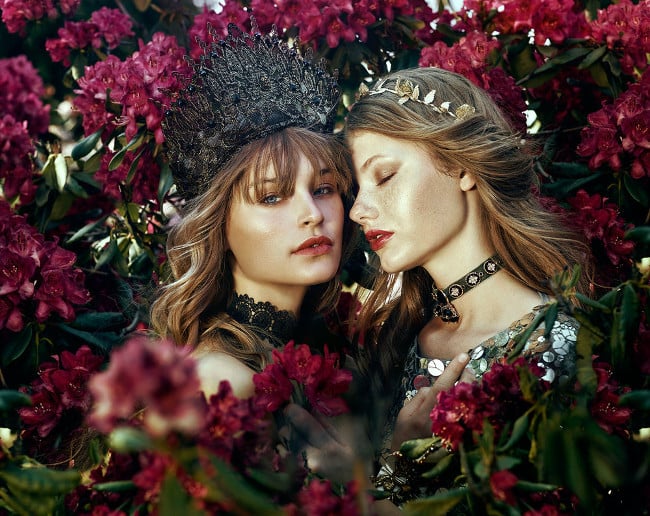 For more stills and detail crops, check out Naik's blog or the official Phase One blog, which also lists some production details.
While this camera and the upcoming Canon shooter won't capture video frames at such high megapixel counts, we're probably not as far away from 100MP video capture than you may think. A 100MP still is roughly 11.5K horizontal pixels at a 4:3 aspect ratio. We're already at an age when 8K video capture is becoming viable, thanks to RED's Helium sensor.
Soon enough, we'll be able to capture 12K and even 16K video, yielding such incredible detail that, regardless of codec, we'll be able to crop into smaller and smaller portions of the frame for exhibition, assuming that video capture resolutions, especially at the high-end, continue to outpace consumer display resolutions. Such high resolution video capture has the potential to revolutionize many varieties of production, from cinema to live sports broadcast.
Of course, there may be some that are negatively affected by these future systems. I've spoken to camera operators for live sporting events that are legitimately worried that 12K automated video capture will make their jobs obsolete. But, whether we're discussing higher resolution capture or imaging advancements that come out of left field, like Lytro's light field video ambitions, we take a decidedly optimistic view when it comes to the future of video. And, rest assured, we'll be here to report on those advancements as they happen.
Credit to Petapixel for alerting us to this story.
Tags: Production