On the day it was officially launched, we managed to get our hands on the EOS 5D MK IV: the latest version of this epoch-making DSLR.
It seems only a short while since Canon accidentally revolutionised big-chip shooting with the EOS 5D Mark II, and we don't use the term "revolutionised" lightly. In fact, the company's online camera museum (a fascinating read) puts the Mark II's release in November 2008, the best part of eight years ago. With the Mark III released in March 2012, we might reasonably have begun to expect a new incarnation of Canon's most famous gift to cinematography to arise around now, and arise it has.
Canon EOS 5D Mk IV
The imaginatively-named EOS 5D Mark IV costs a bit over £3300/around $3500. The headline feature for both stills and video people is a new 30 (yes, thirty) megapixel sensor which provides more than enough resolution to shoot 4K video. Crucially, the recording capabilities are significantly improved too. Whereas the 1080p video of the Mark III, which was itself a massive improvement on the Mark II, was capped at a bit under 100 megabits per second in all-I mode, Canon's documents specify the 4K recordings of the Mark IV at 500Mbps. This is a lot. A 4K recording should be at least four the bitrate of the HD equivalent for identical per-pixel image quality, but Canon have gone significantly beyond that. The 4K recordings are also truly 4K, yielding a roughly 17:9 frame at 4096 by 2160 (there is no 3840-wide UHD mode).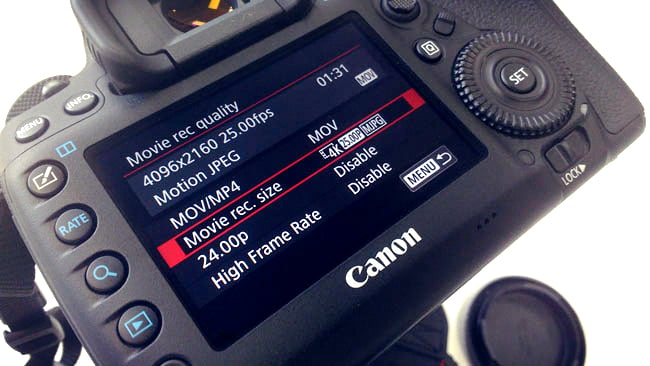 The EOS 5D MK IV supports 4K DCI recording
Canon has stayed away from the expensive CFast cards that many people would have predicted, and there's an SD card option, too. The 500-megabit video, equating to 62.5MBps, can be accommodated by fairly mundane modern cards, equivalent to about 500x in the common nomenclature of compactflash cards. The video is limited to 8-bit, 4:2:2, although the sensor is certainly capable of more and the activities of the Magic Lantern people may pay significant dividends here. People looking for really high-quality HD results might choose to record 4K and downscale in post, which is another interesting option, but the Mark IV improves HD bitrates too, to 160Mbps in certain modes, making this less necessary.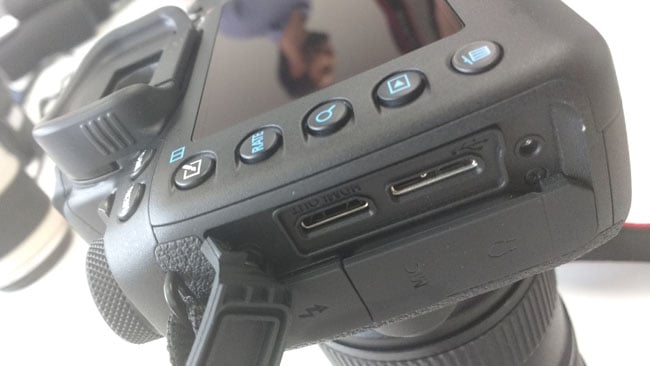 While the camra supports clean HDMI output, it's only HD
The company also seems to have a solid understanding of the need for clean HDMI output, with a menu option dedicated to disabling the overlays. If there's a significant misstep in the camera's video features, it's that the HDMI output does not support 4K output, making offboard 4K recording impossible, and there is no support for higher bit depth or finer subsampling (though these are supported by HDMI in general). Canon has, of course, a professional cine market to protect, and quite reasonably so.
Although the most extreme settings are likely to be used for night-time documentary shooting, recent Canon cameras have been very clean
The layout of the 5D Mark IV will be familiar to Canon users both in terms of its physical layout and the menu of options presented in the software. Key features such as ISO, aperture and shutter speed are immediately available on the usual rotary dials. Assessing the size and weight of a device like this is greatly influenced by the experiences and expectations of the person using it. As a DSLR, it's not the smallest or lightest around, although to some extent that can be a good thing as regards stability and it's naturally much smaller than something like the 1Dx. As a 4K digital cinematography device with onboard recording, of course, it seems microscopically diminutive in comparison to conventional, full-size cameras. One nicety is that the new camera takes the same batteries as the exisiting Mark III, so both storage and power can remain in use.
This is a first-look commentary, and as to absolute imaging performance, it's difficult to be specific based on a brief and casual play without proper monitoring. Rolling shutter skew is present but no worse than other DSLRs. In 4K, ISO ranges up to 12800 without engaging special features, or up to 25600 in HD. The camera's full 102400 ISO setting is available, although the highest numbers are likely to be useful for special purposes only. Since a 4K image is equivalent to only around 8 megapixels, the Mark IV's massive 30-megapixel sensor has huge excess resolution. To some extent, this can be a zero sum game, since the noise reduction inherent to the averaging of a higher resolution sensor can be offset by the higher noise of smaller pixels. Given the large, full-frame 35mm sensor, we can give Canon the benefit of the doubt that noise performance should be at the very least least reasonable.
There are of course a huge selection of other new features which will be warmly received by stills photographers. These will all become available in short order, since Canon intend to ship the camera in early September. This is a refreshing change from product announcements which frequently involve a far longer lead time, and we'll get into more detail once a demo unit is available.