Firmware updates, Flir, 360, mapping cameras, lidar/optical flow sensor, power tether, even a parachute… 3DR's supremely adaptable Solo drone has been busy of late.
There was a very different tone at NAB 2016, no one will really debate that. To my surprise, 3DR did not delivery on many speculations made revolving round a high-end cinema camera upgrade. Instead of hardware, 3DR really left that side of things open to 3rd party developers, focusing its own attention to the software development side of things. Having said that, the company launched a slew load of updates to their modular flight platform (Solo) that redefines the copter all over again.
Modest offerings have been made on the hardware side of things, but the Solo continues to mature. This year 3DR has really shifted gears to establish its dominance in the enterprise industry and its first offering is Sony's new UMC-R10C mapping camera. 3DR has wrapped a 3-axis gimbal around the camera to allow for full integration with the SiteScan software. While the specs have yet to be confirmed, many speculate the UMC-R10C to be similar to the ILCE-QX1. Their form factors are nearly identical, but it is not unreasonable to believe the R10C features a 4K video mode from the 20MP APS-C sensor. Again, Sony has not formally announced this camera, but with its foray into all things 4K, its not too far-fetched to imagine. In addition to this, the camera is designated in the "UMC" product line; a line associated with the UMC-S3C that happens to be a full frame 4K camera. Whatever the case, the UMC-R10C will be a powerful addition to the Solo in both stills and video mode compliments of its lens power zoom capabilities.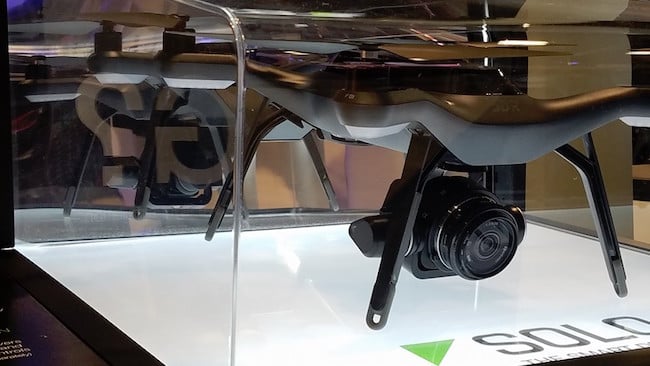 The information is limited but 3DR also showcased a Flir camera paired with a 3-axis gimbal. This could be another great tool for inspections for solar farm panels as well as carrying out search and rescue missions. The lidar / optical flow sensor was finally revealed, but oddly enough it was not developed by 3DR! Philip Rowse of the 3DR online community presented us with a DIY product that will be shared with all. Essentially users will be able to buy the parts to assemble the sensor, and 3D print the housing unit that Philip has designed. This is quite peculiar as I'm not sure why 3DR has not created this officially, but I suppose at the end of the day if it works that's all that counts!
The big announcement at the show for hardware was obviously the Tether unit. Allowing up to 200 feet of line, the Solo is capable of flying indefinitely, or at least till the motors burn out. This is truly an incredible feat as this enables Solo users to harness the power of elongated flights. What this means is that the Tether will allow you to fly for extended periods of time for inspections, searching, or even TV live broadcasts.
Rounding up the hardware, 3DR displayed a parachute system and a dual Kodak PixPro harness array. The parachute seemed rather obtrusive, sitting tall on the unit but is a welcome feature for those worrying about a motor / battery failure. The Kodak 360 array on the other hand seems very promising, and with dual cameras, users can negate the solo's body entirely as if the cameras are flying on their own.
Now to discuss the software updates… and they are BIG! To start, 3DR has created an Augmented Reality display for your viewing pleasure. Essentially this will create icons on your tablet that will enable the user to understand in visual space where their waypoints or home position might be located. Custom Geofencing is next on 3DR's hit list. This is also a HUGE feature, though many would not assume this at first glance. Essentially this will allow users to create a virtual fence or barrier, preventing the copter from breaking the line you draw out. This will be great for first time learners so they will not hit tree lines, or structures as well as a great indicator to not push past a certain threshold you may not want to fly in.
Pilots like myself find return to home to be a little cumbersome depending on the altitude you set to clear obstacles. Taking note on this, 3DR has created a Rewind feature that will memorize your exact movements and with the tap of a button retrace your identical flight path to ensure a safe return home. For the users that are photo-oriented, 3DR will be launching a panoramic smart shot mode (Pano) that will move your copter incrementally to snap the photos at just the right degree. This will ensure that the series of photos are at the correct level and position for optimal photo stitching in post production.
Zipline has to be the coolest feature to date! Take cable cam and enhance its features to create what we would refer to as a parallax effect. Zipline will move on a line of infinite length and lock the camera on a designated target. You can increase or decrease the altitude or speed and the copter will do the rest to ensure a positive lock on your subject. Imagine if you will, a dirt biker moving at incredible speeds hitting a jump repeatedly. If you set your camera to the mound of dirt, the Solo will move from point A to B, twisting the copters body as it whizzes past the mound to catch the whole action of the jump. Until recently, this option sort of existed with the regular cable cam, but your speeds and altitudes were locked in. The Zipline feature apparently works like the Orbit feature, but more to a linear degree instead of circular.
It appears 3DR is working hard to enhance the aircraft. As intended 3DR is really looking to folks like you and I to create 3rd party hardware to the open source platform. If you have a great idea for this copter, lets hear it! What do you think of the Solo updates? Leave your comments below.
Tags: Production