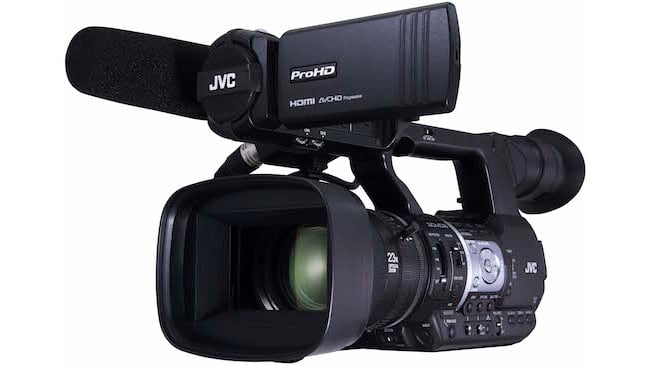 Following the recent trend of pre-NAB product announcements, JVC informs us of two additions to its 600 Series of ProHD camcorders.
Two new cameras have been added to the series targeting ENG operations, an area in which JVC claims a significant market.
The GY-HM660 and GY-HM620 replace current GY-HM650 and GY-HM600 models and feature enhanced field production capabilities, as well as updated CMOS sensors and brighter LCD displays.
Steady Streamers
To accommodate remote workflows, the HM660 adds an integrated IFB audio channel to enable field reporters to communicate with studio while simultaneously streaming live HD. IP enhancements include SMPTE 2022 or Zixi error correction and adaptive bit rates. The camera also will support RTMP to allow direct connection to live streaming distributors such as Ustream or YouTube.
What is most notable here is that by using a single 4G LTE modem or directly connecting to WiFi hotspot, no external encoder or backpack type transmission system is needed.
Remote control of camera on, for example, a jib, can be accomplished via its LANC remote interface. Other important features include built-in stereo mic, dual XLR inputs and a 3.5 inch input for wireless system without XLR cable.
Other improvements
JVC touts a new sensor with greater low-light sensitivity, but the initial announcement does not give specifications. More details should be available at NAB. The 3.5" LCD display can be tilted for talent viewing and also is said to work better in sunlight. It has a fixed 23x Fujinon lens with a 35mm FOV equivalent range of 29-667mm and built-in optical stabilization. The cameras record up to 1080 60p at up to 50 Mbps. Both cameras have dual SD card slots for either bridged or simultaneous recording.
JVC will be showing both models at NAB 2016. The HM660 is slated to ship in April, while the HM620 will begin deliveries in June. Pricing is to be announced, but one would assume they will be comparable to the products which they replace.
Tags: Production