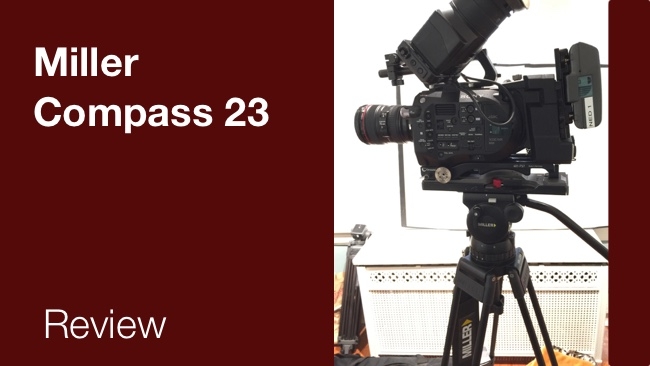 We put the Miller Compass 23 tripod head through its paces, discovering a piece of kit that approaches an ideal balance of performance and cost.
I have lost count how many times shooters and producers have asked me "what camera should I buy?"
Aside from asking the usual questions of budget, intended use, post workflow, 'look' and, well, you know the rest, I am much more interested in a more mundane aspect of filmmaking: the tripod.
A good head and a good set of sticks is of equal importance to the camera and lens. A camera system these days is a fleeting investment. A good support system could, with proper care and periodic maintenance, last your entire career.
Reliable and ready
I've recently had the opportunity to test and use the new Miller Compass 23 fluid head on a set of Miller mid-spreader legs and could definitely see this product as a durable and easy-to-operate long term camera support.
Miller's objective in designing the Compass 23 was to utilize the technology of its more expensive Compass series to create a 100mm ball fluid head that balanced price and performance. With a capacity of 4-14 kg (8.8 to 30.8 pounds), the Compass 23 can handle just about any contemporary large-sensor camera even when rigged with a heavy lens, battery, outboard recorder and other accessories.
Miller sought a balance of price and performance and the Compass 23 achieves that balance. And, speaking of balance, I mounted my Sony FS-7 with baseplate, back, battery and EF mount lens to a VCT-14 plate and placed it on the head. That combination weights about 12 pounds, at the low end of the Compass 23's payload. It took me well under a minute to balance the camera perfectly. With its 4 position counterbalance and 3 position drag combined with easily-unlocked sliding plate, I achieved balance quickly and could fine tune as needed.
Among the true tests of a good fluid head is a smoothly-starting pan and with a soft absolute stop (no jerky stop, please). The Compass 23 achieves this. And with camera in balance, tilts are equally smooth.
As is the case with just about all contemporary heads, the Compass 23 has a push to illuminate level bubble indicator.
Caveats and closing thoughts
There are two aspects of the head that give me concern. Miller has opted for a small sliding mounting plate. I was concerned about mounting a large VCT-14 plate to this small slider, but with two screws, it held well. My preference, though, is a drop-in locking plate, as I personally find that far easier to mount and remove if my plate is attached directly to camera.
Additionally, and I find this the case with so many less-expensive heads, the sliding balance plate lacks numbered hash marks. I consider marks absolutely essential in a head, so that I can quickly replicate a known balance point when remounting camera. While balance is exceedingly fast, I would rather be able to replace camera on head and to a known balance point, fine tune and then be able to shoot quickly.
But with these two concerns aside, the Miller Compass 23, at a $2000 US price (head only), represents an excellent balance of cost and features. And it is easy to balance your camera, as well as balance your equipment budget.