The Sony FS5 was the star camera announcement at the IBC2015 show and we were among the first to get our hands on one to test it.
One of the main pieces of camera news from this year's IBC was the Sony FS5 which I was given the chance to test thoroughly (and completely unrestricted) over the IBC weekend, for a two day production on location in Amsterdam, Netherlands.
The unit I was able to use was not a final product, but performed extremely well and had no technical issues at all. I got the impression of holding a finalised product in in my hands.
The 3,5" LCD (1.56 Megapixels) display of the FS5, which has the same specification as the one on the FS7, was very nice to work with, has a smart new type of multi-orientation connection bracket which worked really conveniently, and came with several options to position, operate and stow it away. On the other hand it is obviously limited in size and resolution. It also has a few options for histogram, waveform monitoring and vectorscope. We decided to test the 4K abilities with the Convergent Design Q7+ to record the FS5's 4K (23,976p, 25p and 30p) output through its HDMI connection. The 4K output through SDI is not yet implemented into the product, but could and will be recordable "when it comes" with the Odyssey according to multiple Convergent Design representatives.
Flexibility, Handling and Weight
The camera weighs approximately 830 grams (excluding lens). The handgrip and top handle can be removed. It can be used with virtually every type of lens (E-mount and all others through adapters) from short lightweight pancake to high-grade prime lenses, making this camcorder very versatile and - basically - nice to use. It is ultra-light, felt very comfortable in my hands.
I tried shooting on tripod, monopod, "run-n-gun" handheld and with a good-value-for-money TILTA shoulder support. I was surprised about its flexibility working work in a constricted room, moving through Amsterdam's night life and in wide open spaces.
The weight in all the configurations seemed so low, and yet with this extraordinary 4K performance. I can only compare the ease-of-use with the one of Sony's handycams.
A camera operator will be able to work long hours hand-held with this camera - probably even with a bigger set-up, heavier lenses, on-camera light etc.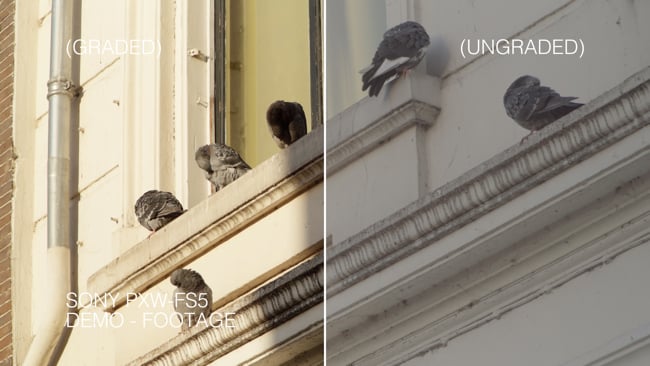 Variable ND filter and iris/aperture
One of the absolute highlights for me was the almost continuous Vari-ND-filter, which works in very small steps and offered a huge freedom in ways to reach perfect exposure. You can adjust both the ND filter and the aperture (f-stop) to optimise the film look and bokeh for a beautiful picture. Switching from iris to ND filter selection with the appropriate knob was pretty convenient, and was totally acceptable in a blind operating one-hand usability test. Working with the SELP18105G F4.0, 18 – 105mm, 427g motor-zoom kit lens - although heavier than many prime lenses - still felt pretty comfortable. Actually it was a little bit front-heavy if used hand-held.
On the other hand it offered a wide range of possible shots, but had its limitations under low-light condition due to the maximum aperture of F4.0.
Impressions
The Super 35mm sensor is more sensitive than the FS7 sensor, and therefore has a brighter and sharper low noise image, and seems to be closer to the sensitivity of Alpha 7S sensor family. Using it I felt like having the same creative freedom through a beautiful background defocus that comes from the large sensor size and the bokeh of a wide aperture lens.
The image quality was absolutely stunning for me, watching it on a PVM-X300 4K critical reference monitor. The level of detail, colour representation and perceived resolution seems to be very similar to the quality of its bigger brother, the FS7.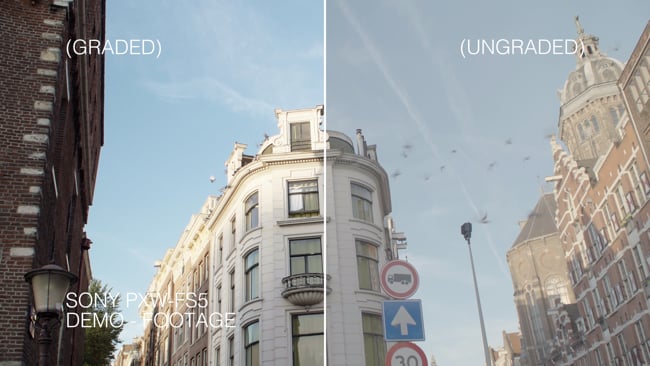 Using the XAVC-L codec at 100Mbps (4:2:0) was very appealing, because it only uses 2x the amount of storage of regular XDCAM-HD 50Mbps, while managing much better quality. Editing in Adobe Premiere was fast, but I would definitely recommend that you get the exposure as accurate as possible, because mid to major post production changes will result in a discernible loss of picture quality through artefacts (because of the 4:2:0 colour sub-sampling).
Unlike the FS7, the FS5 is equipped with two SD card slots. These are cheap, and widely used. I tried out multiple SDXC cards, which worked safely and were free from defects.
To conclude: I am very happy with my first impressions of the camera and am looking forward to work with it again in the near future.