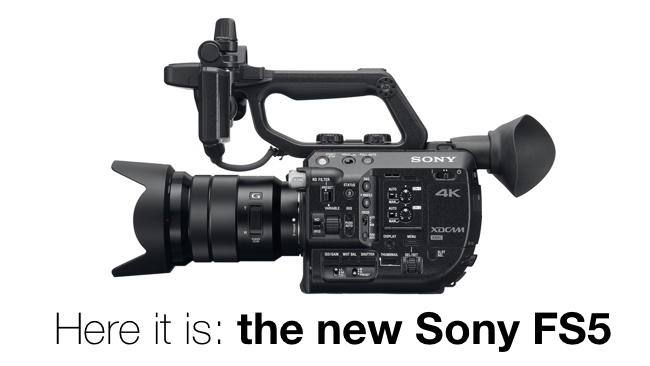 Sony's Super 35mm FS7 really hit the spot when it was revealed last year. By all accounts it's still selling quickly, and producing great results. But in the race to announce something new every year, where does Sony go next? The FS5 is the answer.
Above the FS7 are the accomplished F5 and F55, which were announced back in October 2012. These are still completely current as they had very good specifications in the first place, and have received big software upgrades since their release. Indeed the F5 can now be completely upgraded to an F55.
Sony obviously wasn't going to replace the FS7 at this stage in its life, so that only leaves one option - to bring in a smaller sister: one, possibly, to replace the older FS700 (now available, tellingly, at a much reduced price).
So here it is: the new Sony FS5. It's significantly smaller than the FS7, and lighter. Importantly, though, it has a Super 35mm sensor, and 4K (UHD) internal recording.
Let's talk about this sensor for a minute.
There have been some rumours that the FS5's sensor is from the A7S. But that's a full frame chip, and the FS5's is Super 35mm. The new camera will not have the A7S's super sensitivity and performance in low light.
However with an EI of 3,200 it has a useful sensitivity, and with S-Log3 it has 14 stops of DR.
We understand that the sensor is in fact essentially the same one as in the FS7 - and therefore the F5 and F55.
Sony is quite clear about the ergonomics of the new camera. They say "it does not need a rig!"

Size comparison with the FS7 on the right
The new camera also retains some of the advantages of the FS700. It has 240 fps recording at Full HD resolutions. Built in is 4K (UHD) at 24, 25 and 30 FPS. It uses SD cards rather than the faster XQD memory format, which may explain why recording is only in Long GOP XAVC as opposed to I-Frame. Remember though that XAVC Long GOP is a very high quality codec. More NLEs (including just recently FCP X) are supporting this codec now.
The camera is remarkably lightweight, at 0.8kg. It has a magnesium frame and body with active (computer controlled) cooling. It is, according to Sony, designed for "grab and shoot" operation. In fact, it weighs so little that Sony suggests it's suitable for mounting on drones.
People we have spoken to who have handled the camera and they say it feels very good. We have an appointment to see the FS5 on Friday at the IBC show in Amsterdam and will be able to report back in more detail shortly after that.
A closer look at what we know
Where does it sit in Sony's hierarchy of cameras? Well the first thing to say is that we may be seeing the start of a series of cameras in the FS family. Sony says it "provides versatile capabilities and that it "compliments the FS7".
The camera sports a one-touch rotatable grip, so that all the key controls are easily available. It's securely attached with a rosette mounting. Apparently in response to user feedback, the 3.5 inch-type LCD panel can be moved to different positions on the handle or the body - ideal for shooting at difficult angles.
It has built-in variable ND filters - so you can get those luscious shallow DOF effects in any light. Sony says the FS5 is the first Super 35mm camcorder with a built-in electronic variable ND filter, with linear control from 1/4 ND to 128 ND.
The Super35mm Exmor CMOS sensor has 11.6 megapixels of which 8.3 will be active. We don't know what the others are used for but it could be for digital image stabilisation or loss-free zooming (just speculating - we'll clarify this later). The sensor is said to be good in low light, which is quite plausible given the relatively small number of pixels on a large sensor.
There's a 2K centre crop mode which gives a zoomed-in picture without any degradation and also a 2x "clear image zoom" which automatically kicks in when the optical zoom limit is reached.
Recording is 10 bit 4:2:2 in HD and at speeds of up to 240 frames per second. We don't know yet what the bit depth and colour sub sampling are at 4K (UHD).
The camera is available with a kit lens, which is a compact power zoom E lens PZ 18-105mm F4 G OSS, which apparently allows zoom operation with one hand. There is also a built-in digital zoom which we're guessing only works in HD, or only partially in 4K (UHD).
The FS5's E-mount can be adapted for virtually any lens, including Sony's own E and A-mount systems.
Output is through 3G SDI and HDMI. We are waiting for details of the level of HDMI output (ie: is it 2.0? 2.0a?) and whether it can be used with third party recorders.
There are dual SD card slots as well as WiFi, and a connection for a wired LAN for file transfer over networks.
RAW output will be provided through a "future firmware update".
Your DSLR upgrade
So that's it. This does seem like a good move for Sony and is very much a camera of the moment. It has strong 4K (UHD) credentials but clearly works well as an HD camcorder as well.
Suggested list price for the body only: $6,699.00. With the kit lens: $7,299. It is a jump, but this could be an ideal camera to upgrade to from a DSLR, because of the large sensor, good ergonomics, and the control over the depth of field.
This is more of a consolidation than a revolution, but, right now, I sense that many filmmakers have had enough dramatic change for a while.
That's why this camera seems right. It's a known quantity in a smaller, lighter, cheaper package.
In this instance, less is definitely more.