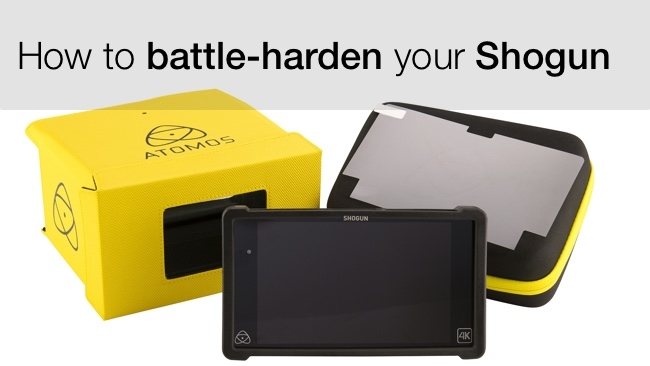 Atomos has a new range of add-on accessories designed to make its 4K Shogun monitor recorder increasingly battle-hardened and robust in the field.
All in all it's been a bit of a busy week for the Australian developer, which is demonstrating all the new Shogun enhancements announced as forthcoming at NAB in the flesh at Cine Gear in LA, namely Pre-roll Record and Time Lapse, along with Anamorphic de-squeeze and RAW to ProRes and DNxHR for Sony FS7 and FS700.
In terms of field-hardening add-ons, the new accessories include:
• Shogun Armor Case. A custom bumper which gives extra protection to the recorder/monitor from knocks and scratches.
• Matte LCD protection panel which reduces reflections protects against scratches and diffuses light eliminating polarization.
• Lightweight and durable travel case. The perfect size for a camera bag in cases when you need to travel light.
• Custom fit Shogun sun hood (available in yellow or black) which maintains LCD clarity even in bright sunlight
All of these are available to purchase separately, or can be bundled together as the Shogun Action Pack for $240 (this is also being offered free to anyone who purchases and registers the full accessory version of the Shogun throughout June).
"One of the advantages of having sold over 15,000 Shogun units is that we have passionate end users telling us what they need," said Jeromy Young CEO of Atomos in a statement. "The Action Pack accessories are a direct result of Shogun users reaching out to tell us what they want, and of course we listen and act."