In the first of our series on viewfinders, Phil Rhodes profiles the Alphatron EVF-035W and reveals why it's been such a popular camera accessory since its debut in 2012.
It's fitting that the first viewfinder we're considering in our series is the Alphatron EVF-035W-3G, which is both popular and commonly used. Available since 2012, when it was just about the best thing since sliced bread, it represents more-or-less the current state of play, with a display of about 3.5" and a resolution of 960 by 640 pixels.
As we've concluded before, there simply aren't any full HD displays with physical dimensions suitable for a viewfinder at the moment, so this is very much the norm. Sony's FS7 has a viewfinder of similar resolution and even the high end must tolerate 1280x720 viewfinding on Alexas, so this isn't intended as criticism of the 035W as much as it is a poke directed at the electronic parts manufacturers to get something better on the way.
Like your phone...in 2012
Cellphones, of course, drive the market for these parts and this is reputedly an iPhone display circa 2012, which does quite nicely outdoors with the loupe open. There is the option to set the backlight brightness (this is a real backlight brightness control, not something that works on the picture data) and the backlight itself is quite powerful.
The display is about as good as 2012 could give us and holds its own even now. What makes devices like this stand out, though, are the electronic features. This one has the usual black and white modes, false colour exposure warnings, focus peaking and markers, including user-definable markers. There is a very nice feature for DSLR people; the viewfinder zooms into the image to exclude non-picture areas of live output from Canon 5Ds and 7Ds. This is a practical feature, but one that is already becoming less necessary, as cameras get better in this regard. Alphatron has also given this viewfinder some lower level features which really stand out, inasmuch as there are some quite comprehensive engineering options, including peaking for both chroma and luma and the ability to tell the thing precisely which SDI formats you expect to use.
The situation with SDI compatibility is not as bad as with HDMI, since SDI is governed by a much more constrained set of standards, allowing for far fewer things and creating far less complexity and opportunity for error. Even so, since this is a device intended for direct connection to cameras, it's likely to be exposed to a very wide range of esoteric signals. It's good to see that there is a way of avoiding those problems that do occur, generally the misinterpretation of YUV signals as RGB and the like, which should never be a problem here.
Struggling with 4K
One key electronic issue that doesn't sit well with current practice is that the EVF-035W doesn't know what to do with quad HD or 4K signals. It could never display all the pixels, of course, and the standards to handle beyond-HD resolutions on SDI didn't really exist at the time it was developed, so again, this is an observation, not a complaint. The reason I mention it here is that the input lag on the viewfinder, which is naturally crucial for operability, is nice and low and adding a 6G to 3G SDI converter, while an instinctive solution, is likely to lead to more delay than anyone would really like.
In the context of camera setups that require us to feed more than one device with the picture, viewfinders generally need to be the first thing in the chain, much as that seems a bit risky. Nobody really wants the final production image to be routed through a monitoring device, because then we would be without confidence monitoring; a cable could fall out and we're fundamentally not guaranteeing that we're seeing what the recorder is seeing. Alphatron and its collaborators at TVLogic are working on an update to the 035W and it will presumably support 6-gigabit SDI.
Classic layout...with a caveat
The physical layout is more or less what a viewfinder has to be. Upsides include largely metal construction and the way the flip-up loupe works, which is nicely done with magnetic retention. There are ¼" threads on three of the four sides (the fourth side has the controls, including menu wheel and user-assignable buttons.)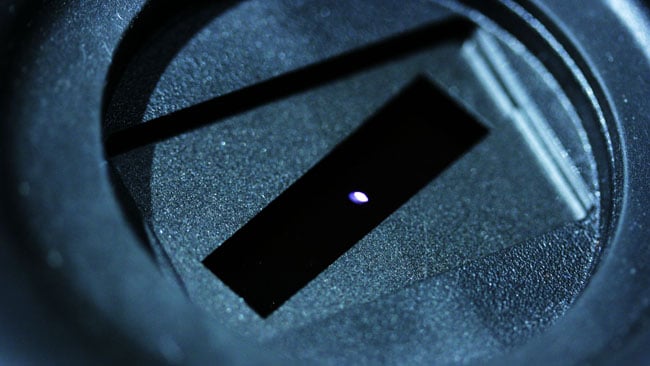 There's a neat twist action shutter to protect the TFT from sunburn and power can be connected from either a Sony NPF-style battery mount on the back, or via a miniature XLR connector underneath. This latter is a slightly odd choice, since powering the viewfinder that way can sometimes get in the way of mounting arrangements, which might prompt users to use a Sony NPF style battery plate instead. There is, however, no indication that the battery inputs are 12V tolerant, whereas the XLR-style connector tolerates 6.8 to 12 volts.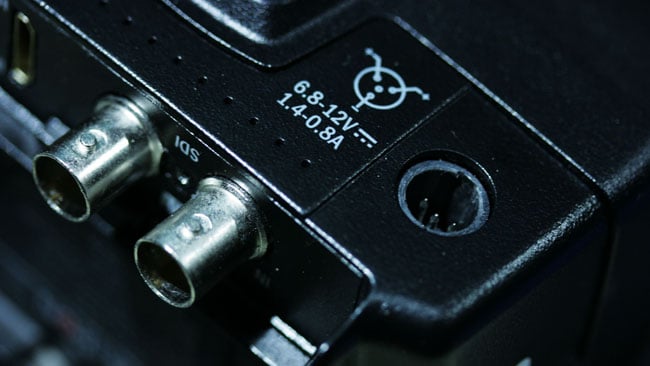 The verdict
The Alphatron EVF-035W is a workhorse and a great introduction to our series on viewfinding. It has a bright screen of around the same resolution as the competition and is solidly built.
=