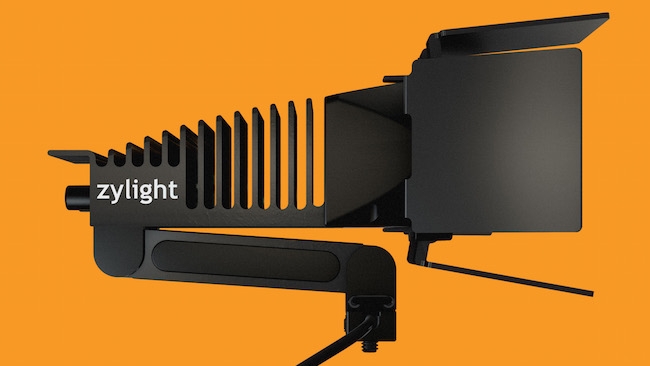 Precise details of Zylight's new LED on-camera light aimed at the ENG market are still sketchy, but they're still enough to excite interest.
Ordinarily, we would not get particularly excited about a new LED on-camera light. The field is a busy one and despite various approaches, from high-power single LEDs to arrays of lower power white-emitting devices with different colours sprinkled among them to improve colour rendering, the results so far have been mixed.
However, Zylight's new $429 Newz on-camera light, which will be unveiled at CABSAT in Dubai next week, might just change all that.
Designed mainly for ENG work, the Newz includes custom barn doors, is fully dimmable, is colour tunable from tungsten to daylight, features an articulated arm design, and can be networked with other Zylight units. What's more, the company says that it delivers a quality of light in the same ballpark as its flagship product, the $2400 F8 LED Fresnel.
Zylight was founded in 2003, and has therefore grown with the emergence of LED lighting in general. The company was an early adopter of the stringent TLCI protocol for analysing the colour quality of white light, and the sturdy construction of the company's existing products, generally with full weather sealing, goes some way to suggest that it has always been building things for an ENG market.
Whether the Newz camera light includes all these refinements is yet to be seen, but the thing certainly has pedigree. There's no word yet on absolute power consumption, but the ability to produce high colour temperature light without the requirement for complex, fragile discharge lamps, has always seemed to be one of the great advantages of LED.
The price point is good too. At $429 it's about what people used to charge for tungsten halogen lighting before there was any alternative. On that basis it's hard to argue with it, and we look forward to having a close look at one in the future.