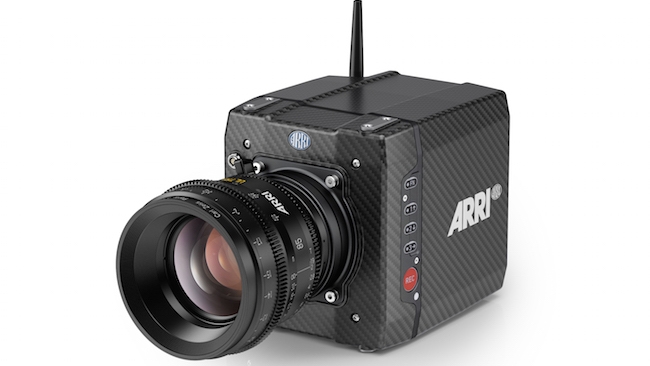 ARRI's new cube-shaped camera is designed to be the most versatile Mini camera around and the spec, revealed as a prototype is about to debut at BVE, is certainly impressive.
The new unit is anamorphic ready with 4:3 sensor capability and automatic anamorphic de-squeeze. It can shoot fast and slow motion with frame rates ranging from as little as 0.75 right up to 200fps. It records to the new CFast 2.0 cards that the Amira and BlackMagic Ursa both use. It can record in-camera to ProRes or uncompressed ARRIRAW codecs or to a specially-designed external Codex recorder that can record image streams from up to four ALEXA Minis at the same time -- handy for multi-camera setups such as 360° plate shots.
Here are the key features:
It's light: Carbon fibre keeps the weight right down while being extremely strong. It weighs only 2.3kg /5lbs which is about the same weight as the Red Epic. This means it is probably the first camera with the ALEXA sensor that can be easily flown from an octocopter or some other aerial system. It can also be comfortably held at arms length with a hand rig so that if you have been having that burning feeling that you want to take high quality selfies with the ALEXA camera it's now possible. You can carry it in a backpack.
It's rugged: The electronics are sealed from the environment so while you probably don't want to drop it in a duck pond, it will be safe from the more everyday forces of the elements. Having said that if you do want to take the ALEXA Mini for a swim in a duck pond, there are apparently third party underwater housings already in development. The body is made from tough carbon fibre and the PL mount is made from Titanium and so can support even fairly large PL mount lenses without any problems with back focus etc.
It's small: The symmetrical design allows you to film with the camera in any orientation, including upside-down and in portrait mode handy for steadicam or brushless gimbals and other rigs of that nature. The camera has multiple accessory mounting points to help with this. It's so small you can just put it in your backpack and the mini size makes it that little bit easier to get other equipment alongside your camera into the small allocation for carry on luggage when you are travelling internationally.
It's remote controlled : Apple iOS and Google Android devices such as iPhones and Tablets can be used to remotely control the camera functions over WiFi. You can even control the motorised internal ND filters in this way! A built-in lens motor controller allows new active lens motors to be connected directly to the titanium PL mount so that you can remotely control zoom, focus and iris. ARRI Lens Data System (LDS) technology provides frame-accurate metadata that can save time and money both on-set and in post.
It's versatile: In addition, the ALEXA Mini's interchangeable lens mount can be replaced with any of those designed for the ARRI Amira, allowing the use of B4 video and EF mount stills lenses as well as the more standard PL mount. The ALEXA Mini can be configured in a number of ways: stripped right down to the basics while perhaps operated wirelessly, as a normal camera with the ARRI MVF-1 multi viewfinder attached, or with an on-board monitor and controlled via the user button interface on the camera body.
It boasts high image quality: It's been an entirely ARRI manufactured camera line up at the Oscars now for the last two years. The ALEXA Mini is basically an ALEXA in miniature, you get the same high quality ALEXA look you are used to only it's coming directly from a much smaller package. Images from the ALEXA Mini will perfectly match those from all other ALEXA cameras (assuming you have similar lenses) which should make it easy to intercut the ALEXA Mini footage with the footage from a full size ALEXA setup. The ALEXA Mini can also record directly to 4K UHD ProRes in the same way as the Amira can and is ready for High Dynamic Range technologies like Dolby Vision.
The ALEXA Mini is scheduled to begin shipping in May 2015, with orders being taken from March.
Tags: Production