Phil Rhodes continues our series on kitting out your brand new DSLR so that it has the same functionality as your old, trusty video camera. In part two, all about baseplates and power.
Equipment
Assembling something that fulfils the requirements we outlined last time risks creating something of a Frankenstein's monster of an outfit, and we need to minimise the extent to which this becomes a problem. Interactions between the physical layout of various pieces of equipment, which are built to be flexible but can't possibly cover every eventuality, are also a potential source of problems. What's more, if you want to criticise this whole approach, you could simply buy a used HDW-F900 camcorder and slap an Atomos Ninja Star on it. That doesn't get you the big-chip look, though, nor access to the enormous sensitivity of big modern sensors. It's also considerably bigger, heavier, and more power hungry than any reasonable DSLR, and you can't break it down to the basic body and look like a tourist.
So, how are we going to do it?
Equipment – Tilta BS-T03 baseplate and power provisions
There are many general-purpose baseplates available for rigging cameras, but strangely, there aren't many that are compatible with the ancient VCT-14U tripod quick release mechanism. One such is Sony's own VCT-FSA5, which is intended to add rods, shoulder mounting and VCT compatibility to the F5 and F55 cameras. It has traditional Sony prettiness, nice build quality, and rosettes for handlebars. One additional plus is that the FSA5 is quite low profile, keeping the lens axis down near the rods.
If there's a problem, it's the price. At nearly £800 in the UK, it's two and a half times the cost of a Tilta BS-T03, and does less. Zacuto also has a VCT baseplate which is most relevant to things like the FS7, which might need such a thing but need to be mounted fairly well back to balance. DSLRs, on the other hand, are likely to be balanced by a battery module, so the Zacuto is perhaps not the most obvious choice for a GH4 for Alpha 7S.
Tilta's BS-T03 lacks the branding but makes up for it in features to the point where it could be called slightly overdone. It's not new, representing the latest incarnation in a gradually evolving series of designs, but it does such a good job that it's worth mentioning. There are 15mm rod mounts front and back, the camera platform and shoulder pad are easily adjusted fore and aft, the front rods offer vertical adjustability and there's a nicely-thought-out bracket to keep DSLRs (and potentially any camera that mounts with a single hole and might therefore wander) square. And best of all, that shoulder pad sits between – cue Ode to Joy – VCT-14U compatible quick release receivers.
Camera goes on tripod. Camera comes off tripod. Camera goes on crane. Camera comes off crane, crew go to lunch, and camera is placed on a horizontal surface without toppling over. The fact that this comes off as a feat of engineering is an indication of just how ergonomically terrible many current camera outfits actually are.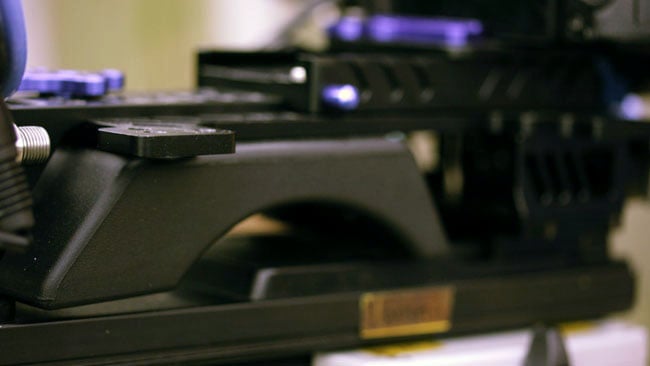 Construction is of machined aluminium throughout, with practically everything made of quarter-inch slabs of metal which speak clearly of an unstinting approach to sturdiness. While some of those holes that look like they're part of a cheeseplate aren't actually tapped with 1/4-20 threads, there are certainly plenty of places to bolt things on and even a couple of platforms on the right-hand side which seem designed to allow a cable run to be ziptied into place. These do get in the way of the battery door on some DSLR configurations, although that's really just another reason to ensure the camera package includes whatever's required (often a dummy battery with many DSLRs) for 12V DC power input.
The purpose of the rear rods is often to house little more than a battery mount. CVP supplied a Hawk-Woods type with inbuilt regulation of 12V power to D-tap connectors, which is a nice safety net against problems with equipment that doesn't like the high voltages output by some modern battery types (14.8V lithium ion cells can push 18V when freshly charged). Our hypothetical ENG cameraman looking to use existing gear might have older style PAG or Anton Bauer batteries already, for which mounts, or even just adaptors, are available. For people on a budget, one interesting option that's been all over ebay for a while turns two Sony NPF-style 7.2V batteries into a series string providing 14.4V. Third-party batteries in this format are a minefield of QC issues but chosen carefully they can be a decent low cost option.
Future-proofing
Owners interested in future-proofing might also choose to grab a couple of spare 15mm rod clamps, which often come with M5 mounting holes, in order to have places to slap additional accessories at short notice. The combination of the two sets of rods and sliding camera mount allows the balance of the entire rig to be trimmed to suit various configurations, particularly in circumstances where the same equipment might occasionally be used both with handlebars for traditional drama work with a camera assistant pulling focus, or off the shoulder, solo, with a broadcast lens.
The T03 isn't entirely perfect. There is a dovetail plate which the camera mounting plate sits, intended to facilitate quick release of the camera from the shoulder mount. Given that one key purpose of the T03 is to facilitate quick-release from the tripod anyway, it seems unlikely that many users would wish to unmount the camera frequently, and this component might have been omitted, for a lower overall profile.
Otherwise, it is truly a thing of beauty for owners of anything from a DSLR to an FS700 to a Blackmagic Cinema Camera, and for perhaps £250 it's surprisingly affordable. Perhaps even more so, it's a nice solution for people who often rent those cameras, or other indie-filmmaking regulars, and who are aware that cameras come and go but matteboxes, tripod plates and battery systems have been standard for decades.
Read the other parts of this article below:
How to accessorise your new DSLR - Part One, the requirements
How to accessorise your new DSLR - Part Three, the lens
How to accessorise your new DSLR - Part Four, putting it all together
I'm indebted to Ivailo Velinov at CVP for supplying the Canon HJ11ex4.7B lens, Tilta BS-T03 baseplate, Hawk-Woods battery mount, Alphatron EVF-035W viewfinder, and IDX battery system for use in this series. Thanks also go to Mike Tapa from MTF Services for the loan of adaptors to mount the B4 lens on Sony E, Canon EOS and Micro Four-Thirds cameras. Panasonic's GH4 and the Sony Alpha 7S camera came direct from the manufacturers, as did the Atomos Shogun 4K recorder.