RedShark's 12 Days of Christmas Replays: So Santa bought you a DSLR? Congratulations. But what exactly do you need to pair it with to get the functionality you're used to out of your old traditional camera?
As we've frequently noted in the past, cameras capable of pictures which would have been considered staggeringly good just a few years ago are now trivially inexpensive, and that's to say nothing of our ability to buy genuinely high-end digital cinematography devices for five-figure sums as opposed their costing a quarter of a million units of currency apiece. Of course, high-end equipment is generally lovely to use, and even middle-of-the-road pricing can now get you an FS7 that's surprisingly usable right out of the box.
It's at the most affordable end of the market, though, below the £2000 point, where you can buy a Sony Alpha 7S or Panasonic GH4 and have a great camera, but also a problem. The problem is that what comes out of the shiny wrapper when one actually purchases one of these things is – well – not impossible to use, but for someone used to the easy handling of a traditional ENG camera, it isn't much fun. The question is, can we get access to the enormous price-performance ratio of these cameras in an easily-handled package?
What we want
Having complained about this problem in the past, it seemed like a good idea to take a look at what it takes to accessorise cameras like this for easy use. Naturally this is dependent on one's desires and to some extent a matter of opinion, so we should define our aims. First, we're not attempting to ape the outfits used on upscale feature films. In those circumstances, the operator generally doesn't need to manipulate any of the camera controls, pull focus, or even start the recording. The twin handlebars commonly used in these situations are widely imitated by DSLR rig manufacturers and in many ways don't work very well for the sort of productions on which DSLRs are likely to be deployed, where people are often wearing many hats. So, we want something with a grip that works one-handed.
We also want something that doesn't offset the camera horizontally from the shoulder mount. This is commonly done to put the built-in TFT on the back of a DSLR in front of the operator, but leads to an awkward twisting action that can be uncomfortable. The other key problem with many existing DSLR rigs is that they don't balance very well fore and aft. In many cases there is actually no attempt to balance them, as there really isn't with – for instance — an un-accessorised FS7, but since most of these rigs will run from hours from a full size broadcast camera battery, it seems like a good use of mass to have one as a counterbalance. This implies a few things about power distribution, which we need to address, but either way, we want an outfit that balances both fore and aft, and side to side.
Having decided we don't want the camera offset to put the TFT in front of the operator, we'll also need a viewfinder. This I'll gloss over here as it'll be covered in-depth in our parallel series on the current state of viewfinding, but no matter what we buy, we'll need to think about powering it, providing signal, and mounting arrangements. Most current devices implement TFT displays of similar type to those used in cellphones with a loupe to allow for conventional one-eyed viewing. Mounting arrangements vary, but perhaps the most crucial aspect of ergonomics is that the viewfinder should be easily orientable, for shooting extreme angles, and that any lagginess or delay should be minimised.
Finally, there's compatibility with the classic Sony VCT-14U tripod quick-release. This is a given in the world of newsgathering, and it's a sad thing to lose when moving away from traditional three-chip broadcast cameras. The advantage, other than the speed of mounting and unmounting the camera from various grip equipment, is balance: it's more or less the only way to go from a shoulder pad to a tripod and actually have both of them balance properly, since the quick release plate bridges the shoulder pad and puts both mounting arrangements in the same spot. Pseudo-ENG cameras such as Sony's NEX-EA50 are great, but often fall short in this specific regard because the need to provide a standard quarter-inch mounting screwhole in an accessible location makes it impossible to balance both the tripod and shoulder configuration simultaneously. We want to avoid this.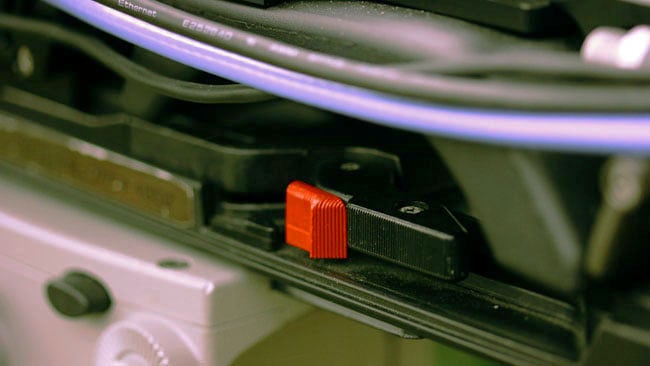 So, we have our requirements (debate in the comments is particularly welcome here as it is a matter of taste to some extent). Perhaps the most obvious target audience for this sort of thing is the existing owner-operator of broadcast equipment, who may already own a battery system, B4-mount lens, tripod with quick-release plate, perhaps a few accessories suited to 15mm rod mounting, and other miscellaneous camera gear. Particularly with regard to the lens, these might seem like expensive add-ons to a £1500 DSLR. Even so, given access to a working secondhand market, it's reasonable to think that someone might build a package like this from scratch.
Over this series of articles, we'll be exploring the options and putting together some example configurations around two of the currently most popular cameras – the Panasonic GH4 and Sony A7S, to see how things work out in practice.
Read the other parts of this article below:
How to accessorise your new DSLR - Part Two, the baseplate
How to accessorise your new DSLR - Part Three, the lens
How to accessorise your new DSLR - Part Four, putting it all together
I'm indebted to Ivailo Velinov at CVP for supplying the Canon HJ11ex4.7B lens, Tilta BS-T03 baseplate, Hawk-Woods battery mount, Alphatron EVF-035W viewfinder, and IDX battery system for use in this series. Thanks also go to Mike Tapa from MTF Services for the loan of adaptors to mount the B4 lens on Sony E, Canon EOS and Micro Four-Thirds cameras. Panasonic's GH4 and the Sony Alpha 7S camera came direct from the manufacturers, as did the Atomos Shogun 4K recorder.