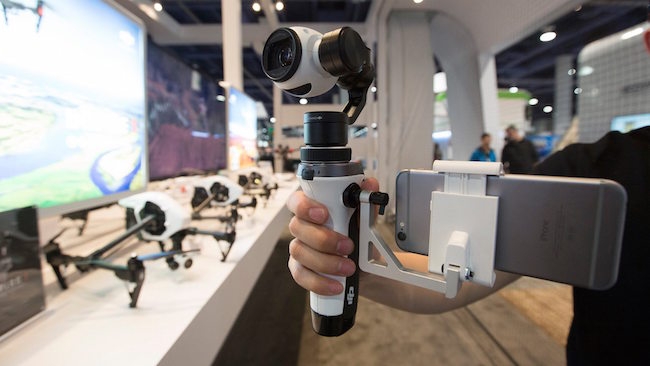 First announced at CES, a new, very cool looking, lightweight, single-handed operation handheld camera mount has been developed by DJI to hold the detachable Inspire 1 4K camera and gimbal.
Astute readers of RedShark will be aware of DJI's incredible new 4K Inspire drone. A quad copter that has some rather clever features as well as being able to produce some incredibly smooth aerial footage with its 4K camera.
Not ones to rest on their laurels, DJI has decided to expand the way in which the stabilisation system can be used by allowing the gimbal and camera to be detached from the drone and then mounted onto a new grip system so that silky smooth handheld shots may be taken with it in the field.
The new mount also features a built in microphone as well as a 3.5mm jack so that external mics can be used as well.
The rig comes with a rechargeable battery to power the camera and requires the use of a smartphone to actually record the footage with.
There are two shooting modes. One that allows the camera to be locked in a certain direction, and another that allows the camera to be panned and tilted to allow tracking of objects and people.
It should be noted, however, that this is an additional accessory for the Inspire 1 drone and that currently the 4K camera cannot be purchased separately from it. There is also currently no information about price, although the device should be on sale in the second half of 2015.