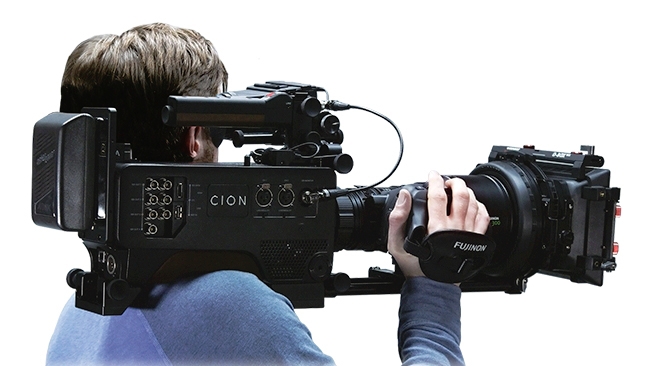 We've just seen the new CION and some stunning footage from it. It looks like this camera is living up to its promise.
The CION was, for us, probably the biggest surprise at NAB in April. Although we were also blown away by the new Blackmagic URSA and the Studio Cameras, we hadn't seen the CION coming at all.
When the Blackmagic Cinema came out a couple of years ago, some of us had predicted it — in a very lose way — because the already existing Hyperdeck Shuttle was, effectively, the back-end to a camera, missing only the lens and sensor and low-level processing to accompany it.
Perhaps we should have seen the CION coming for similar reasons. Remarkably, it's been in development for around five years. The KiProQuad has virtually all the tech that you need to record 4K from a camera sensor. It certainly gave AJA a head start in making the CION.
It's a good-looking camera. It's pretty heavy, subjectively, but that adds to the impression of solidity. It all feels very well built.
You may have seen the latest footage here AJA CION can do skintones in beautiful ungraded footage but we had the advantage that we were able to watch it on a 4K monitor, from the original 4K ProRes 444 material.
What did it look like?
Stunning. Quite honestly, this is the best ungraded footage that we have seen from virtually any camera.
Let's be clear what we mean by that.
The footage was not recorded in a log mode. It was the linear output from the camera, which means that you could view it immediately without any need to grade it. There would have been, of course, some processing inside the camera - this was definitely not raw footage, but if this is the quality of the "default" setting on the camera then it is quite remarkable.
It seemed to have achieved what should be impossible: very sharp images that at the same time looked warm and filmic.
Now, it's important to place our subjective impressions in context, because this was most definitely not a scientific test.
I'm used to watching video on a 4K monitor. For several months I had a Dell 32" 4K monitor, a device that has very good colour accuracy (for a computer monitor). In some ways, seeing footage on a 4K monitor can flatter it, although it can be very unforgiving. For example, still images looked incredible, but if there was anything wrong with the picture, it would look worse than it would, perhaps, on an HD monitor.
We also had no idea about how this, smaller, monitor had been calibrated. For example, we didn't know know how its gamma had been set.
But even despite that, the images looked amazing. they were contrasty, detailed, had a wide colour range (remember, they were ungraded) and had a shimmering, luscious quality that pulled you in to them. Quite honestly, with ungraded images this good, I would want to use them without further processing. If you're looking for a fast-turnaround, this would be the way to do it. (Remember that other manufacturer's cameras also record to ProRes).
Other thoughts about the camera: it's not very sensitive. AJA is still working on it so they don't know exactly what its "native" ISO will be. But it is likely to be between 300 and 400. Which means that you'll have to light your scenes, just like you always have done.
It's so exciting to see so many great cameras coming out. The choice is now massive. You almost wonder where the manufacturers are going to go from here.