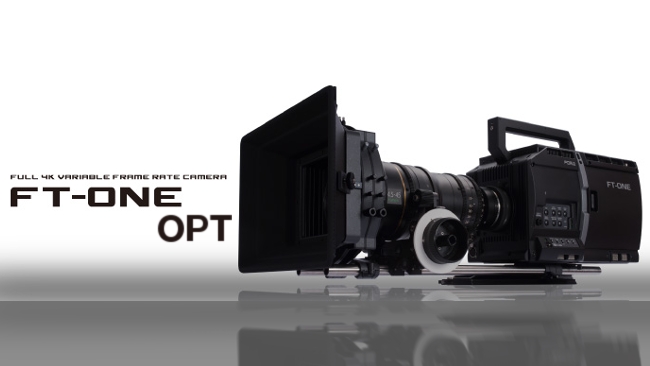 Camera maker FOR-A dropped some news at IBC which is sure to create a buzz, especially for the sports and live event videography industries: the FT-One Opt, a 4K camera that records 900fps footage from long distances, via fibre optic cable.
Way back at NAB 2013, we profiled two competing 4K cameras at offer extreme slow-motion options, FOR-A's FT-One and Vision Research's Phantom Flex, which records 4K at 900fps and 1000fps, respectively. At IBC2014, FOR-A differentiates its product from the Vision Research offering by debuting a model aimed squrely at big-time sports and live event videography.
FOR-A's new FT-One Opt shares many of the same specifications as its sibling -- 4K DCI recording, 12-bit, Super35 global shutter, up to 900fps capture -- yet the FT-One Opt, as its name implies, features fibre optic connectivity.
Through optical cable out, the FT-One Opt can be located up to a kilometer away from the base station, allowing for the sort of wide area coverage that sports and live event videographers covet. Don't be surpirsed if Vision Research follows suit with its own fibre optic out version of its Phantom Flex 4K camera, as these two makers are the premiere names in 4K slow-motion capture.
Check out the full press release on Page Two, which covers the FT-One Opt and other For-A products debuting at IBC 2014!
Full Press Release
IBC 2014: Variety of FOR-A Video Solutions to Make Show Debut
Booth highlights include: the FT-ONE-OPT 4K camera, FRC-9000 4K frame rate converter, FA-505 4K signal processor, and HVS-XT2000 4K vision mixer
Brugherio, Italy – At the upcoming IBC Show, FOR-A will showcase a variety of its new video production solutions. The company will exhibit in Hall 2, Stand A51 during the show, which runs September 12-16 at the Amsterdam RAI.
A highlight of FOR-A's booth will be the FT-ONE-OPT – the newest version of the company's 4K variable frame rate camera. The camera enables operators to shoot from the field with ease, allowing up to 1km distance between the unit and baseOLYMPUS DIGITAL CAMERA station via optical cable. Capable of shooting up to 900 frames per second, the FT-ONE continuously outputs live full 4K signals and includes the ability to color correct video output live using its 12-axis system. The camera will be shown with FOR-A's ZE-ONE 4K extraction system, which gives users the ability to frame and extract desired 4K image areas for HD replays. Ideal for broadcasting and sports applications, the FT-ONE OPT has been used by major broadcasters to produce 4K and 8K footage of major sporting events this year.
FOR-A will expand its popular XT series of video production mixers with the introduction of the XT2000 vision mixer, which offers unique capabilities that make vision mixing more versatile than ever before. Allowing up to 40 SDI inputs and 22 outputs, the XT2000 features MELite™, which gives the 2 M/E unit the power and functionality of a 6 M/E unit. MELite enables a traditional AUX bus to transform into a functional M/E with cut, mix, wipe and key control. The 4K compatible XT2000 also includes ONStage™, full operator transition control, and the ability to preview a mix, wipe, or key change before it goes on air. Other features of the new unit include key customization with FLEXaKEY™, FOR-A's P-MEM™ panel memory system, and a new easy-to-use menu system.
FOR-A will also introduce the FRC-9000 4K HD frame rate converter. Building on the HVS-XT2000-8.22.14success of the FRC-8000 unit, this new frame rate converter features FOR-A's enhanced state-of-the-art motion compensated frame rate conversion technologies. Ideal for live transmission use, the FRC-9000 can be used as a 2 X HD/SD-SDI frame rate converter.
Other solutions that will be debuting for the first time include: the MFR-6464 video routing switcher and Fujitsu video streaming software for its IP series of encoder and decoder solutions.
First introduced at NAB2014, FOR-A's FA-505 multi channel signal processor will make its IBC debut. The five-input, five-output signal processor features up/down/cross/aspect ratio conversion capability on each input. Ideal for 4K applications, features of the unit include: a powerful synchronizer that includes frame/line/AVDL modes, video delay line of up to eight frames, full RGB color correction, and 16 channels of embedded audio per channel – with the ability to remap channels from any input to any output.
Other video solutions that will make their European debut in FOR-A's booth include the MV-4200 multi viewer – a compact, 2 RU unit multi viewer that accepts 4K signals, and is capable of handling up to 68 inputs and 8 outputs. FOR-A will also show its URC-4000 super resolution 4K up converter, which features unique I/P (Interlace/Progressive) and resolution conversion technology to turn HD video into 4K in real time. Both the MV-4200 and URC-4000 were introduced at NAB earlier this year.
Other FOR-A technology introduced earlier this year at NAB that will be shown at IBC for the first time includes the VTW-350HS HD character generator, the LTR-200HS6 LTO video archiving recorder, and the FRC Export Plug-in – frame rate converter software for Adobe Premier Pro.
About FOR-A
FOR-A is a major manufacturer and distributor of video and audio systems to the broadcast, postproduction and professional video markets. For more information about FOR-A's product line, visit our web site at www.for-a.co.jp