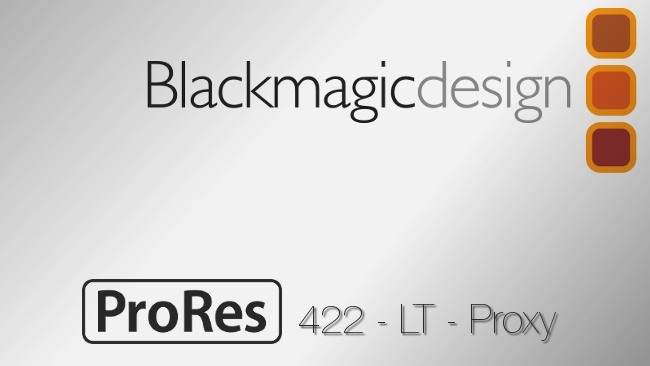 Lately, Blackmagic Design has been rolling out new features at a more brisk pace, as evidenced by a recent firmware update that adds more ProRes recording formats to its available cameras.
In less than two years, Blackmagic Design has established itself as a force in the industry, releasing three popular, game changing cameras, with more on the way. The company successfully shifted from being primarily a manufacturer of I/O devices into an outfit that touches all areas of production, with its interface products, cameras, and continued development of Da Vinci Resolve color grading program, which was acquired back in 2009. But, for all of its innovation and business savvy, Blackmagic has received its share of criticism, some of it from users frustrated by the long wait for promised features, hoping for firmware updates to increase the functionality of their cameras.
Well, that criticism may be a thing of the past, beginning with June's release of Blackmagic Camera Update 1.8, which added a bundle of fixes, new features, and image improvements, highlighted by compressed CinemaDNG RAW recording on its Blackmagic 4K Production Camera. Most importantly, the firmware update was the result of the company's efforts to unify the code base across the Blackmagic 4K, 2.5K, and Pocket HD cameras. Previously, the three cameras carried enough difference in their code to effectively splinter development resources, extending the time it takes to get improvements to its customers. Now, as the cameras operate under the same code base, Blackmagic can more easily push updates across its range of cameras, speeding up the process.
In this vein, a new firmware update has arrived from Blackmagic, giving its three cameras the capability to record more varieties of ProRes (you can find the download links on the Blackmagic Support Page). Prior to this update, the only ProRes option on Blackmagic cameras was ProRes 422 HQ, providing high quality 10-bit 4:2:2 recording that unfortunately eats up drive space.
The 1.8.2 update adds ProRes 422, 422 LT, and 422 Proxy recording options. This is a welcome improvement for any operator or producer that values more recording space over image quality, such as some documentary, reality, and web productions, or any other production on a tight budget that shoots at a high ratio. Using ProRes 422 HQ as a baseline, 422 file sizes are two-third the size of HQ files, LT files are less than half of HQ, and ProRes 422 Proxy will yield file sizes around one-fifth that of ProRes 422 HQ, while still capturing the heavily-compressed video in a 10 bit 4:2:2 color space. I doubt many shooters will use the Proxy option, but its great to have it for special use cases, and the integration of these new ProRes formats greatly enhances the cameras' usability.
The 1.8.2 'ProRes' update arrived roughly three weeks after Blackmagic announced it had unified its cameras' code base, as the company promised more improvements in the coming months. If the timing of this firmware update is any indication, owners of Blackmagic cameras can expect the company to fulfill that pledge.
Check out the full Blackmagic press release after the page break.
Blackmagic Design Announces New Apple ProRes™ formats for all Blackmagic Design Cameras
Fremont, CA - July 17, 2014 - Blackmagic Design today announced the immediate availability of Camera 1.8.2 software which adds three new Apple ProRes™ file formats for the Blackmagic Cinema Camera, Blackmagic Pocket Cinema Camera and Blackmagic Production Camera 4K. Camera 1.8.2 update is available now free of charge from the Blackmagic Design website.
Blackmagic Design camera customers have always been able to record in both CinemaDNG RAW or compressed ProRes 422 HQ formats, however now this new software update adds three additional Apple ProRes™ file formats, ProRes 422, ProRes 422 LT and ProRes 422 Proxy. This means customers using Blackmagic Design cameras will be able to get significantly smaller video file sizes allowing much longer recording durations on the same media card, all while preserving full frame 10-bit 4:2:2 quality.
Because this update is available to our camera customers free of charge, they simply need to download it, and install the update from their Mac or Windows machine using a simple USB cable connection to the camera. Once the update is complete, customers will see these new formats available in the camera menus.
Because this update reduces the data rate of recording, it means customers can now choose lower cost SSD or SD cards while still recording high quality video in SD, HD and Ultra HD resolutions. Using ProRes 422 Proxy it is possible to record 230 minutes of 1080HD video on a single 64GB SD drive. Selecting the type of ProRes format for recording can be set via the on screen menus and all ProRes types can be played back instantly.
The Apple ProRes 422 formats are designed specifically for multi-stream non linear editing, minimal generation loss and fast export, making them very popular video file formats for post production and broadcast. All ProRes files recorded with Blackmagic Cinema Cameras and Blackmagic Production Camera 4K can be opened directly in DaVinci Resolve 11 and Apple Final Cut Pro X™ for immediate color correction, editing and finishing.
"We are extremely excited to release this next update for our camera customers," said Grant Petty, CEO of Blackmagic Design. "With the addition of the 3 new ProRes formats, cinematographers can now record for longer on low cost SSD's and SD cards without sacrificing image quality, as they are still recording in full 10 bit 4:2:2 quality. Because our cameras feature a software centric design, we are very excited to be able to update our cameras with more and more features over time and make the cameras better and better! And there is more to come!"
Availability and Price
Camera 1.8.2 is available now for download from the Blackmagic Design web site free of charge for all Blackmagic Cinema Camera, Blackmagic Pocket Cinema Camera and Blackmagic Production Camera 4K customers.
Press Photography
Product photos of the Blackmagic Cinema Camera, Blackmagic Pocket Cinema Camera and Blackmagic Production Camera 4K, and all other Blackmagic Design products, are available at www.blackmagicdesign.com.
About Blackmagic Design
Blackmagic Design creates the world's highest quality video editing products, digital film cameras, color correctors, video converters, video monitoring, routers, live production switchers, disk recorders, waveform monitors and real time film scanners for the feature film, post production and television broadcast industries. Blackmagic Design's DeckLink capture cards launched a revolution in quality and affordability in post production, while the company's Emmy™ award winning DaVinci color correction products have dominated the television and film industry since 1984. Blackmagic Design continues ground breaking innovations including 6G-SDI and 12G-SDI products and stereoscopic 3D and Ultra HD workflows. Founded by world leading post production editors and engineers, Blackmagic Design has offices in the USA, UK, Japan, Singapore and Australia. For more information, please go to www.blackmagicdesign.com.
Tags: Production