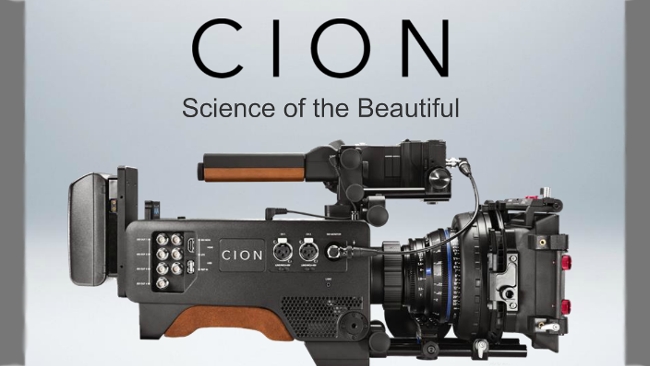 In a webinar produced by the Creative Planet Network, AJA Product Marketing Manager Bryce Button detailed the upcoming CION camera and answered questions, including "when will it arrive?"
As NAB 2014 recedes to memory, we're in the inevitable lag that occurs while we wait for all the new cameras, tech, and accessories trickle to the market. Perhaps no product previewed at NAB is more anticipated than AJA's surprise camera, the CION. Capable of 4K high frame rate recording, sporting a global shutter, and a bevy of features and I/O ports self-contained in a ergonomically-pleasing form factor (at a great price), the CION was the talk of the show, stealing thunder from that other upstart camera company and causing its share of grumbles from the big names as well.
For those champing at the bit for the CION, rest assured: you won't have to wait long. In an hour-long webinar co-produced by the Creative Planet Network and Digital Video Magazine, AJA Product Marketing Manager Bryce Button shuttled through slides on AJA's new I/O products, then launched into the meat of it. While most of the presentation was spent reiterating a lot of the information already out there on the CION, he did toss out a few jems:
No EVF provided. Since its appearance fully-kitted at NAB, many wondered if AJA would include its own EVF as part of the package. Nope. AJA's rationale is that there are plenty of third party EVFs out there, and since AJA was designed take advantage of the wealth of accessories currently available ("nothing proprietary").
Not ready to announce Base ISO. AJA is still in the process of determining its base ISO, but will announce this information shortly.
AJA RAW gets a wrapper. While there's still some work to do to ensure the AJA RAW will play nicely with post, we now know that it will indeed be in a CinemaDNG wrapper.
Why Pak Media is better. According to Button, using off-the-shelf drives in cameras "is a bad idea," because the pins on those drives weren't designed to last under the constant inserting and removing of media typical in video work. When you think about it, it makes sense: when you get a new drive, how many times do you install it? AJA's Pak Media (256GB for around $600; 512 GB for $1300) Pak Media drives are tested for 100,000s insertions, so they're built to last.
Double the warranty. While most cameras in the same price range (and higher) offer one year warranties, AJA is backing the CION with a two-year warranty, so you have an extra year of relatively worry-free operation.
Sample footage is coming. The closer we get to release, the more we'll see from this potentially groundbreaking (for the price) camera. You can follow AJA's Twitter account and look out for the #AJAvideo tag in the coming months.
The pricing is still the same. $8995 USD.
The release window... SUMMER 2014!
Button was quick to point out that the summer actually starts towards the end of June, so don't expect a surprise release next week. However, this is great news for everyone who has plopped down dough for the pre-order (as long as AJA can avoid the delays that plague most first-time camera makers).
Tags: Production