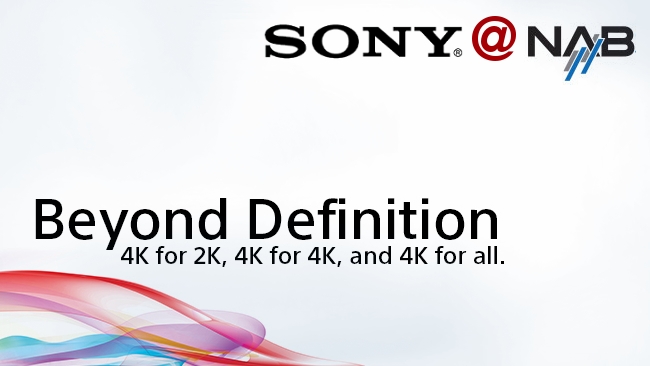 Through its company blog, Sony revealed a slate of interactive broadcasts, streamed live from NAB 2014. And the best part: you can submit your questions ahead of time!
Panasonic's release of the budget-friendly GH4 has put other camera manufacturers on their toes, making it more important than ever to connect to their customers and communicate their respective visions for 4K (and beyond). Chief rival Sony made waves a few months back with its 4K for $2K camcorder, the FDR-AX100, but it hasn't inspired the level of excitement generated by the Panny 4K DSLR.
Of course, Sony makes other 4K cameras, including the pro-level F5 and F55, as well as a slew of other devices that populate its 4K ecosystem. But for those that don't regularly work with Sony products, you probably have some questions concerning workflow.
Well, you're in luck! As part of Sony's NAB 2014, the tech giant is engaging the public through Beyond Definition, a program of interactive Q&A sessions filmed and streamed live from its NAB 2014 booth. Sony is calling for questions, asked during the live stream or submitted beforehand (via the handy links provided below).
From Sony's Blog:
Come and check out Sony NAB Live, a series of interactive sessions streamed live from the Sony booth at NAB 2014 in Las Vegas. Sessions will take place in the morning and late afternoon covering a broad range of topics including the latest in cloud based production tools, portable live production systems and 4K acquisition and workflow. The sessions will field questions from viewers in attendance at the show floor and online via Twitter using the hashtag #SonyNAB. Participate on Twitter using the hashtag #SonyNAB for a chance to win an Action Cam during each session!
To join the show click here
The complete schedule of topics and session times are below. We invite you to start submitting questions for each topic using the links below each topic description. We look forward to chatting with you live from the show!
Monday, April 7
LIVE 10am PT/1pm ET
Anycast Touch: Power in Simplicity
All-in-one, easy to use, portable production powerhouse. The AWS-750 Anycast Touch Live Content Producer is the evolution of live production.
Submit questions in advance here
LIVE 4pm PT/7pm ET
4K in Sports Production
From small to large, 4K in Sports is now mainstream. Sony is at the forefront of live 4K coverage, and on the field with the handheld FS700, F5 and F55 cameras. This session will cover both elements and explore how 4K is being utilized in sports production.
Submit questions in advance here
Tuesday, April 8
LIVE 10am PT/1pm ET
4K Acquisition and Workflow
This session will cover the latest news about Sony's 4K acquisition technologies and workflow.
Submit questions in advance here
LIVE 4pm PT/ 7pm ET
Sony Solutions for Backpack Journalism
Turn-key solutions for mobile content creation
Submit questions in advance here
Wednesday, April 9
LIVE 10am PT/1pm ET
Ci: Experience the most innovative cloud-based production tools ever created
See how creative professionals, broadcasters, and the next generation of film-makers are using Sony Media Cloud Services' Ci platform to collaborate, review, approve, and share projects.
Submit questions in advance here
LIVE 4pm PT/7pm ET
Today's Real Benefits of IP Production
Audio and video processing over an IP network is not some future technology. Come participate in this live session to hear about the benefits of an IP processing workflow and the pitfalls to avoid when planning your migration.
Submit questions in advance here
Tags: Production