It arrived a couple of days ago and we took it out into the wind and the floods in the storm-hit UK to see what it was like
It's heavy. That was my first impression as I fitted the lens (a Sigma 24-105mm zoom) and picked it up. Not in a bad way though: you'd actually want a piece of kit like this to weigh something significant as it kind of makes it more stable. In the absence of any sort of handle, though, you do have to be very careful with it.
It comes with a sun hood, which snaps into place easily and firmly. It is, I would say, essential to use this unless you're shooting in a cave.
Blackmagic has paid a lot of attention to the design of this (and the Blackmagic Cinema Camera, which it is physically very similar to). Whether you like the design or not, it is very neat and is thoughtfully laid out. So much so that I had skimmed through all the menus within about thirty seconds, and, having found the "Iris" and "Focus" buttons, was reasonable confident that it was going to work in the wild.
Physical Controls
It's worth noting here that there really are remarkably few physical controls on this camera. For me, using it for the first time, this is a good thing. The last 4K camera I looked at was the Canon 1DC, which was absolutely festooned with controls, some of them duplicated for vertical use (which of course you won't need to do with a video camera) and some of them were just duplicated anyway, it seemed.
The Blackmagic Production camera is of course not a still camera as well, although if you extract stills from a 4K video file, you'll still find them pretty good, at around 8 megapixels each, which is perfectly acceptable for most purposes. And because it's not a still camera, it doesn't need all those controls.
This is a camera that is definitely more at home on a tripod. Put it on sticks and it becomes much more manageable. And of course, for 4K, if the camera's moving around, if you use it hand held, all those extra pixels will be wasted in motion blur.
Easy to set up
The camera was, in practice, very easy to set up and use. I selected the ISO speed (400 in this case), pressed "IRIS" and "FOCUS" and it just worked. Others can get creative with it later but I just wanted to get some footage of a nearby river, close to flooding, in the can.
The sun was incredibly bright as I was filming, and this has meant that the pictures were not as completely sharp as you'd hope: the lens was stopped down so much it was like using a pinhole camera. You would absolutely need to use an ND filter for conditions like this, especially if you want any shallow depth of field.
Raw capture is not implemented yet, so I captured in ProRes, which is often my choice anyway, as it's very quick and convenient. Note that this doesn't mean you can't shoot in "Film Mode". You have a choice of film and video modes to capture in, and you have the same choice for the display. I shot in film mode, with the display in video mode. I did this because I wanted to have a more saturated, contrasty image in the viewfinder.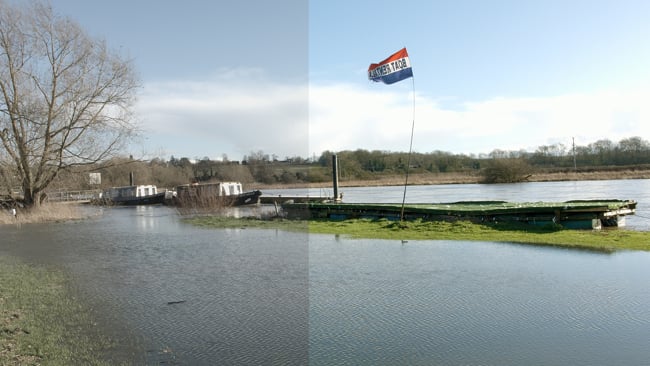 Split screen image showing ungraded on the left and graded on the right. The white clouds are blown out but this was recorded to 10-bit ProRes and the conditions were extremely bright. The detail in the shadows is good.
ProRes works well
ProRes worked very well indeed. It's ten bit, which does give you some useful extra latitude over, say, H.264. I was able to play the footage at full speed on a Macbook Pro Retina directly off the Kingston SSD, which I slotted into a Seagate SATA to Thunderbolt adaptor. This is of course easily fast enough for playing the ProRes footage, and, because ProRes is easy to decode - it's less compressed than the Long-GOP formats and very much less complex - it just worked. Actually, where it didn't just work was in Premiere: for some reason, it crashed, totally, when I tried to play the footage. I'm pretty sure this was something that I was doing wrong, though, and I will keep trying: I just didn't manage to fix it before I had to write this.
Surprisingly, the same footage that gave me problems in Premiere imported perfectly and almost instantly into Photoshop. My main aim, anyway, was to extract some still frames for this article (this is just a personal thing, but I don't see the point in uploading 4K footage to YouTube for the purposes of demonstration and comparison: you simply loose so much quality that it makes the whole exercise pointless).
Since I recorded to ProRes, the ultimate lengths to which you can stretch the footage and retrieve highlights and lowlights is less than with the raw format, but you can still do useful work, as you can see in this picture. I rather inexpertly made the blacks blacker, without sacrificing too much shadow detail, added some saturation, and applied a small amount of sharpening (see my comments above about the unsuitably bright lighting conditions).
First experience
Overall, I was very happy with my first experience with the camera, which was pretty rushed and was never intended to be anything other than a quick look. In fact, the camera is going next to some of RedShark's Pro camera operators and DOPs for their expert opinions.
Global Shutter
Finally, one of the highlights of this Super 35mm 4K camera is that - quite uniquely in this price range - it has a global shutter. Which means that you can wave it around as wildly as you like and vertical lines will remain vertical. Have a look at this picture of my house. You can see that the black drainpipe is completely vertical despite my waving the camera around at about a hundred miles per hour. This is very impressive and an absolutely key reason to buy this camera if rolling shutter bothers you.
Global Shutter demonstration: note the black drainpipe on the right, which is completely straight.
It's fascinating to note that BMD is not pitching this as a cinema camera. It shoots at 3840 x 2160 which is the standard for television, not cinema, and it comes with a 6G SDI output for direct connection to Blackmagic's 4K switchers. Blackmagic are saying that the primary market for this camera, in their expectations, is live TV production.
It may well be ideal for that role, but I can see an awful lot of people shooting films with this impressive device!